A&E
Stream on Demand: 'Love, Simon,' 'Portlandia' finale come to home streaming
Thu., June 14, 2018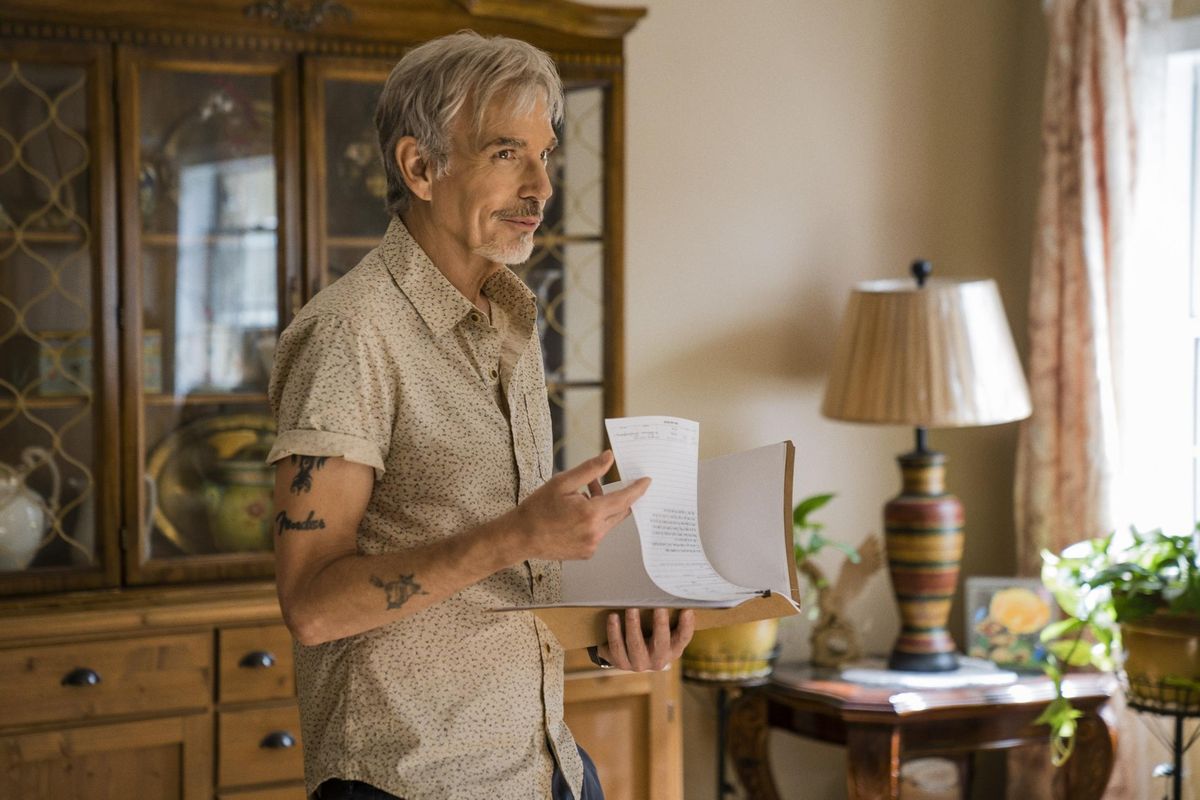 Billy Bob Thornton returns for the second season of David E. Kelley's "Goliath," on Amazon Prime. (Merie Wallace/Amazon Studios)
What's new for home viewing on Video on Demand and Netflix, Amazon Prime, Hulu, and other streaming services.
Top streams for the week
"Love, Simon" (2018, PG-13) uses the familiar conventions of the coming-of-age teenage romantic comedy for the story of a gay high school boy (Nick Robinson) coming out to his friends and family. Jennifer Garner and Josh Duhamel play his parents and Greg Berlanti (creator of the CW superhero shows) directs. On Cable On Demand and VOD as well as DVD.
Bid farewell to "Portlandia," the sketch comedy series by Fred Armisen and Carrie Brownstein that defined the Oregon city as a counterculture haven, by streaming the eighth and final season, now on Netflix. Kyle MacKachlan returns as the Mayor in the series finale.
Michael Douglas is the obsessive eccentric on a modern day treasure hunt in "King of California" (2007, PG-13), a modest but sweet comic drama co-starring Evan Rachel Wood. Streaming on Amazon Prime Video
BroadwayHD, the service that allows theater lovers to see recordings of live Broadway shows at home, expanded its scope just a bit with 10 programs from the acrobatic circus theater company Cirque du Soleil, including their "Avatar"-themed production "Toruk" (2016).
Pay-Per-View / Video on Demand
Alicia Vikander plays Lara Croft in "Tomb Raider" (2018, PG-13), the big screen reboot based on the hit video game about a fearless female adventurer in the "Indiana Jones" mold. Also new: animated comedy "Sherlock Gnomes" (2018, PG); home invasion horror sequel "The Strangers: Prey at Night" (2018, R); Oscar-nominated foreign language drama "Loveless" (Russia, 2018, R, with subtitles) from Cannes award-winner Andrey Zvyagintsev; "Back to Burgundy" (France, 2017, not rated, with subtitles), Cedric Klapisch's comic drama about a wine-making family in France.
Available same day as select theaters nationwide is "Loving Pablo" (Spain, 2018, R, with subtitles) about the volatile love affair between Colombian drug lord Pablo Escobar (Javier Bardem) and journalist Virginia Vallejo (Penelope Cruz). Also new: romantic drama "The Year of Spectacular Men" (2018, not rated) with Zoey and Madelyn Deutch; war drama "The Yellow Birds" (2018, R) with Alden Ehrenreich and Jennifer Aniston.
Netflix
Zoey Deutch and Glen Powell play frustrated interns who set up their bosses (Taye Diggs and Lucy Liu) in "Set It Up" (2018, not rated), a romantic comedy debuting exclusively on Netflix.
Christopher Plummer invites you into "The Imaginarium of Doctor Parnassus" (2009, PG-13), Terry Gilliam's surreal Faustian fantasy with Heath Ledger, Johnny Depp, Jude Law and Colin Farrell.
Foreign affairs: the blockbuster Israeli comedy "Maktub" (Israel, 2017, R, not rated, with subtitles) follows the unlikely journey of two Jerusalem mobsters (TV comedy stars Guy Amir and Hanan Savyon) from thug life to real-life guardian angels making Wailing Wall prayers come true after they survive a terrorist bombing. Also new: "Lust Stories" (India, 2018, not rated with subtitles), an anthology of four short films exploring love, sex, and relationships in modern India; "Sunday's Illness" (Spain, 2018, not rated, with subtitles), a drama about a wealthy woman who reconnects with the daughter she abandoned 35 years ago.
True stories: The Oscar-nominated documentary "Cutie and the Boxer" (2013, R) profiles eccentric artist Ushio Shinohara and his wife Noriko, who embarks on her own artistic career after a life of assisting his dreams.
Streaming TV: Marlon Wayans stars in the family sitcom "Marlon: Season 1," arriving as the second season begins on NBC. Also new: western/supernatural hybrid "Wynonna Earp: Season 2" and Netflix Original comedy "The Ranch: Part 5" with Aston Kutcher, Sam Shepard, and the final episodes featuring Danny Masterson.
Kid stuff: "True – Magical Friends" and "True – Wonderful Wishes" offer colorful animated adventures for preschool audiences.
Amazon Prime Video
Jason Momoa stars in "Braven" (2018, R) as a logger in rural Canada who goes up against drug runners threatening his family.
Billy Bob Thornton is back in the second season of the Prime Original legal drama "Goliath" from creator David E. Kelley.
"The Autobiography of Miss Jane Pittman" (1974, not rated), the powerful TV movie starring Cicely Tyson as a woman born into slavery who lives through the civil rights movement of the 1960s, won nine Emmy awards. Also newly available: Crime comedy "Spun" (2003, R) with Mickey Rourke and John Leguizamo; neo-noir thriller "The Last Seduction" (1994, R) with Linda Fiorentino; "The Stepfather" (1987, R), the original horror classic with Terry O'Quinn; comedy "All of Me" (1984, PG) with Steven Martin and Lily Tomlin; "The Company of Wolves" (1985, R), the revisionist fairy tale based on the story by Angele Carter.
Cult movies: "Rock 'n' Roll High School" (1979, PG), produced by Roger Corman and starring the Ramones, is one of the greatest rock and rebellion movies ever made. It arrives on Prime Video along with a handful of other Corman drive-in classics, including: "Jackson County Jail" (1976, R) with Tommy Lee Jones; "Star Wars" knock-off "Starcrash" (1979, PG); "Battle Beyond the Stars" (1980, PG), a science fiction remake of "The Seven Samurai" with Richard Thomas.
More streaming TV: The first six seasons of the family-centered police drama "Blue Bloods" with Donnie Wahlberg, Bridget Moynahan, and Tom Selleck are now streaming. Also newly arrived:
British melodrama "The Royals: Season 3" with Elizabeth Hurley as the Queen; Australian multi-cultural cop drama "East West 101: Season 1"; British political drama "The Ambassador: Complete Series" with Pauline Collins.
Prime Video and Hulu
"Precious" (2009, R), directed by Lee Daniel from the novel "Push" by Sapphire, stars Gabourey Sidibe as an overweight, illiterate, pregnant teenager in 1987 Harlem who finds hope in an oppressive life (Prime Video and Hulu).
Hulu
Zoe Saldana stars in "Nina" (2016, not rated), the controversial biographical drama about acclaimed African-American musician and singer and civil rights activist Nina Simone. Also new: Sundance Film Festival winner "Low Down" (2014, R) starring John Hawkes as a drug-addicted jazz pianist and Elle Fanning as his teenage daughter; American Indie drama "Middle of Nowhere" (2010), which earned Ava DuVernay the Best Director award at Sundance; "Smoke" (1995, R) with Harvey Keitel and William Hurt; sexy Australian "Sirens" (1994, R) with Hugh Grant and Sam Neill.
Streaming TV: Samuel Barnett and Elijah Wood are back for more metaphysical mysteries in the second and final season the BBC America comedy mystery "Dirk Gently's Holistic Detective Agency: Season 2," based on the novel by Douglas Adams. Also new: animated series "Napoleon Dynamite: Season 1."
Foreign affairs: "The Second Mother" (Brazil, 2015, R, not rated), an upstairs downstairs comedy of class divisions thrown into chaos, won a Jury Prize at the Sundance Film Festival.
HBO Now
Inspired by a true story, "American Made" (2017, R) stars Tom Cruise as a pilot who makes a small fortune flying weapons and drugs between the U.S. and South America for the CIA in the 1980s.
Dax Shepard and Michael Peña cruise the highways in "CHIPS" (2017, R), a comedy reboot of the 1970s cop drama.
Arriving Saturday night is "The Mountain Between Us" (2017, PG-13), starring Kate Winslet and Idris Elba as strangers who must work together to survive a plane crash.
Showtime Anytime
"Pork Pie" (2017, not rated), a road movie action comedy about three accidental outlaws driving the length of New Zealand, is a remake of the 1980 cult film "Goodbye Pork Pie" directed by the son of the original director. It makes its U.S. debut on Showtime. Also new: survival drama "Walking Out" (2017, PG-13) with Matt Bomer and Bill Pullman.
FilmStruck
TCM Select Pick of the Week is "Baby Doll" (1956), starring Karl Malden as a lascivious mill owner on the skids who is counting the days before he makes his child bride (Carroll Baker) his wife in fact as well as in title, and Eli Wallach is rival businessman who takes revenge by seducing the girl. Directed by Elia Kazan from an original screenplay by Tennessee Williams, the film was condemned by the Legion of Decency and called "just possibly the dirtiest American-made motion picture that has ever been legally exhibited" by Time magazine. Streaming through Dec. 7.
It's also part of a seven-film collection of features "Written by Tennessee Williams," which includes the FilmStruck debuts of "The Roman Spring of Mrs. Stone"(1961) with Vivien Leigh and Warren Beatty, and "Sweet Bird of Youth" (1962) with Geraldine Page and Paul Newman.
The quintessential Rat Pack movie, the original "Ocean's 11" (1960) drops Frank Sinatra, Dean Martin, Sammy Davis Jr., Peter Lawford, and Joey Bishop in Las Vegas for an epic casino heist. Let's face it, this film just sort of clumps along – veteran Lewis Milestone was more babysitter than director, trying to corral the carousing bunch and stuck filming their improvised antics – but it delivers zingy moments of Rat Pack zeitgeist, the over-the-top cigar chomping fun of Akin Tamiroff, and a terrific cast that includes Richard Conte, Cesar Romero, Henry Silva, and a (mostly wasted) Angie Dickinson. It arrives on FilmStruck as the all-woman sequel "Ocean's 8" plays in theaters and is part of the "Director of the week: Lewis Milestone" collection of 11 features, from his early gangster drama "The Racket" (1928, silent with score) through his classic "Of Mice and Men" (1939) with Burgess Meredith and Lon Chaney Jr. to his remake of "Mutiny on the Bounty" (1962) with Marlon Brando.
Also new: five films with "Star of the Week: Liza Minnelli," including the Oscar-winning "Cabaret" (1972, PG), and "The Cinema of Straub and Huillet," a collection of five features and two shorts from the intellectual art-house filmmaking team of Jean-Marie Straub and Danièle Huillet.
Acorn TV
Two miniseries now available: the original PBS production "Tales of the City" (1994), based on the stories by Armistead Maupin, and the BBC version of "The Diary of Anne Frank" (2009) with Iain Glen and Felicity Jones.
New on disc
"Tomb Raider," "Love, Simon," "Sherlock Gnomes," "I Can Only Imagine," "The Strangers: Prey at Night"
At Redbox: "Sherlock Gnomes," "I Can Only Imagine," "The Strangers: Prey at Night," "Every Day"
Sean Axmaker is a Seattle film critic and writer. His reviews of streaming movies and TV can be found at http://streamondemandathome.com.
Local journalism is essential.
Give directly to The Spokesman-Review's Northwest Passages community forums series -- which helps to offset the costs of several reporter and editor positions at the newspaper -- by using the easy options below. Gifts processed in this system are not tax deductible, but are predominately used to help meet the local financial requirements needed to receive national matching-grant funds.
Subscribe to the Spokane7 email newsletter
Get the day's top entertainment headlines delivered to your inbox every morning.
---