A&E
Blackbird ditches hybrid service model, updates new barbecue menu
Fri., June 15, 2018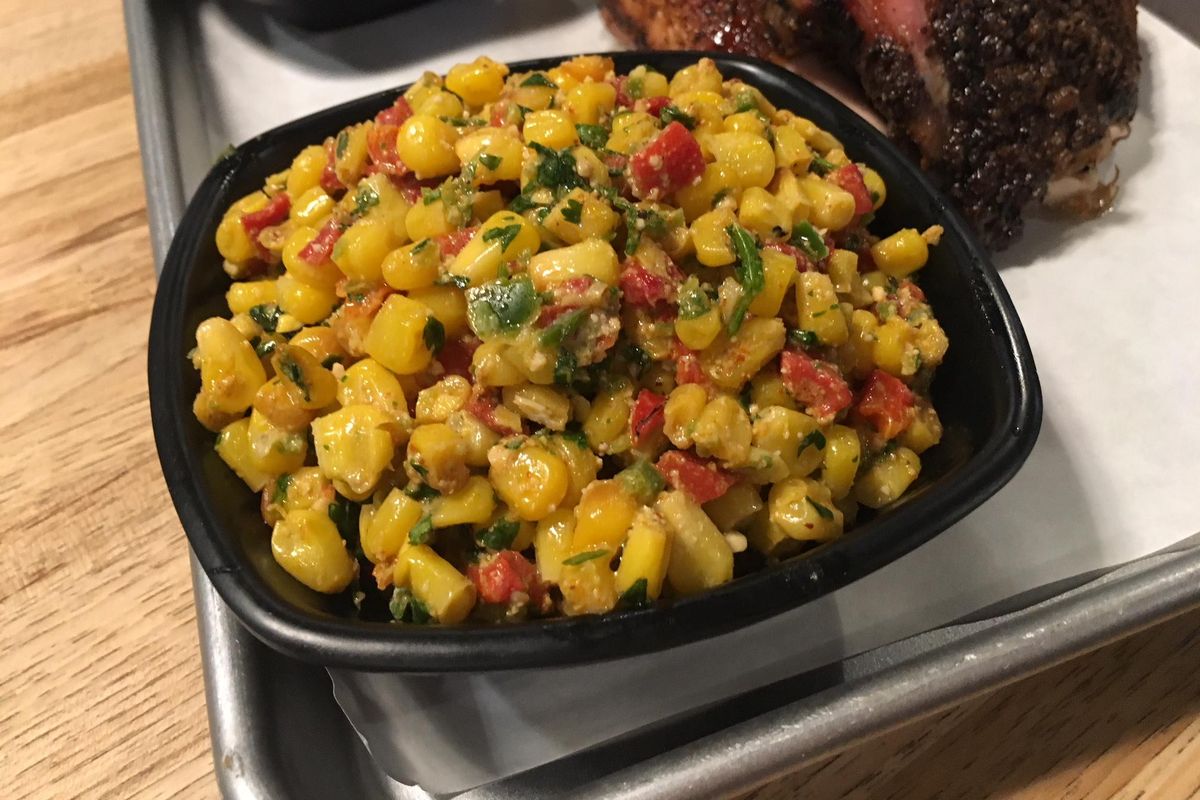 The roasted corn salad is meant to evoke elote, or Mexican street corn. (Adriana Janovich / The Spokesman-Review)
After a month and a half of using a new hybrid service model, The Blackbird is back to being a full service restaurant.
The eatery, opened three years ago in the old Broadview Dairy building, recently changed its service model and menu, transforming from a Southern-inspired restaurant to a barbecue spot after a two-week closure. Changes included relocating the front entrance, adding a vestibule and installing screens and equipment to allow guests to place orders on their own.
The new system was meant to save money.
But, owner Patrick McPherson said, that wasn't how it ended up working out.
"Our goal with minimum wage going up to $13.50 (in 2020) was to reduce labor so we could keep prices down. In end, it ended up costing us more labor," he said. "We had to have a host here pretty much all the time and a busser or two."
Previously, he said, during the slower times between lunch and dinner as well as after dinner, "we typically wouldn't have a host."
Plus, he said, "our service was suffering. It's a big restaurant. People would slip in. They would sit for awhile."
And, he noted, "even if brisket sits for a minute or two, or even just going from the kitchen to the patio, it cools down and sort of loses its luster."
The Blackbird is still using its new front entrance, displaying menus on newly installed screens and sticking with barbecue. But it's since returned to full table-side service.
It's also made a few tweaks to dishes since switching things up, dropping black-eyed peas from the menu and adding apple cider vinegar to the slaw, which is vegan. Blackbird makes its own vegan mayo for dressing the slaw.
The potato salad features marrow-roasted potatoes with paprika. "I really like it. It's very different," McPherson said.
He's also a fan of the new take on corn salad. It's roasted, a spin on Mexican street corn, or elote. It's vegan. The dressing is made from cashews.
There's a new rub for the smoked chicken and wings featuring Roast House coffee. Smoked cauliflower was added as a vegan and vegetarian option.
The fries used to be dusted with flour. That's no longer the case. They are now gluten-free. And, McPherson said, "We now have a dedicated gluten-free fryer."
There's a new executive chef, too. Dustin Olson, who had been the sous chef, took over when Molly Patrick left. A lead line cook, Nicole Wells, was promoted to sous chef.
The Blackbird closed Sunday after Easter brunch for two weeks of renovation. It reopened April 16 as a part fast-casual, part traditional restaurant service specializing in elevated smokehouse barbecue items and giving guests the option to self-order and self-pay.
The Blackbird announced the closure on Facebook shortly before Easter with the note, "Cheers to new beginnings!" and the hashtags #NewIdeas and #ChangeIsGood.
The front door of the restaurant relocated from the east side of the building to what was the south patio entrance. A cashier station was added, along with digital menus. Booth-backs were lowered to give the place more of an open feel.
Old-fashioned, color-coded cow tags were supposed to help with efficiency. The plan was for diners to hang them from newly installed shepherds' crooks at each booth or table. The vintage crooks still stand, but they no longer used.
Still, McPherson said, "They look cool."
The new menu is "hardcore barbecue with some fun spins," McPherson said.
Barbecued meat – brisket, pulled pork, smoked chicken, hot links, beef ribs – is available by the pound or half-pound. Or, order a plate dinner with your choice of meat, two sides and house-made bread.
Sauces, made in-house, are: the Sticky Icky Kansas City-style; Firebird, or hot Kansas City-style; Chuck Norris, or Texas-style; Bruce Lee, or sweet and spicy; Hotlanta, or spicy mustard; and White Chick, or Alabama white sauce.
Barbecue sandwiches, served with one side dish, are also available. So are barbecue tacos. They're served with an avocado relish with lemon and lime zest and juice and chopped cucumber.
Monday night's special is burnt ends. And, "We'll probably add a second night," McPherson said.
A new kid' menu has been added, too. And, McPherson said, they're working on a happy hour food menu. Right now, the popcorn is on special for $3 during happy hour. Select beers are half off. And select drinks are $5.
The menu is mostly meaty.
But there are options for vegan and vegetarians, too, as well as guests who are adhering to gluten-free diets. Look barbecued jackfruit, which has a texture similar to pulled pork as well as roasted and smoked cauliflower.
Appetizers include corn dogs, chips and pimento cheese, and bacon-fat popcorn, all throwbacks to the original menu.
New starters include deviled eggs with chopped brisket, smoked and fried wings, brisket chili and filthy fries with roasted garlic, smoked cheddar and pulled pork. They are, McPherson said, "by far our No. 1" appetizer.
Desserts include peach cobbler, doughnuts with chocolate sauce, and no-bake butterscotch haystack cookies, a staple in the South, made by folding shoestring potato chips into a mixture of butterscotch and white chocolate.
There's a citrus, custard-like buttermilk pie, too, and an apple pie ice cream cone in which the cone is made from pie crust.
Ice for the mint julep is crushed by hand with a mallet in a traditional Lewis bag.
Note that barbecue is prepared daily, starting early in the morning. It's first-come, first-served. "When we're sold out, we're sold out," McPherson said. And, "The goal is to be sold out every day."
There have been nights when Blackbird was out of brisket by 7 or 7:30 p.m. They're aiming for 9 p.m. But, McPherson said, "Sometimes, it's 8 p.m."
The weekend goal is 10 p.m.
Local journalism is essential.
Give directly to The Spokesman-Review's Northwest Passages community forums series -- which helps to offset the costs of several reporter and editor positions at the newspaper -- by using the easy options below. Gifts processed in this system are not tax deductible, but are predominately used to help meet the local financial requirements needed to receive national matching-grant funds.
Subscribe to the Spokane7 email newsletter
Get the day's top entertainment headlines delivered to your inbox every morning.
---