Sports > Spokane Indians
Hans Crouse injured, Spokane Indians downed by Boise on opening night
June 15, 2018 Updated Fri., June 15, 2018 at 10:56 p.m.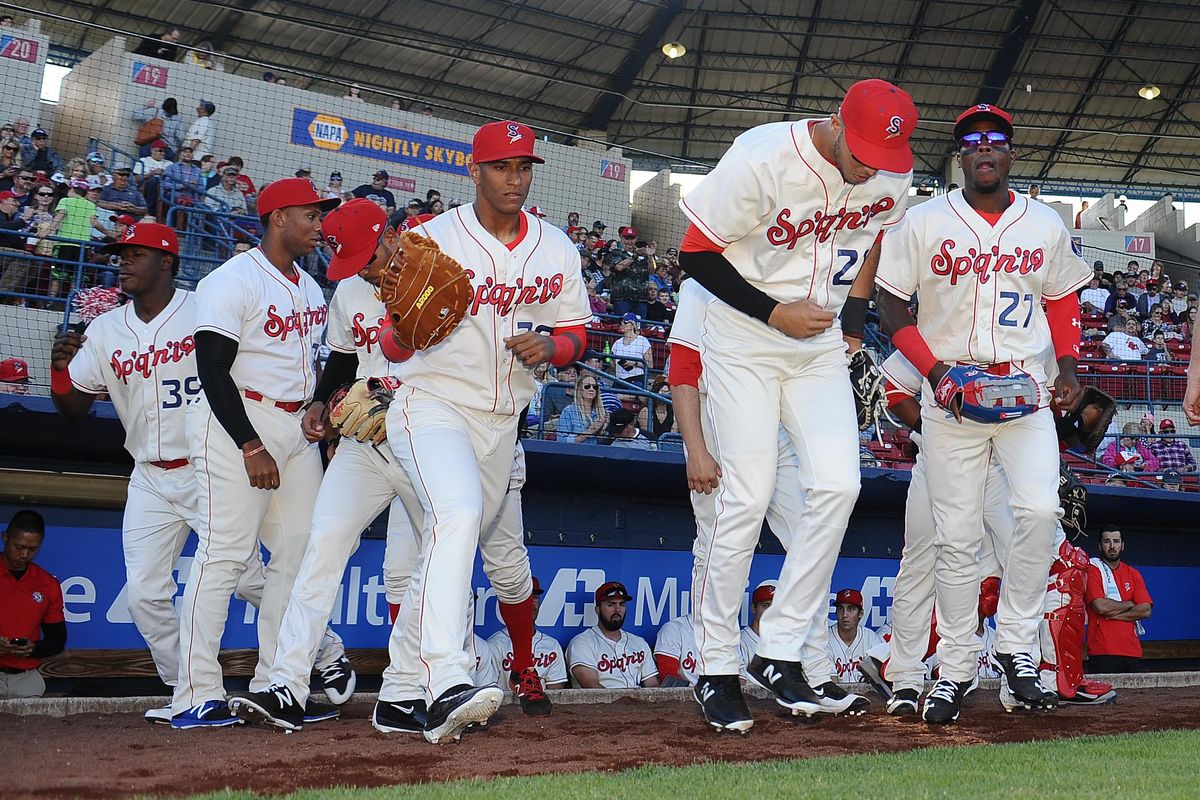 Spokane Indians starting lineup take the field before a game against the Boise Hawks at Avista Stadium on Friday, June 15, 2018. (James Snook / For The Spokesman-Review)
Regardless of the outcome, it's not the way the Spokane Indians wanted to start the season off.
Before the game even began, new manager Kenny Holmberg was forced into his first pitching change of the campaign.
The Boise Hawks proceeded to take advantage of an emergency starter and a patchwork bullpen. Despite a seventh-inning rally, the Hawks downed the Indians 7-4 before a capacity crowd at Avista Stadium on Friday.
Spokane has lost four straight season openers and are 4-10 in their last 14 openers. The Indians' last 13 season openers have been at Avista Stadium – the last opener on the road was at Eugene in 2005, a 3-2 loss.
"At the end of the day we're 0-1, they're 1-0. It's not the end of the world," Holmberg said. "We're going to wake up tomorrow and try to become 1-1 to move on from this game."
Hans Crouse, the Texas Rangers' second-round draft pick in the 2017 MLB Draft, was scheduled to start and warmed up in the outfield during the pregame ceremonies but was scratched just before game time.
According to an Indians spokesman, Crouse "cut a finger" on a seam while long tossing and was bleeding, so out of abundance of caution the club decided to scratch the hard-throwing righty.
The team spokesman indicated that trainers didn't think the injury was serious.
"It doesn't seem to be too big of an issue," Holmberg said of Crouse's injury. "It didn't seem like it was the right thing to do to put him out there with a little blemish on his throwing hand.
"We decided the best thing to do was to skip this one, doctor it up, treat it accordingly and he'll make his next start until I hear otherwise."
Holmberg called upon Gonzaga grad Royce Bolinger to make the opening night start.
Bollinger, 27, has been in the Rangers system as an outfielder since 2012 and reached Double-A, but is making the transition to pitcher this season.
Bolinger got into trouble right away, after receiving roughly 15 pitches to warm up.
"My adrenaline was going so I was able to get ready fast," Bolinger said.
"There's only one opening night a year and not many people get to start on opening night."
Luke Morgan led off with an infield single that rolled up to the third base bag, then Cade Harris put one through the moving infield on the right side on a hit-and-run to put runners at the corners.
A pair of wild pitches allowed Morgan to trot home with the game's first run, then Danny Edgeworth ripped a line-drive single to center to make it 2-0.
The Indians loaded the bases in the bottom half, benefiting from a pair of walks, but left them loaded against Boise starter Pearson McMahan.
Boise second baseman Jeff Bohling, a 2017 Gonzaga grad, laced a double into the right field corner to lead off the second, but Bolinger picked up a strike-em-out, throw-em-out ended the inning unscathed.
Bolinger was done after two innings in an emergency start. He allowed two runs on four hits and struck out two.
"Tremendous job by Royce," Holmberg said. "You know, 15 minutes before the home opener and they tell you you're starting. To go out and give two innings like that.
"He didn't give anything away. He went out there and competed and he battled for us. I'm very appreciative of his effort."
"It was unique," Bolinger said of the rare opportunity to start the Indians first game. "But you've always got to be ready. You don't know what's going to happen in baseball."
Francisco Villegas took over and struck out two in the third, but allowed a leadoff double in the fourth to Daniel Jipping. The Boise first baseman stole third and scored on a sacrifice fly to center by designated hitter Luis Castro.
With one down in the fifth, Villegas walked the next two batters, with a balk thrown in for good measure. Holmberg came out to get him and brought in Sergio Suarez.
The runners moved up on a passed ball by catcher Isaias Quiroz, then leadoff batter Luke Morgan scampered home on a wild pitch. Suarez got Edgeworth in a 2-2 count, but the Boise third baseman laced an RBI single off the glove of shortstop Cristian Inoa to make it 5-0.
Three consecutive base on balls issued by Suarez brought in Boise's sixth run of the game.
"It's probably the first time (Suarez) played under lights," Holmberg explained. "Probably first time he's played in front of a crowd like this. That one's behind him."
Boise went to the pen in the bottom half, ending McMahan's night. He went four innings and allowed three hits and two walks with two strikeouts.
The Indians got something going. With one down, Miguel Aparicio hit a soft line to center for a single, and went to second with two outs after Jonah McReynolds suffered his second hit by pitch of the night.
But the inning ended when Curtis Terry fouled out to the catcher.
Emmanuel Clase pitched the sixth and seventh and provided solid relief, striking out four, all on fastballs.
"When we get a lead, which we will, (Clase) is going to be an easy guy to hand the ball to," Holmberg said.
The Indians loaded the bases in the bottom of the seventh with a pair of walks and a single, then reliever Carlos Polanco hit McReynolds – the third time he'd been plunked in the game – to force Spokane's first run of the year.
Terry then walked to bring in another run to make it 6-2. Hasuan Viera hit into a fielder's choice but a run scored.
Starling Joseph then broke his bat on a grounder to third, but Edgeworth threw it down the right-field line and a run scored to make it 6-4 with one out.
But Quiroz struck out, and Inoa grounded to third to end the inning with the Indians still trailing 6-4.
Boise added one more in the ninth on a one-out walk, a wild pitch and a dropped pop-up by Diosbel Arias at third base. The Indians went quietly in the bottom half against Boise closer Hayden Roberts.
J.P. Martinez, the Rangers No. 3 rated prospect who was assigned to the team earlier in the week, went 0 for 4 with a walk and a run scored.
Local journalism is essential.
Give directly to The Spokesman-Review's Northwest Passages community forums series -- which helps to offset the costs of several reporter and editor positions at the newspaper -- by using the easy options below. Gifts processed in this system are not tax deductible, but are predominately used to help meet the local financial requirements needed to receive national matching-grant funds.
Subscribe to the sports newsletter
Get the day's top sports headlines and breaking news delivered to your inbox by subscribing here.
---