News > Spokane
Community celebrates children at Spokane's World Refugee Day
June 16, 2018 Updated Sat., June 16, 2018 at 9:27 p.m.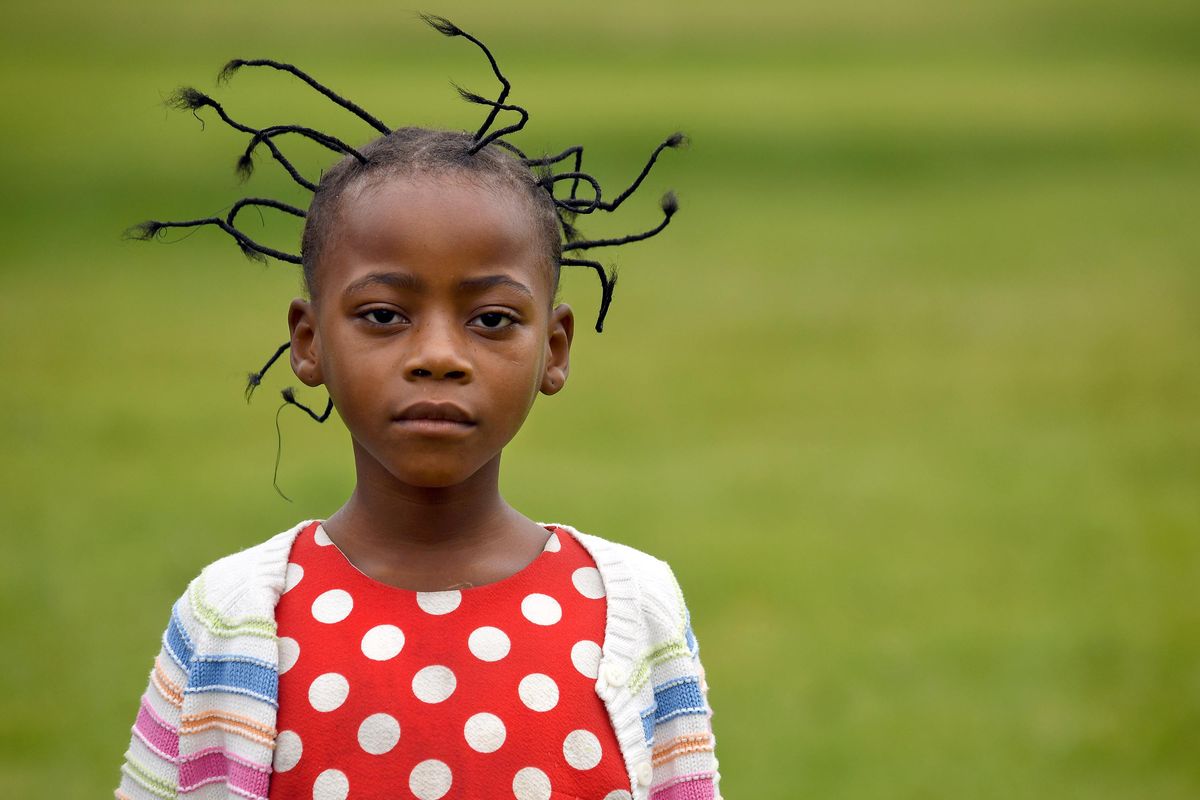 Divine Kabura, 7, of The Republic of Congo poses for a photograph during World Refugee Day at Nevada Park in Spokane on Saturday, June 16, 2018. (Kathy Plonka / The Spokesman-Review)
A crowd of expectant family, friends and volunteers held back cheers as 26 immigrants from 11 countries raised their right hands to begin an oath renouncing foreign powers and pledging allegiance to the United States.
As an immigration officer called name after name, the crowd erupted as new American citizens received their certificates from Judge Rosanna Malouf Peterson. For many onlookers and participants, that ceremony was the highlight of Spokane's World Refugee Day. Others just appreciated the opportunity to watch their loved ones succeed and connect with the refugee community.
Clémence Kitambala, 22, who is originally from the Democratic Republic of the Congo, said she felt relieved to finally become an American citizen and to have the emotional stress of the immigration process off her shoulders – especially in the current political climate.
Kitambala, a recent graduate of Whitworth University, works as a health coordinator for an early education nonprofit. She said it took her six years to become a citizen.
Her advice to others: Keep looking forward.
"Just have faith," she said. "Don't give up on your dreams, keep working hard, keep fighting and everything will work out."
Several community organizations, including Unify Community Health, World Relief and Refugee Connection also attended the event, setting up tents around Nevada Park. Spokane Mayor David Condon made an appearance, and gave a speech welcoming those going through the naturalization ceremony and thanking those attending for choosing to live in Spokane.
Taryn Joshua, who manned a table for Unify Community Health at the event, said their clinics around Washington and the locations in Spokane often serve refugee communities.
"A lot of our patients are up there," she said. "So it's cool to be part of this."
This year's World Refugee Day focused on celebrating the refugee child. One of the event coordinators, Refugee Connections Spokane executive director Marijke Fakasiieiki, said that in part, the event was focused on listening to young refugees' stories and serving vulnerable populations. She also hoped to bring attention to the thousands of undocumented immigrant children housed in shelters and detention centers by the U.S. government.
"Part of why we decided to (celebrate) the refugee child was so we could talk about these issues without having to name it specifically," she said, "but still lift it up so people would know we were gathered really to voice our concerns about what's happened."
After performances by the Neema Youth Choir, young refugees shared what they remember from living through a war, staying in a refugee camp, interviews with immigration officials and their first memories in the United States through essays they wrote.
One 15-year-old who spoke was born in a refugee camp, and remembers moving between camps and surviving food and clean water shortages. She hopes to return to Tanzania, where her family is from, and become a doctor when she grows up.
A 17-year old Syrian refugee recalled a time when she was unable to attend school because it was too dangerous to go outside. She, too, hopes to return to her country when she's older and reconnect with members of her family, from which she was separated as a child, and to rebuild.
Local journalism is essential.
Give directly to The Spokesman-Review's Northwest Passages community forums series -- which helps to offset the costs of several reporter and editor positions at the newspaper -- by using the easy options below. Gifts processed in this system are not tax deductible, but are predominately used to help meet the local financial requirements needed to receive national matching-grant funds.
Subscribe now to get breaking news alerts in your email inbox
Get breaking news delivered to your inbox as it happens.
---