A&E
In the Garden: Celebrate roses with lecture, show
Sat., June 16, 2018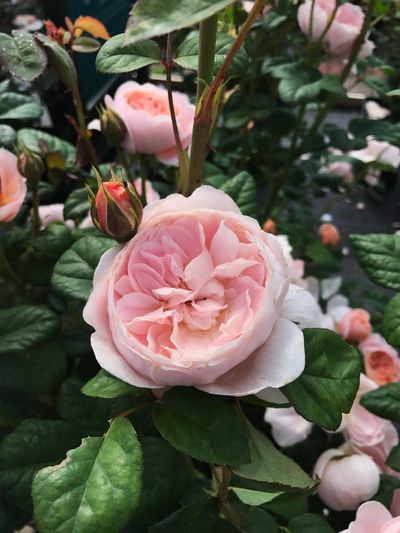 June is the month when roses are at their peak in area gardens. This beautiful flower will be celebrated in two very special ways this week.
On June 22, Harry Landers – past curator of Portland's Washington Park International Rose Test Garden – will give a presentation at St. John's Cathedral about his career. And on June 23, the Spokane Rose Society will stage the 71st annual Spokane Rose Show at Northland Rosarium.
During Landers' 28-year career, he did it all.
"If it was above 35 degrees, I was outside working in the garden, ordering plants, coordinating the army of volunteers it took to do the deadheading of the roses, handling public relations and taking care of the irrigation, fertilization and weeding," he shared in a recent telephone interview.
Fortunately, his intense love of roses made his job completely enjoyable – so much so, in fact, that he often missed taking breaks during his work days.
"What other plant can you grow that will bloom for six months or more?" he asked. "Roses are so easy to care for. Some of the older roses are high maintenance, but modern roses are just as lovely and less work. I don't even spray my own roses or prune them; I just water and deadhead them and they do great."
As he reflects back on his career, Landers feels very satisfied.
"When I started working at Washington Park in 1989, there were about 3,500 roses, and when I retired, there were 10,475," he said. "It's one of the top rose gardens in the world. We're in the top 10 urban gardens in the world and the top 10 public gardens in the nation. I'm really proud of my accomplishments."
Spokane Rose Society president Andrew Smith is looking forward to helping present the Rose Show on Saturday.
"The purpose of the show is to get the community together to honor roses as well as the beauty of summer," he said. "And it's a chance to show off the roses you've grown."
Anyone interested in showing their roses – including non-members – can take them to Northland Rosarium to set them up between 8 and 10 a.m. Members of the Rose Society are available to help with this.
"It's less scary to enter your roses than most people would think," Smith said. "But people can even enter photographs of their roses if they're not feeling brave enough to show their roses."
Rose entries will be judged from 11 a.m. to noon, and after that the public can view all of the entries until 5 p.m. Spokane Rose Society members will be available to answer questions about rose culture, and Spokane County Master Gardeners will respond to gardening questions.
Smith encourages everyone to attend the Rose Show.
"It'll be a good opportunity to see what the Spokane Rose Society does, and there are a lot of benefits to belonging," he said. "And it's a cool chance for everyone to get acquainted."
Susan Mulvihill is co-author, with Pat Munts, of "Northwest Gardener's Handbook." Contact her at Susan@susansinthegarden.com. Watch this week's "Everyone Can Grow A Garden" video youtube.com/c/susansinthegarden.
Local journalism is essential.
Give directly to The Spokesman-Review's Northwest Passages community forums series -- which helps to offset the costs of several reporter and editor positions at the newspaper -- by using the easy options below. Gifts processed in this system are not tax deductible, but are predominately used to help meet the local financial requirements needed to receive national matching-grant funds.
Subscribe to the Spokane7 email newsletter
Get the day's top entertainment headlines delivered to your inbox every morning.
---