News > Nation
Neil Gaiman, Amanda Palmer lead New York's Mermaid Parade
Sat., June 16, 2018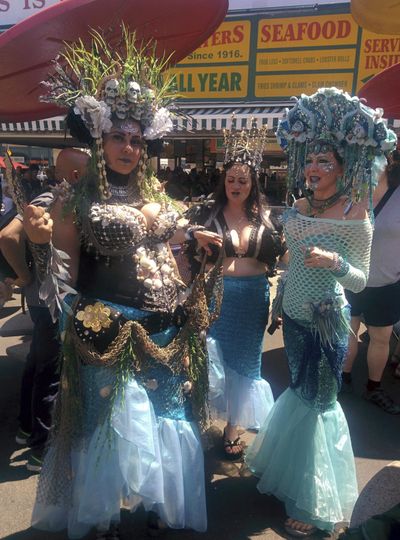 NEW YORK – Throngs of people dressed as mermaids, fish and other aquatic creatures packed New York's Coney Island on Saturday for a sun-soaked edition of the zany Mermaid Parade.
Crowds cheered as Neil Gaiman, the author of fantasy works such as "American Gods," and his wife Amanda Palmer, a musician with the Dresden Dolls duo, led the parade dressed as King Neptune and Queen Mermaid.
The couple and their 2-year-old son were wheeled along the beachfront route in a wicker chair, taking in the colorful scenery that included everyone from a princess mermaid to a pirate zombie.
"We absolutely love mermaids and mythology and everything and this is like the most fun," said parade-goer Carley Boltz. "We just get to go once a year and just dress up and have a blast."
Cindy Lopez's princess mermaid mashup was complete with a tail that she planned to take for a dip in the ocean. Sean Marz wore sequins, an algae crown and sea shells covering his skivvies.
"There's a lot of shimmering objects pasted to my body," he said.
The Mermaid Parade was founded in 1983 to bring mythology to life and give New Yorkers a chance to express themselves in public.
It draws hundreds of thousands of revelers to the beach each year.
Local journalism is essential.
Give directly to The Spokesman-Review's Northwest Passages community forums series -- which helps to offset the costs of several reporter and editor positions at the newspaper -- by using the easy options below. Gifts processed in this system are not tax deductible, but are predominately used to help meet the local financial requirements needed to receive national matching-grant funds.
Subscribe now to get breaking news alerts in your email inbox
Get breaking news delivered to your inbox as it happens.
---