News > Business
RV revenue in Spokane County has increased five-fold since 2009
Sat., June 16, 2018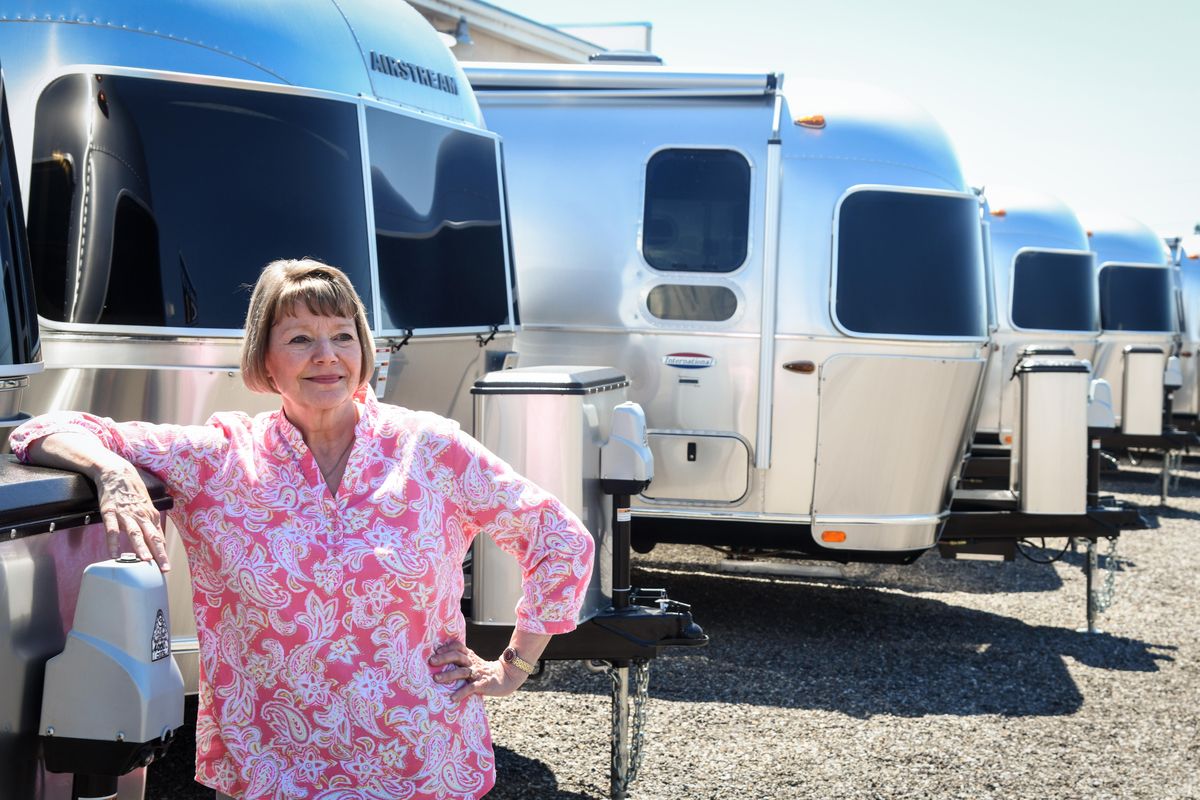 Karyn Dietz has a lineup of Airstreams at her dealership in Spokane Valley. Dan Pelle/THE SPOKESMAN-REVIEW (Dan Pelle / The Spokesman-Review)
For Karyn Dietz, owner of Airstream of Spokane, business hasn't always been good. Sales of the steel capsules-on-wheels slumped in 2008 due to the recession, and for two years Dietz didn't take home a paycheck.
But now that the economy is climbing, regional RV sales are reaching record highs.
In Spokane County, the number of RV businesses has doubled since 2009. And RV sales and maintenance revenue have increased almost fivefold since 2009, according to the Department of Revenue.
The growth is due partly to more RV dealerships in Spokane, but dealership owners don't know exactly why so many more people are buying RVs. Some speculate a few causes: baby boomers retiring, a better economy, younger buyers and fewer international travelers due to fears of terrorism.
Dietz said the county's increase in RV revenue roughly reflects the growth of her business since 2009, and the manufacturer, based in Jackson Center, Ohio, is struggling to keep up with demand. It built 3,000 Airstream units last year, but sellers like Dietz have more people wanting to buy them than they can provide.
"Everything is tight," Dietz said. She said it would take up to four months to get an Airstream from the factory that isn't already ordered. More are on the way now.
In response to the increased demand, Airstream has issued a 1 to 2 percent price increase every year, Dietz said, and that cost gets transferred to buyers.
Jerry Wagner, owner of RnR RV, said he thought the biggest factor in the RV boom is the falling unemployment rate.
"People are working. They're back working and making money," he said.
It's clear the state's economy is improving. The unemployment rate dropped to 5.4 percent in April, according to the Washington Employment Security Department.
Some owners of RV outlets said the growth is due to population growth. The Washington state Office of Financial Management estimates Spokane County has gained 28,579 residents since 2010.
Dietz said she thought the biggest reason is the retirement of baby boomers, and that people are looking for ways to travel for long periods in the wilderness. The 65-and-older age category is growing in the county, too. In 2006, 12.2 percent of the population was 65 and older, and in 2017, that had grown to 16.2 percent.
The Department of Revenue speculates part of the growth can be attributed to more RV dealerships opening in Spokane, such as Click It RV, which opened in 2015 and now has three locations, including one in Idaho.
Local journalism is essential.
Give directly to The Spokesman-Review's Northwest Passages community forums series -- which helps to offset the costs of several reporter and editor positions at the newspaper -- by using the easy options below. Gifts processed in this system are not tax deductible, but are predominately used to help meet the local financial requirements needed to receive national matching-grant funds.
Subscribe now to get breaking news alerts in your email inbox
Get breaking news delivered to your inbox as it happens.
---