Democrats, Republicans square off in race for 6th District seat currently held by Jeff Holy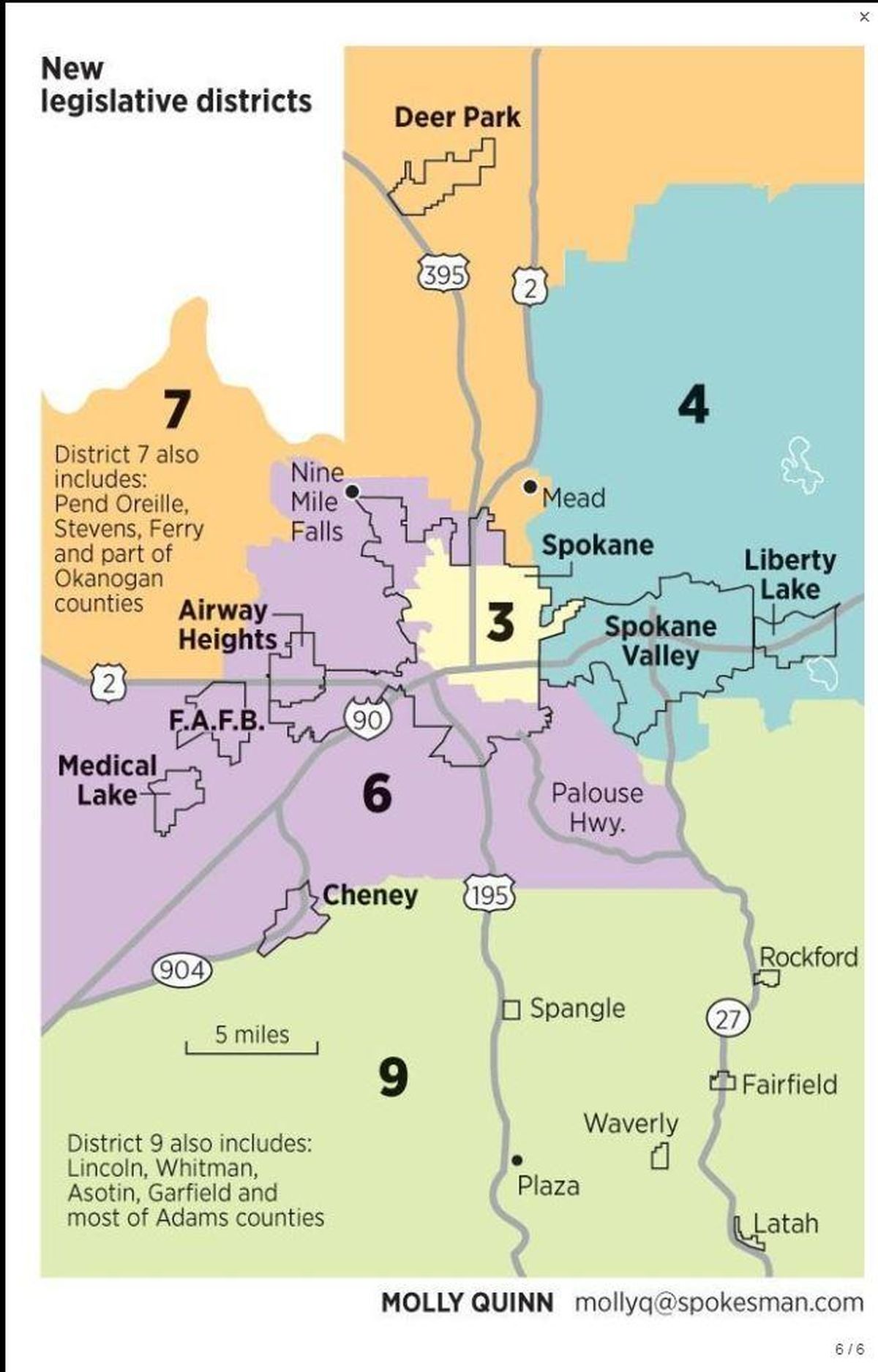 Two Democratic candidates are looking to become a state representative in Washington's 6th district.
Republican Jeff Holy will leave his spot in the House this fall to pursue a bid for the state Senate. Two Democrats and two Republicans seek to replace him. The other 6th District seat is held by Republican Mike Volz, who faces a challenge from Kay Murano, executive director of the Spokane Low Income Housing Consortium.
Dave Wilson is a moderate who formerly ran for Congress as an independent in 2014 and 2016, and as of the last recorded filing had raised more funds than any other candidate in the 6th district, at close to $19,000.
That's about $16,000 more than the other Democratic candidate, Rion Ametu, and nearly $17,000 more than Republican candidate Jenny Graham.
Wilson is a former Republican who moved away from the party during the Iraq war, he said. The divide deepened with the formation of the tea party and the election of President Donald Trump. To him, the Republican Party has become too dogmatic, he said.
Although campaign contributions alone don't determine a race, Wilson thinks the support he's received shows that his district wants someone who sees issues as more than just black and white.
"I'm not afraid to call myself a moderate," he said. "I think there's a yearning for that."
Wilson said he wants to to improve Washington's health care system, and said it could be "better, more accessible and lower-cost."
He also wants more funding for early and pre-K education, and to make public colleges affordable for working families.
"When I was in school I could go to college and improve my life for relatively cheap," he said. "It's much harder for working people to get a leg up now."
That difficulty is not in the free market, he said, but in poor leadership. Wilson said his experience running a technical school gives him the knowledge and savvy needed to make a difference.
"It gave me an appreciation for education and running a business, and making sure we were financially stable and in compliance," he said.
The other Democratic candidate, Rion Ametu, doesn't have a business background, nor has he run for office before. He is relatively new to the Spokane area, and makes no claim to be a moderate.
But the 38-year-old said he has what his opponents, Democratic and Republican, don't: A sense of urgency.
"It seems like they're all retired and wealthy business people, and they're not really worried about paying electric bills or their rent going up or paying daycare costs," he said.
A full-time college student, Ametu drives for Uber to help pay the bills, and said he's experienced the effects of political apathy personally. He believes that personal understanding of the struggles of working-class people gives him an advantage none of his opponents has.
"There's no real vision or goal in mind for legislation that's being passed," he said. State legislators have focused too much on whatever issue happens to be popular, Ametu said, instead of laws that affect real people.
He's concerned with the cost of health care, and homelessness rates – especially among veterans, he said. Ametu is also pro-union, and said large companies often take advantage of business-friendly legislation and their employees. He said he wants to protect workers and union rights.
"People are subsidizing their lives to ensure that these large businesses come to our state," he said. "With a full-time job at minimum wage, making a living wage is a right."
Republican Virginia "Jenny" Graham has likewise never run for office, but the Army Reserves veteran, mother and small-business owner has earned the endorsement of several established Republicans, including John Ahern, a former state representative, and Rep. Bob McCaslin, R-Spokane Valley. So far, Graham had raised $1,865.00 for her campaign.
She said supporting small businesses, education and trade schools are important to her. But her bigger priority, she said, is public safety.
Graham's legislative work started because she wanted to protect children, she said. The murder of her sister, as well as the abuse she and her siblings experienced as children, led her to help pass legislation in 2014 that increased the statute of limitations for prosecuting child sex predators.
If Graham wins, she'll be taking over the seat of Holy, her former mentor and ally for the bill.
"I was searching for answers, and eventually I started working with John Ahern and Jeff Holy to protect Washington's children from sex predators," she said.
She also wants more mental health care, and said addressing untreated psychological problems can help improve public safety.
"A lot of the people they have that come to the jail have some mental illness that is not being treated," she said. "We have to figure out a way to be more proactive."
Graham said she is making a point to let residents in the 6th District know she's a leader who's willing to listen to and work with her would-be constituents.
"When I'm a legislator, I'll answer the phone," she said.
Republican John Aiken filed last-minute after seeing the list of other candidates.
"They haven't been here long enough to know the history of this area," he said. "I stuck it out here during the hard times."
Aiken, a former city employee, hasn't raised any money for his campaign based on the last report.
He ran for a city council position in 1997 and lost in a close race. He later worked with the Bush-Cheney campaign in 2000, he said, and ran for governor in 2004 and 2008, but lost in the primaries both times, in fifth and third place, respectively.
Aiken's 2008 gubernatorial campaign website outlined plans for energy self-reliance using ethanol from sugar beets, methane, methanol and wind power. It also lists extensive plans for topics as broad as public education reform, affordable housing, an "economic recovery program" and rest stop development.
Aiken describes himself as an an environmentalist, and cited concerns over pollution from Fairchild Air Force Base, and threats to salmon and steelhead on the Spokane River which the Spokane tribe used to fish.
"We don't have salmon or steelhead (because of the dams)," he said.
Aiken also said he wants to reform the state's pension system, and is concerned over limits to water and mineral rights for property owners.
He opposes the current tax system, and said he wants to amend the state's constitution outright so people and entities aren't forced to pay taxes that go to programs they won't benefit from.
"A tax needs to go to everybody, or it's not a fair tax," he said. "You tax one entity, and it goes to something completely different."
Editor's note: This story was amended June 24, 2018 to correct a misstatement about candidate Virginia Graham's family. Graham has three adult children.
---