News > Transportation
Getting There: Ditch the car and meet your neighbors – Summer Parkways is Thursday
Mon., June 18, 2018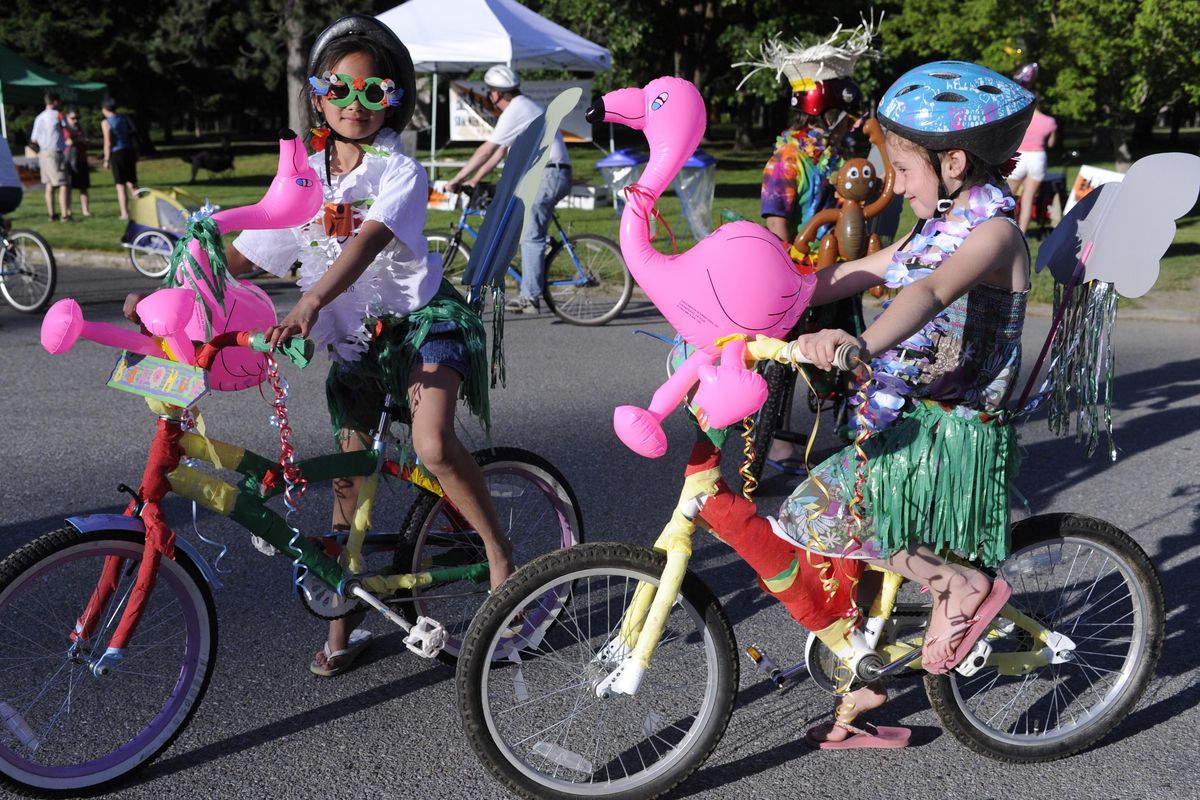 Amaya Martin, 9, left, Jacob Lawrence, 10, (in back) and Jose Lawrence, 7, spent the day decorating themselves and their bikes in a slash of Hawaiian color for the Spokane Summer Parkways event in 2016. (Colin Mulvany / The Spokesman-Review)
Every Sunday and every holiday since 1974, Bogotá, Colombia, closes 76 miles of streets.
No cars go on these Andean roads these days, but every other type of "human-powered transportation" is allowed on the suddenly safe roadways. Bicycles, scooters, skateboards – even feet.
It sounds odd and it seems kind of pointless, especially to the American mind. You may ask: Why are they doing this? What if they have to go somewhere?
But the 1.7 million people – a quarter of the city's population – who turn out every week for the closed, or, rather, reclaimed streets know the answers.
The temporarily no-car streets are called ciclovías, and since the official program's founding more than 40 years ago, similar events in 15 other countries have sprung up. In Paris, the fourth annual Journée Sans Voiture, or Car-Free Day, is Sept. 22. Melbourne, Australia, has held a number of such events and is now considering forever banning cars in its central business district's "superblocks."
In the United States, dozens of cities have hosted one-time or annual events including Atlanta, Chicago, El Paso, Pittsburgh, Miami and Honolulu.
Which gets us to Spokane. Nothing like that could ever happen here – in this city where redesigned roads cause dyspeptic rage, where most of us are cheering on the $1.5 billion north-south freeway – right?
Wrong. The Lilac City has a ciclovía, and it's this Thursday from 6 to 9 p.m. Called Summer Parkways, the ciclovía-inspired 4-mile loop on the South Hill draws hundreds of nonmotorized people.
"It's a 4-mile block party. It's a chance for people to go out and meet their neighbors and have fun and greet the summer and be active in their neighborhood," said Katherine Widing, an organizer of the event. "It's human-powered transportation. We're trying to get people out of their cars and into the streets. We want to encourage people to use the bike, to use the scooters, to walk, rather than always be in a car."
She has a point. According to the AAA Foundation for Traffic Safety, the average American spends 17,600 minutes driving each year. That's 293 hours. That's more than 12 full, 24-hour days behind the wheel. That's crazy.
Driving can be joyful, but these thousands of minutes are probably not the stuff that dreams are made of.
Summer Parkways, however, is a fantastic event, emphasis on the fantasy.
The loop connects Manito and Comstock parks along some of the most agreeable streets of the South Hill. There will be food trucks. There will be a bike that makes smoothies, but only if you pedal. Wheelsport, a local bike shop, will decorate your bike all fancy-like. The Spokane Parks Foundation is hosting a water balloon toss and squirt gun competition. There will be yoga for kids. A group of cycling dancers will be carrying a boombox and, when the fancy strikes, stop and do the tango.
There will be an obstacle course. Baked goods will be on sale to benefit Blessings Under The Bridge, which serves meals to scores of homeless and hungry people once a week.
"There's tons of stuff," Widing said.
Best part? It's a come-when-you-want, go-where-you-want party. And it's free.
"There's no start or end to it," she said. "You can just join in anywhere. You can do a mile of it or 4 miles of it. You can do it any direction. There's activities all along the way, even in the parks. You can do it in any way or form, just as long as you're not in a vehicle."
Sounds crazy and a bit fantastical.
For more online information, visit SummerParkways.com.
Slow down
It's summer, school's out and the parks are calling. Time for motorists to hit the brakes.
Twenty miles per hour. It feels slow, but it's still plenty fast to hurt, or even kill, a child. Seasonal speed limits have been placed in the following areas: A.M. Cannon Park and pool, Chief Garry Park, Lincoln Park, Mission Park and pool, and Shadle Park and pool.
Even without the signs, drivers are encouraged to slow down around parks, splash pads, pools and libraries.
Crack and grind and overlay
The city is doing crack sealing on Washington Street between Boone and Buckeye avenues and along the downtown gateway corridor. It's working on Assembly Street from Olympic to Rowan avenues, and on Altamont Street from Sprague to Hartson avenues.
Crestline work begins again
Last year, Crestline got a bit skinnier and lost some lanes, but the city stopped the work, due to weather. The work on this project restarts today. There are no anticipated lane closures.
Work on this $510,000 project includes crosswalk stripe removal and replacement from North Foothills Drive and Euclid to Francis avenues.
High Drive closed
On the South Hill, High Drive is closed from 29th to 21st avenues.
Signs for the detour route have been added at Cedar Street and 14th Avenue. Reports have come in about motorists blazing through neighborhood streets and disregarding uncontrolled, "blind" intersections. Slow down and yield if you weren't the first there.
This $1.5 million project will replace an old sewer line and build new infiltration swales, drainage structures, landscaping and irrigation. When complete, the new stretch will include a bike lane and wide pedestrian pathway.
Medical Lake roadwork
About 6 miles of state Route 902 between Medical Lake and exit 272 on Interstate 90 will see substantial work beginning today.
The $1.8 million project consists of grinding an existing layer of asphalt on the road and resurfacing with hot mix asphalt. A roundabout will be constructed at the S.R. 902 and Craig Road intersection. Motorists should expect delays and one-lane, two-traffic control with flaggers from 6 a.m. to 6 p.m. Monday through Friday.
Grinding is scheduled to begin Thursday, followed by paving.
North Monroe hill open
The North Hill is open on Monroe. So are other sections of the sweet, smooth pavement. The city is encouraging motorists to go shopping or visit the street and view the roadwork.
Local journalism is essential.
Give directly to The Spokesman-Review's Northwest Passages community forums series -- which helps to offset the costs of several reporter and editor positions at the newspaper -- by using the easy options below. Gifts processed in this system are not tax deductible, but are predominately used to help meet the local financial requirements needed to receive national matching-grant funds.
Subscribe now to get breaking news alerts in your email inbox
Get breaking news delivered to your inbox as it happens.
---