News > Spokane
Then and Now: Spokane in 1910
Mon., June 18, 2018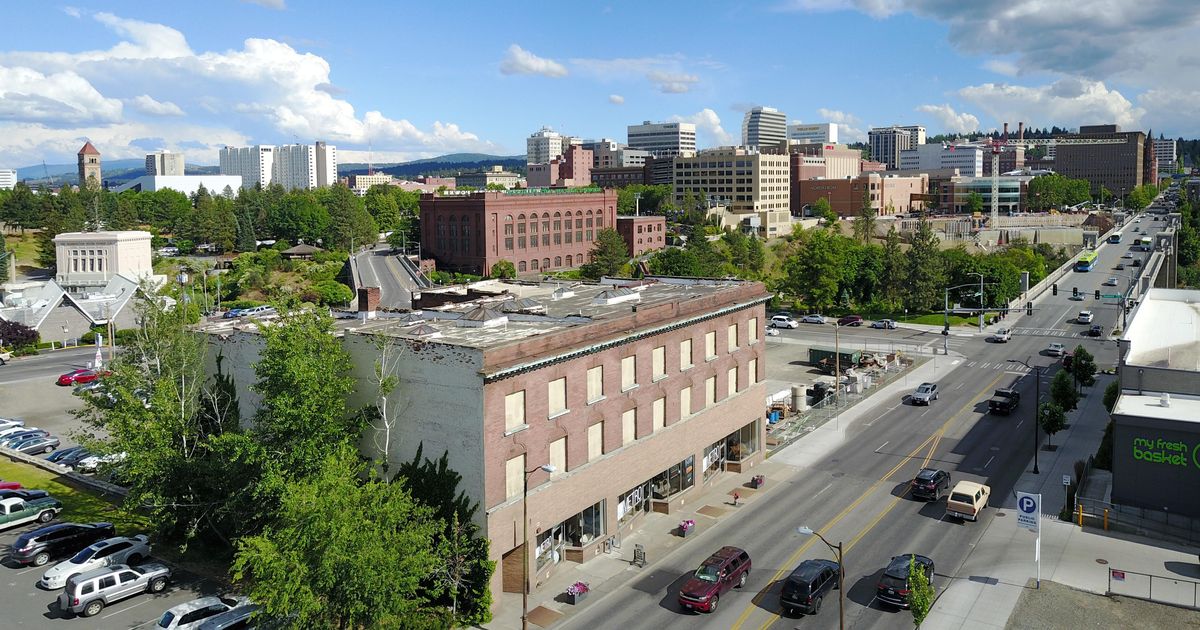 2018: Seen from North Monroe Street around College Avenue, the downtown buildings and their architecture reflect many different eras, dating from the late 1800s to the modern era. The photo is framed by the Riverfront Park clocktower, far left, from the site of the 1902 Great Northern Railroad Depot, which was torn down for Expo '74, and the 1891 Review Tower building at far right. (Jesse Tinsley / The Spokesman-Review)
For Spokane, 1910 was a watershed year.
Prosperity still flowed to the city from the mines of North Idaho, where precious metals had been discovered in the 1880s. Spokane had an estimated 26 millionaires in 1910, many from mining investments. Idaho was quickly becoming the top producer of silver, lead and zinc in the country.
Timber milling, railroads and agriculture were also booming. Spokane already had two major railroad depots, the Northern Pacific downtown and the Great Northern on Havermale Island. A third depot, serving four or more other rail lines, was in negotiations for land along the Spokane River – Union Depot, which opened in 1914. Now Spokane had four transcontinental railroad connections, but businesses still battled the railroads over high shipping rates, which may have limited Spokane's economy.
Power generation was increased that year with the completion of the Little Falls Dam, essentially stopping salmon harvesting upstream.
Restaurateur Louis Davenport was preparing to build his eponymous luxury hotel, which opened in 1914.
Sonora Smart Dodd, of Spokane, proposed a new holiday, Father's Day, and celebrated it for the first time in 1910.
Though most people still lived in or near downtown Spokane, mostly on the south side of the river, the suburbs were expanding rapidly. New, diverse groups of workers were arriving every day and ethnic groups were gathering in new suburban enclaves. Finns, Italians, Germans and Chinese grouped together, mainly on the north side of the river where houses were more affordable.
After a few years in Spokane, hardware clerk Henry Kaiser moved on from Spokane and began his rise to be one of the richest men in America.
The Spokane Humane Society built its first animal shelter.
The city closed the Monroe Street Bridge and began construction of a cement bridge that opened in 1911. The bridge was designed to carry a new form of transportation, the automobile.
Spokane grew significantly in the new century, with the population rising from 36,848 in 1900 to to 104,400 in 1910. Growth slowed after that, though it reached 150,000 people in 1917 before beginning a slow decline. It was considered the end of Spokane's boom years.
Local journalism is essential.
Give directly to The Spokesman-Review's Northwest Passages community forums series -- which helps to offset the costs of several reporter and editor positions at the newspaper -- by using the easy options below. Gifts processed in this system are not tax deductible, but are predominately used to help meet the local financial requirements needed to receive national matching-grant funds.
Subscribe now to get breaking news alerts in your email inbox
Get breaking news delivered to your inbox as it happens.
---