News > Spokane
Local vintage car collectors to compete in The Great Race
Tue., June 19, 2018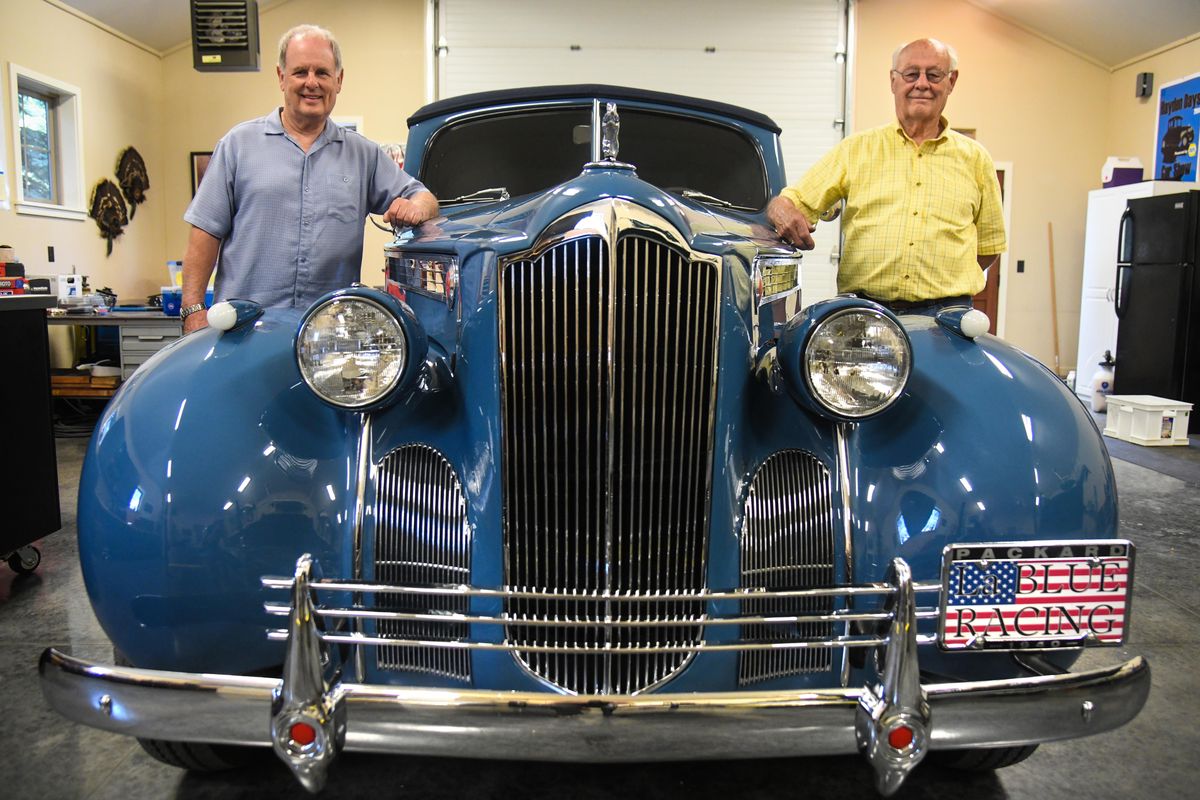 Tom Helman, left, and Jim Warren will take Warren's 1940 Packard 110 Convertible to compete in the 2018 Great Race (formerly The Great American Race) from Buffalo, NY on Saturday, June 23 to Halifax, NS., on Sunday, July, 1. Warren will drive and Helman is the navigator. The car won the Rookie Division in 1996. (Dan Pelle / The Spokesman-Review)Buy a print of this photo
Two Inland Northwest vintage car enthusiasts will compete in The Great Race, a trek from Buffalo, New York, to Halifax, Nova Scotia.
Tom Helman, of Spokane Valley, and Jim Warren, of Coeur d'Alene, will race their 1940 Packard 110 convertible in the rookie division of the vintage car rally starting Saturday.
Warren said The Great Race is extremely difficult to enter and he's been on the waiting list for three years. Their vehicle, under its previous owners, won the rookie division of The Great Race in 1996 when the route passed through Coeur d'Alene. Warren, who used to restore vintage airplanes and now focuses on cars, said he bought the Packard specifically for this race.
"Between Tom and myself," Warren said, "we have 155 years of experience, so we should be able to do it."
The Great Race has ranked high on both mens' bucket list for years and brought them from acquaintances, to friends. Both are members of the Duke's auto club and got to know each other from various car club shows.
"We knew each other from different venues," Helman said. "This has forced us to be together in that little car for hours at a time."
The race is designed to be completed in timed sections and only teams with cars built before 1972 are allowed to enter. Helman said racers are given a set of instructions that tell them how fast to drive and step-by-step directions. Instead of racing for speed, the teams mostly follow the instructions as closely as possible to hit a target time. Helman, the navigator for the team, said they are not allowed to use phones and calculators and he must do all mileage and speed calculations by hand.
The team has used the Palouse, around Tekoa and Oakesdale, as a practice run and completed one race together in Joplin, Missouri. Helman said that race helped them iron out kinks in their teamwork and strategy and he feels much more prepared for The Great Race. He said the biggest takeaway from their practice run was how difficult it can be in the heat of the race to follow the instructions exactly.
"They don't try to trick you," Helman said, but "they don't make it easy on you either."
Before they left for Buffalo, Warren hosted a fundraiser for the race in Coeur d'Alene. Those who donated were allowed to sign the car and he said one woman who signed it remembers The Great Race coming through the area in the 1990s. He added that most of the car enthusiasts he knows also have this race on their bucket list, but since it's so exclusive, many don't have the ability to to enter.
"This is quite an adventure," he said.
Local journalism is essential.
Give directly to The Spokesman-Review's Northwest Passages community forums series -- which helps to offset the costs of several reporter and editor positions at the newspaper -- by using the easy options below. Gifts processed in this system are not tax deductible, but are predominately used to help meet the local financial requirements needed to receive national matching-grant funds.
Subscribe now to get breaking news alerts in your email inbox
Get breaking news delivered to your inbox as it happens.
---