News > Spokane
Spokane Valley uses reserves for street repairs as telephone taxes slump
Tue., June 19, 2018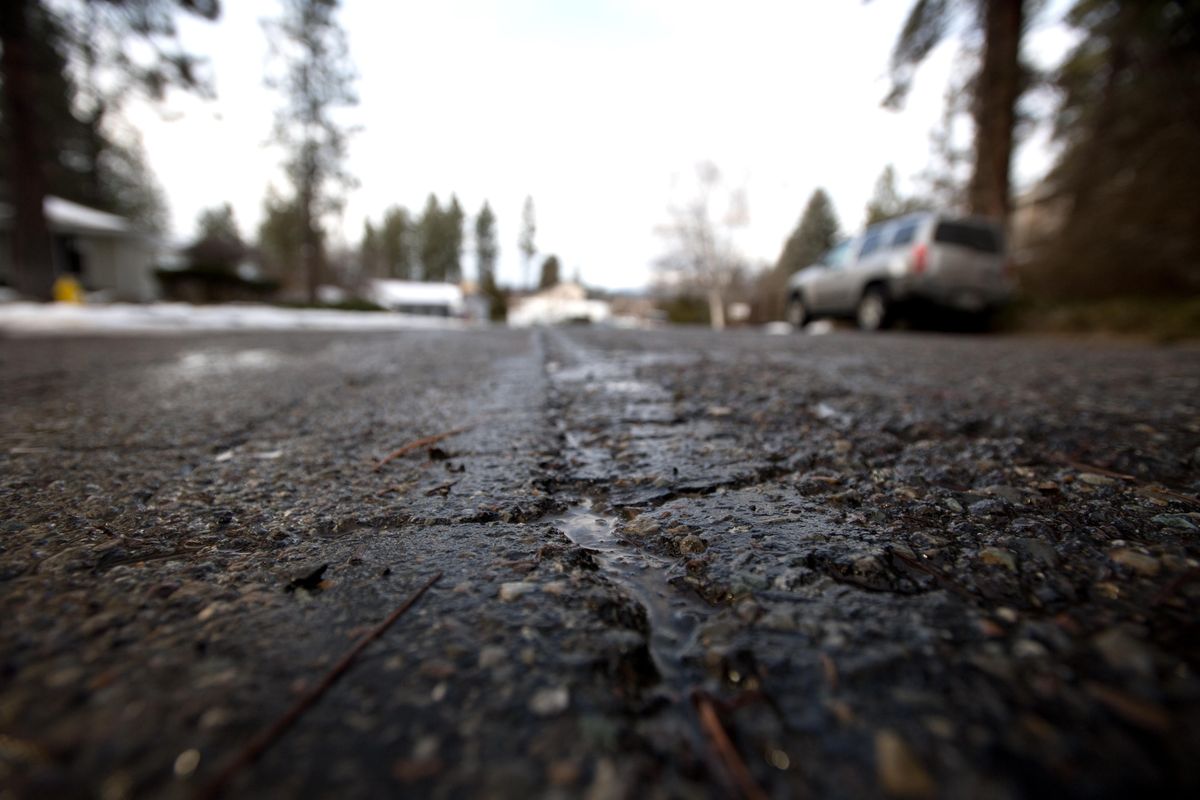 FILE - Cracks are seen in the road at South Sonora Drive last winter in Spokane Valley. (Tyler Tjomsland / The Spokesman-Review)
Spokane Valley officials are planning to dip into the city's reserve fund to address a budget shortfall for road maintenance.
The city is proposing to use more than $800,000 from its reserve fund to make up for declining tax revenues from telephone taxes. The move temporarily eases a deficit used for road maintenance, repairs, traffic signals, lighting and snow plowing.
Street fund revenue comes from a motor vehicle tax and a six percent telephone tax that's been dwindling since the city implemented it in 2009. The telephone tax generated $3.1 million in its first year. A decade later, revenue is now estimated at $1.7 million.
The city is expecting a $1.3 million deficit in its street fund beginning in 2020, according to 2019 draft budget documents.
"We collectively feel like we have a pretty good hand on measuring the dollar problem in this street fund 101," said Mark Calhoun, city manager for Spokane Valley at a June 12 meeting. "The question that we've got on that is – how far does the existing telephone utility tax revenue decline?"
Earlier this year, the city hired pavement data collection firm Infrastructure Management Services to scan and analyze road conditions to determine a dollar amount for annual pavement preservation costs.
It was estimated in February the annual road preservation cost is $6 to $7 million, according to city documents.
However, there were discrepancies in the report from Infrastructure Management Services, said John Hohman, deputy city manager for Spokane Valley.
"When they weren't able to answer some of our specific questions … it started getting us a little concerned and our confidence with the numbers we brought forward in February started to wane in March and April," he said at the city's budget workshop.
The city will hire a new consultant to rescan streets and find an annual road preservation cost, said Calhoun.
"We're interested in solving the problem – as I know you all are and all of your predecessors – but we're just not in a position to tell you what that number is," Calhoun told council members. "But, by early 2019, we'll be in a position to have that discussion."
City officials will then consider new revenue sources to replace the depleting telephone tax, which could include a transportation benefit district with a vehicle tab fee, a voter approved sales tax, levy lid lift or utility tax.
Road preservation funding has been an ongoing topic this year among city council members.
Councilman Ben Wick brought forth an amendment at a May 22 council meeting to fund road preservation with $1.5 million of the city's reserve funds, which failed in a 4 to 3 vote.
"We're in a booming economy. We aren't proposing to take the full amount. We would be taking about $1.5 million," he said at the council meeting. "It rolls over and it allows us an opportunity with $1 million left over for other projects."
Councilman Arne Woodard said it's very shortsighted to fund road preservation with leftover general fund dollars because its not a predictable source of revenue.
"Ultimately, we're going to come up with a solution, but I don't think this is a very plausible solution," he said at the council meeting. "Next year, if we're down a million dollars from what we have in our budget, then what do we do? How do we fund the streets?"
At the budget workshop, Wick agreed with Calhoun's suggestion to allocate $800,000 to the street fund in 2019.
Councilwoman Linda Thompson also echoed that decision.
"It is a hard pill to swallow to have to move that money, but I think its important to do that at this point," she said.
Mayor Rod Higgins said temporarily using a surplus towards the city's street fund will buy some time until a dollar figure can be determined for road preservation.
"So, what we are intending to do is wait until (the numbers) come in, put a patch on it in the meantime to cover the deficit, and then move forward," he said. "Because we have one chance to get it right and we have got to get it right the first time."
The city plans to further discuss road preservation options at a July 10 council meeting.
Local journalism is essential.
Give directly to The Spokesman-Review's Northwest Passages community forums series -- which helps to offset the costs of several reporter and editor positions at the newspaper -- by using the easy options below. Gifts processed in this system are not tax deductible, but are predominately used to help meet the local financial requirements needed to receive national matching-grant funds.
Subscribe now to get breaking news alerts in your email inbox
Get breaking news delivered to your inbox as it happens.
---