Big ideas lead to tiny house project at Spokane's Community School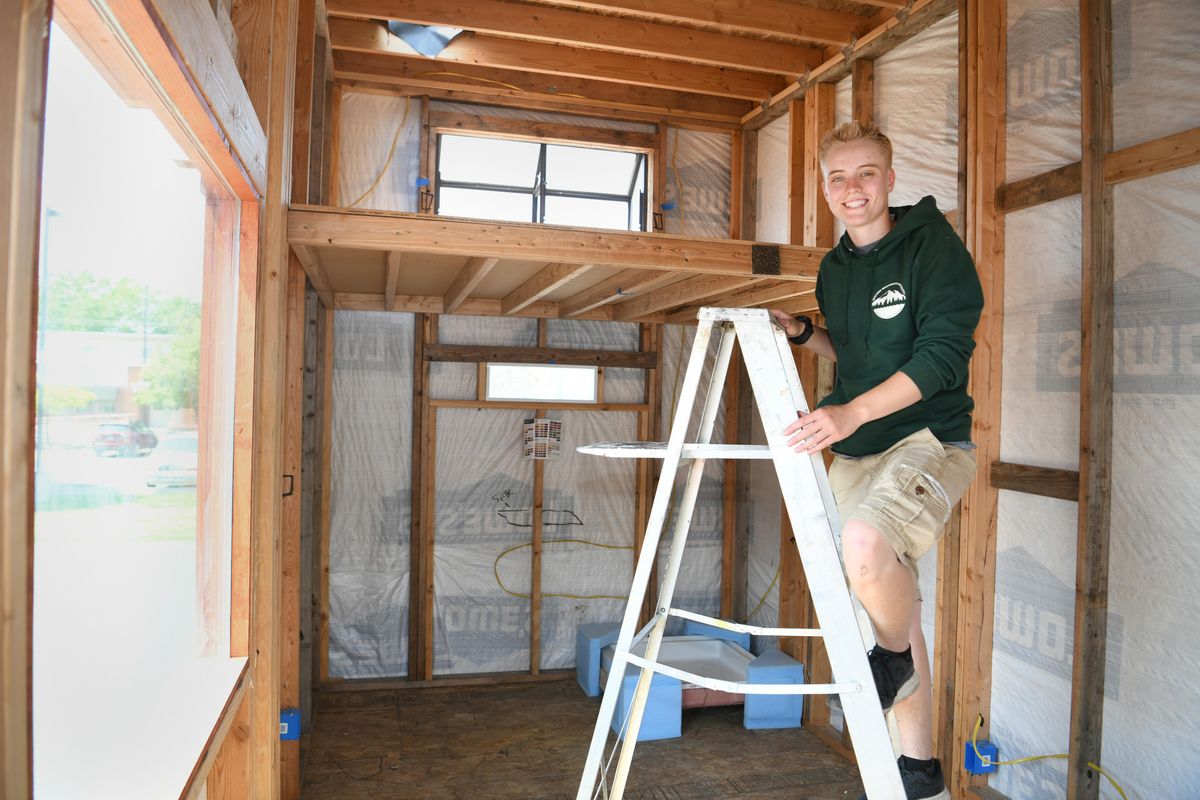 Emmett Linklater is full of big ideas, none larger than his tiny house.
As traffic passed on North Monroe Street recently, Linklater and his 210-square-foot creation stood proudly in the parking lot of The Community School.
A few feet away, principal Cindy McMahon looked on and said, "Kids can do so much if you get out of their way."
More precisely, McMahon and her staff believe in pointing the way and helping students think critically.
Together, they're taking project-based learning to a new level in Spokane, even if most others have never heard of The Community School.
"We're a well-kept secret," said McMahon, an educator for more than 20 years and an enthusiastic advocate for her school and its students.
Sorry, but the secret is out – only a few spots are open next year at the 170-student option school. Enrolling as an upperclassman isn't an option.
"It takes a year to learn to do this," McMahon said. "There's sort of a college feel here and a lot of unlearning to do if you come in (from a traditional high school)."
The Community School has become Spokane's incubator for out-of-the-box thinking by teenagers. Part of Spokane Public Schools, The Community School is attended by students in ninth through 12th grades. One of 200 such schools in the United States, it focuses on innovation and challenge.
The result: a 100 percent acceptance rate into college and alumni who've learned team-building and critical-thinking skills that often are underemphasized at traditional schools.
"What we are doing is putting students in the driver's seat," McMahon said. "It changes the role of educators."
The school's overarching message to students: You own it.
Linklater, who graduated last week, took the message to heart after transferring from Lewis and Clark High School midway through his freshman year.
"It wasn't happening for me at LC, but here I can make a connection in the community and make a difference for the community," said Linklater, whose 210-square-foot creation is the product of his own ambition and imagination.
Cost was mitigated by his parents, who paid for most of the materials. Other items were obtained at wholesale from friends who are contractors.
Linklater did the rest, learning how to weld and frame. The interior is unfinished, but give him time.
Linklater will live in the dorms this fall at Western Washington University but plans to complete his creation and move it to Bellingham in time to live in it during the fall of 2019.
It's Linklater's way of repaying his parents' investment. "Either a couple thousand dollars now or much more later," he said, referring to the cost of living in Bellingham without his tiny home.
"I've always liked minimalism," said Linklater, who plans to major in environmental science. "I like leaving a tiny footprint."
However, Linklater will leave some big shoes to fill at The Community School.
"This is what we hope every kid gets to, a really magnificent project," McMahon said.
Linklater also built self-confidence as he built his tiny house. This year, he served on the Spokane Public Schools board of directors as a student adviser.
---