Sports > Area sports
Nine Mile Falls man won't let cancer keep him from Ironman Coeur d'Alene 70.3
UPDATED: Thu., June 21, 2018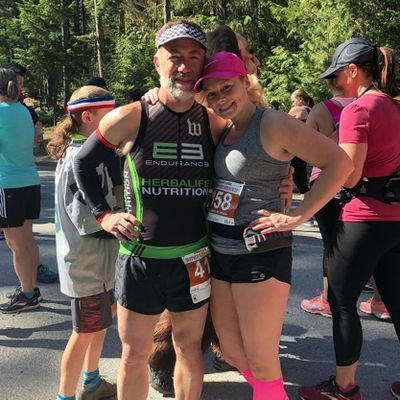 Between 16-hour work shifts, time with his wife and children and combating kidney cancer and a rare skin and lung disease, James Sheppard has been training for the race of his life.
The registered nurse has kicked through half marathons since he was diagnosed with Birt-Hogg-Dubé syndrome a few years ago. On Sunday, Sheppard aims to gut out a finish at the Ironman Coeur d'Alene 70.3, the one-half version of the famous triathlon.
Sheppard, 48, is one of more than 2,100 men and women who will swim 1.2 miles in Lake Coeur d'Alene before hopping on a bike and pedaling 56 miles. The triathlon ends on Sherman Avenue in downtown Coeur d'Alene following a 13.1-mile run.
The full Ironman triathlon, a punishing 140.6-mile pursuit in locations across the world, was discontinued in Coeur d'Alene in 2017 after a 14-year run. This year, the event features athletes from 42 states and 12 countries, with 30 age-group championship-qualifying sports on the line.
Fifty-five of this year's entrants are professional triathletes.
Sheppard, a Nine Mile Falls resident, hopes to earn the Ironman distinction, a moniker only given to 140.6-mile finishers. Conquering the shorter version is his first goal, though.
"I want to set an example for my children," said Sheppard, who has two sons and a daughter. "To show them you can do what you want to do. Some people use a tough thing in their life to either fight it, or use it to become depressed. I'm choosing to fight."
Following a surgery for kidney cancer in 2009, doctors discovered small cysts, both a product of Birt-Hogg-Dubé syndrome, a disease that makes one susceptible to kidney cancer, renal and pulmonary cysts and noncancerous tumors.
Today, Sheppard functions normally but has tumors on his face and chest, and in his lungs. The disease also puts him at risk for a sudden lung collapse, he said.
"I function fine physically, but it can be tough psychologically," he said. "You wonder if the cancer will get really aggressive. I've seen what it can do."
Sheppard's stepmother died of breast cancer and his wife survived a bout with skin cancer. His mother died in surgery at age 23, and it was later learned she had a bad kidney.
As a nurse at Pinewood Terrace in Colville, Sheppard sees many cancer patients.
Sheppard's Birt-Hogg-Dubé condition has led to a few trips to the National Institute of Health in Maryland, where he's gone for various tests, including radiation testing.
"It's very rare, so I have basically been a guinea pig," Sheppard said.
After losing a lot of weight after his surgery and diagnosis, Sheppard made lifestyle changes. He started running more and improved his diet. Last year, he had trained to for the Rock 'n' Roll Marathon in Washington, D.C., but canceled because of an unrelated illness.
He's been training with Team Blaze, a Spokane triathlon group, and trains at local gyms, on the Centennial Trail and in Long Lake in preparation for Ironman Coeur d'Alene.
"I was never a great swimmer. I am still not a good swimmer," he said, welcoming Sunday's challenge.
"In life, there's players and spectators. I'm choosing to be the player."
Local journalism is essential.
Give directly to The Spokesman-Review's Northwest Passages community forums series -- which helps to offset the costs of several reporter and editor positions at the newspaper -- by using the easy options below. Gifts processed in this system are not tax deductible, but are predominately used to help meet the local financial requirements needed to receive national matching-grant funds.
Subscribe to the sports newsletter
Get the day's top sports headlines and breaking news delivered to your inbox by subscribing here.
---