News > Spokane
Hogwash Whiskey Den loses $10,000 worth of scotch in flood
June 23, 2018 Updated Sat., June 23, 2018 at 8:44 p.m.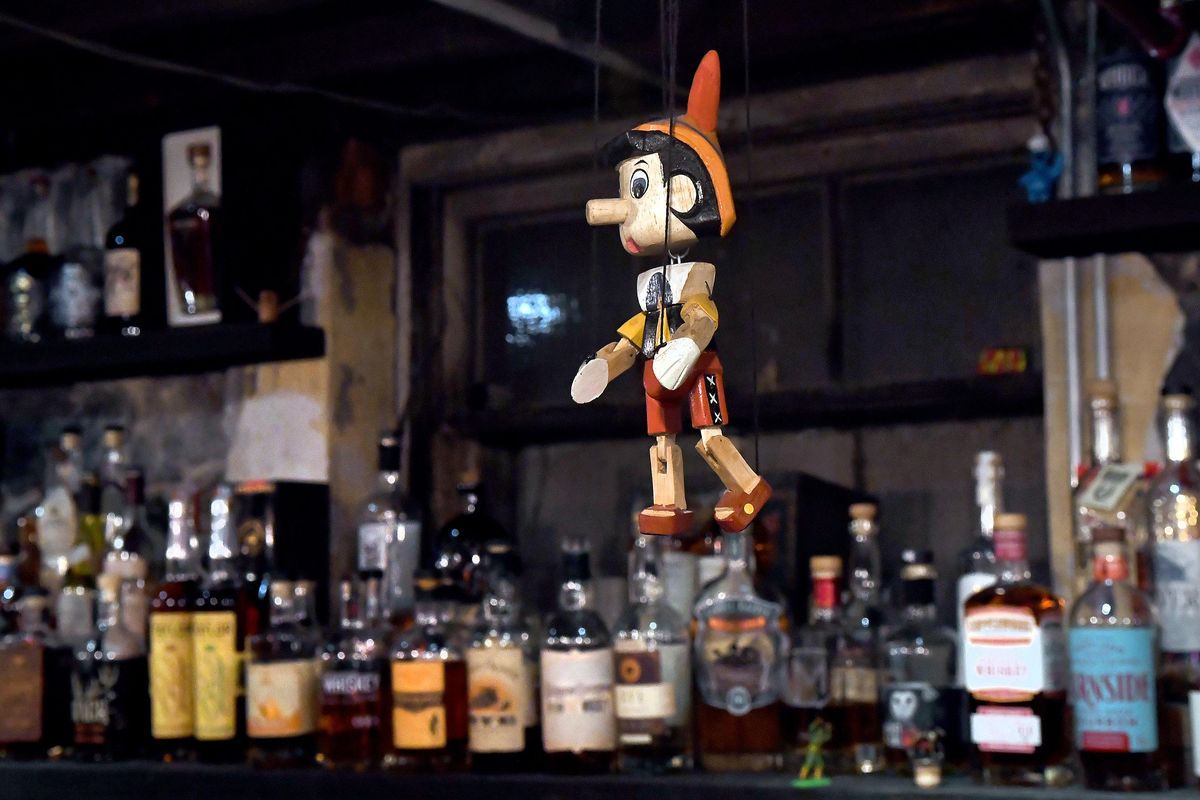 Pinocchio, the official mascot of Hogwash Whiskey Den is suspended above the bar in Spokane on Saturday, June 23, 2018. Several bottles of high end whiskey were lost due to water damage during a recent rain storm. (Kathy Plonka / The Spokesman-Review)Buy a print of this photo
The Hogwash Whiskey Den in downtown Spokane lost $10,000 worth of whiskey, including a rare scotch collection, when the Washington Cracker Co. building flooded Thursday.
Owner Jeremy Hansen said some of the bottles, such as a 1970 Tullibardine single-malt scotch, are difficult-to-replace collectors items costing up to $300 a pour.
"It's unfortunate," he said. "Some of those bottles we'll never see again."
Hansen said during the storm, hundreds of gallons of water poured through the pipes, causing them to pressurize. The pipes burst and soaked the wood floors, showering the scotch collection and the bar floor below.
Staff on site used buckets and squeegees to clean up the murky mess.
"It was a downpour in there," Hansen said.
The upstairs Inland Pacific Kitchen and downstairs whiskey bar were both filled with customers, but Hansen said the worst of the mess was contained to the corner of the bar – where, unfortunately, the most expensive scotch was shelved.
Hansen said either the building or business insurance should cover damage and property loss. Some rare varieties of scotch bottled in the 1970s, gathered in the two years since the business started, will be difficult to replace.
Hogwash spirits director Simon Moorby said the bar was able to save some whiskey, but they only have one bottle of usable scotch left. He added that the expensive and rare scotch might be of interest to collectors, but it would be unsanitary to sell it to customers.
"Ethically," Moorby said, "we can't serve that."
Hansen said he isn't sure what he's going to do with the unusable scotch, though selling it to collectors could be an option. He's waiting for more information from his insurance carrier before making any decisions.
The bar is hosting an all-weekend flood sale to go through the business' remaining usable drink, with pours for $10 and well drinks for $5.
Local journalism is essential.
Give directly to The Spokesman-Review's Northwest Passages community forums series -- which helps to offset the costs of several reporter and editor positions at the newspaper -- by using the easy options below. Gifts processed in this system are not tax deductible, but are predominately used to help meet the local financial requirements needed to receive national matching-grant funds.
Subscribe now to get breaking news alerts in your email inbox
Get breaking news delivered to your inbox as it happens.
---