Washington Guard trains for combat with Strykers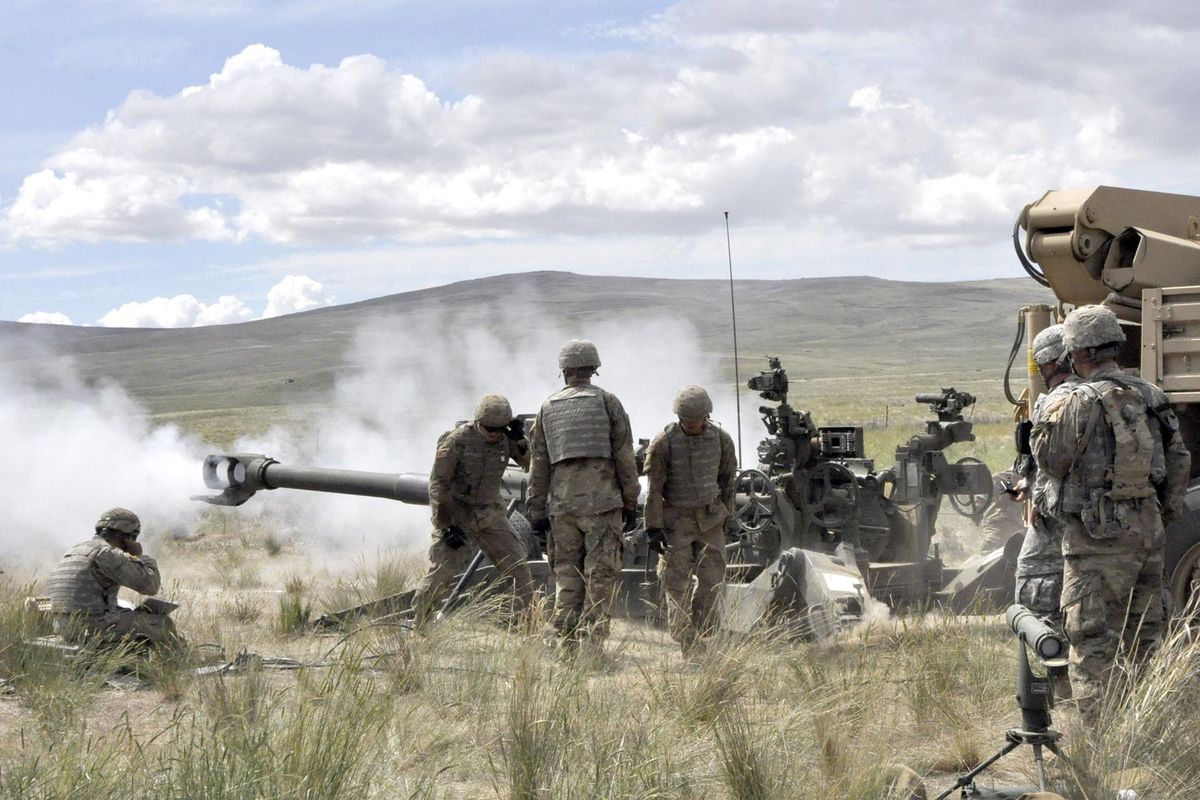 YAKIMA FIRING RANGE – Standing at his station behind the mount for a .50-caliber machine gun, head through a hatch of the Stryker rolling along dry hillsides, Sgt. Robert Brooks allowed that there are pluses and minuses to the Washington National Guard's new combat vehicles.
A veteran of two tours in Iraq with the Washington National Guard's 81st Brigade Combat Team, Brooks spent 10 years as a gunner in Bradley Fighting Vehicles, which he said had heavier armor and a more powerful 25mm gun. But the Stryker can carry nine troops inside instead of six, and has a top speed of about 60 mph, compared to 35 for the Bradley.
"If you need to, you can get the heck out of Dodge much faster," he said.
Some two years after starting the transition from heavy armor to light armor – that is, from tanks and Bradleys to Strykers and the mobile howitzers that support them – the 81st Brigade is practicing getting the heck into and out of places, along with the firepower that goes along with such movement, in the hills outside Yakima.
The dry, dusty terrain is similar enough to overseas places where veteran troops have served that some refer to the training center as Yakistan, using the suffix common to so many central Asian countries.
This year's training is a matter of making sure that troops qualified for years to do one thing are qualified to do another, said Col. Shaun Hodge, brigade commander.(Editor's note: Hodge's first name was incorrect in an early version of this story.)
"You have to change the mentality about how you do your job," he told a group of reporters and cameramen flown in this week during the annual training exercise.
As a heavy armor unit, the 81st was mobilized twice for Iraq, in 2004 and again in 2008. They need to be fully trained on the Strykers and other new equipment before another combat deployment, although Hodge said that's "not likely anytime soon."
While the Strykers are primarily an eight-wheeled weapon system – their various armaments can include a 105mm gun, a grenade launcher and an anti-tank missile along with the .50-caliber machine gun, all of which can be fired remotely from inside – the vehicles are more useful than the brigade's former vehicles if the unit is called out to help in local disasters like floods or earthquakes. They can carry lots of supplies, can go almost anywhere and would be much easier on a city street than the tracks on tanks or Bradleys, Hodge said.
They are stationed at Guard armories around the state, able to be called out for civilian emergencies.
But the Stryker units aren't practicing rescue scenarios in Yakima this month. They're practicing firing live rounds of ammunition from everything from rifles to machine guns to mortars to the M777A2, a 155mm Howitzer that can be towed behind a massive truck or airlifted and lowered by a helicopter.
The M777 doesn't move as fast as the self-propelled Howitzers, known as Paladins, that the 81st used to have. But with helicopters they can get forward faster to protect the Strykers, which in turn are protecting the infantry, Maj. Steven Beecroft said as Bravo Battery was setting up for a direct fire exercise.
While the Howitzer has a range of about 20 miles, Bravo Battery was practicing on targets as close as a half mile, the kind of direct engagement that could be needed to protect Strykers from advancing tanks. Seven-man teams went through a series of dry-run exercises of receiving coordinates, siting and loading the massive guns before using live rounds.
After team leaders were confident their teams were ready – and at least one query from an officer about what was the bleeping holdup – the line of Howitzers began erupting. White smoke billowed from the muzzle then drifted back on the crews like fog. The shells exploded in the distance, flash followed by plumes of smoke across the range. Targets hit, soldiers clad from ankle to helmet in desert shades of camouflage did Kevlar-vested chest bumps and gave each other high-fives.
Working in small teams builds proficiency and "creates an atmosphere where citizen soldiers want to be here," Hodge said.
On another range along another ridge, fire teams of three and squads of nine from Alpha Company of the 898th Combat Engineers were going through a series of exercises with the Strykers. Target figures would pop up as they moved through the progression of dry runs, at which they would fire blanks before working up to live ammunition. It was a chance to see whether the training they've had for the last year or more is working.
Over the last three weeks the combat engineers have trained with a range of weaponry, from their rifles to grenades to rocket-propelled mine-clearing charges or MCLICs, said Lt. Isaac Lucas, of Spokane, the company's executive officer.
"Back home, they just think I'm out here with a machine gun, shooting stuff," he said. "It's a lot more complicated."
Lucas opted for the combat engineers in the Guard because he always wanted to be in a line company, "with the guys who are out their fighting." In his civilian life, he's a nurse at Providence Sacred Heart Medical Center's 9North, a cardiac unit.
"You get to live basically two different lives," he said. "It prevents burnout."
---