News > Health
For HIV-positive community, CDC ruling means a new step in regaining lives
Sun., June 24, 2018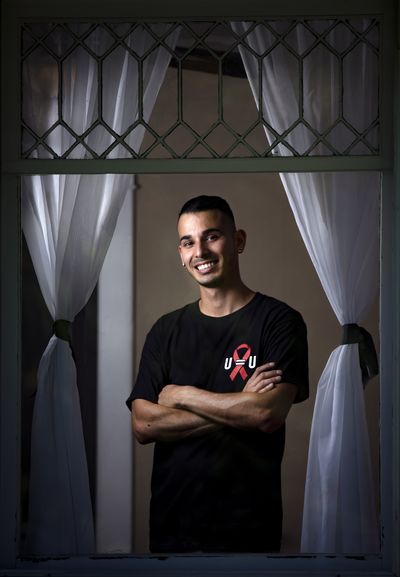 David Rendon's group in the Spokane Pride Parade was less colorful than some.
The 28-year-old marched carrying a simple sign reading U=U, short for "undetectable = untransmittable."
That simple sentence is a watershed moment for HIV-positive people, and refers to a statement from the Centers for Disease Control and Prevention last fall.
The federal public health agency finally acknowledged what years of research has shown: HIV-positive people in treatment who have an undetectable amount of the virus in their blood have "virtually no risk" of transmitting the virus sexually to another person.
It's a finding that might seem miraculous to anyone who lived through the AIDS crisis of the 1980s and 1990s: HIV-positive people in treatment can have sex without condoms without worrying they'll pass the virus along.
Public health officials and people living with HIV are quick to qualify that statement, pointing out that condoms prevent many other sexually transmitted diseases, and HIV-positive people have to stay in treatment for the virus to remain undetectable.
Rendon, who moved to Spokane from Los Angeles last fall, hopes that being vocal about modern-day care for people living with HIV can destigmatize something that was once a death sentence.
"People don't know what undetectable is," he said.
Rendon has lived with the virus for six years. He stopped by a testing site in Los Angeles after hearing a rumor that a man he'd slept with was HIV-positive. It was March 17, 2012, at 10:09 p.m. when he had his worst fear confirmed: He had the virus, too.
"At that moment, it felt like my life shattered. I felt so dirty," he said.
Rendon, then 22, knew little about modern-day HIV care. When health care workers told him his life expectancy could easily be normal, that he could live 50 or more years with the virus, he almost didn't believe them.
"I was shocked," he said.
Decades of research advances have transformed HIV infection into a manageable chronic illness. Provided they get treatment, newly HIV-positive people today will never develop AIDS, the disease that occurs when HIV infection progresses to the point where the body's immune system is severely damaged.
For people who are able to access care, that's not new: Antiretroviral therapy has been effective at controlling the virus for years.
But the CDC's acknowledgment that people in treatment can get to a place where they can't transmit the virus feels like a new step for the HIV-positive community.
The Spokane Teaching Health Center is the clinic of choice for many people living with HIV in Spokane. Rachel Safran, an internal medicine doctor there, said they have just less than 200 HIV-positive patients.
When new patients come in, their knowledge of what's possible with HIV varies widely. Some understand it can be managed, but others, especially those who travel from more rural areas, are pleasantly surprised.
"Their understanding of HIV treatment is sort of based in the '80s and '90s," she said.
Safran has many patients who are in monogamous, long-term relationships with someone who is HIV-negative. Most don't use condoms, she said, because they're not necessary to keep the negative partner healthy.
The CDC statement confirms what Safran has been telling patients for years.
"It's really exciting for us as providers," she said.
It's also giving HIV-positive people a new tool to challenge laws criminalizing HIV.
In many states, including Washington, it's a felony to knowingly expose another person to HIV, which means someone positive can be prosecuted for having sex without disclosing their status. For every other sexually transmitted disease, from syphilis to chlamydia, it's a misdemeanor.
Those laws, written during the early years of the AIDS epidemic, do not require someone to actually infect a partner with HIV to be prosecuted. And they have a loophole: If you don't know you're HIV-positive, you can't be prosecuted for failing to disclose it.
"People are afraid to get tested," said Maryellen Cooley, a Spokane Regional Health District program specialist in disease prevention and response. She's worked on HIV prevention and care for decades, and said it's a common reason people cite for not wanting to know.
"Stigmatization has led to more transmission," said Dale Briese, a long-term HIV survivor who sits on the health district's HIV/AIDS advisory board.
The Washington Department of Health is holding a meeting July 27 in Spokane to talk about modernizing state laws dealing with HIV and AIDS, Cooley said.
Rendon has a boyfriend now, but in his years of dating with the virus, he's had a wide range of experiences and reactions.
Shortly after coming to Spokane, he met a man at Nyne and took him home. Before having sex, Rendon disclosed he was positive and undetectable. The man started crying and called him brave.
Then, he said, "Well, I have an STD and I wasn't planning on telling you." He'd been diagnosed with human papillomavirus, or HPV, some strains of which can cause cancer.
It's the story he tells when he's asked what he thinks about the felony exposure law.
"It kind of frustrates me and infuriates me that I could be looked at as a criminal for something I can't pass to someone," he said.
Rendon said the two stayed up talking into the wee hours of the morning, with him educating the other man about HIV care.
Asked how many hook-ups have turned into late-night therapy for other men's feelings about HIV, Rendon laughed. It's not uncommon.
"It's almost like a counseling session," he said.
Rendon takes one pill a day, a combination of a few drugs, to keep the virus in check. When he first started, the side effects were bad – nausea and "really whacked-out dreams" – but they stabilized after a few weeks.
People like Briese who have lived with the virus for decades often need more drugs, but Rendon's regimen is not uncommon for someone who starts treatment right after diagnosis, Safran said.
The U=U group at Spokane Pride was Rendon's idea. He said in Los Angeles, information about HIV testing, treatment and PrEP, a medication that can keep HIV-negative people from getting the virus, was everywhere.
He wants to bring some of that openness to Spokane.
At a booth following the parade, he and Briese talked to people and handed out more information, wearing U=U T-shirts.
"It felt so good," he said.
Local journalism is essential.
Give directly to The Spokesman-Review's Northwest Passages community forums series -- which helps to offset the costs of several reporter and editor positions at the newspaper -- by using the easy options below. Gifts processed in this system are not tax deductible, but are predominately used to help meet the local financial requirements needed to receive national matching-grant funds.
Subscribe to the Coronavirus newsletter
Get the day's latest Coronavirus news delivered to your inbox by subscribing to our newsletter.
---