Sports > Spokane Shock
Life without arena football: Faithful fans root for return of high-flying sport to Spokane
Sun., June 24, 2018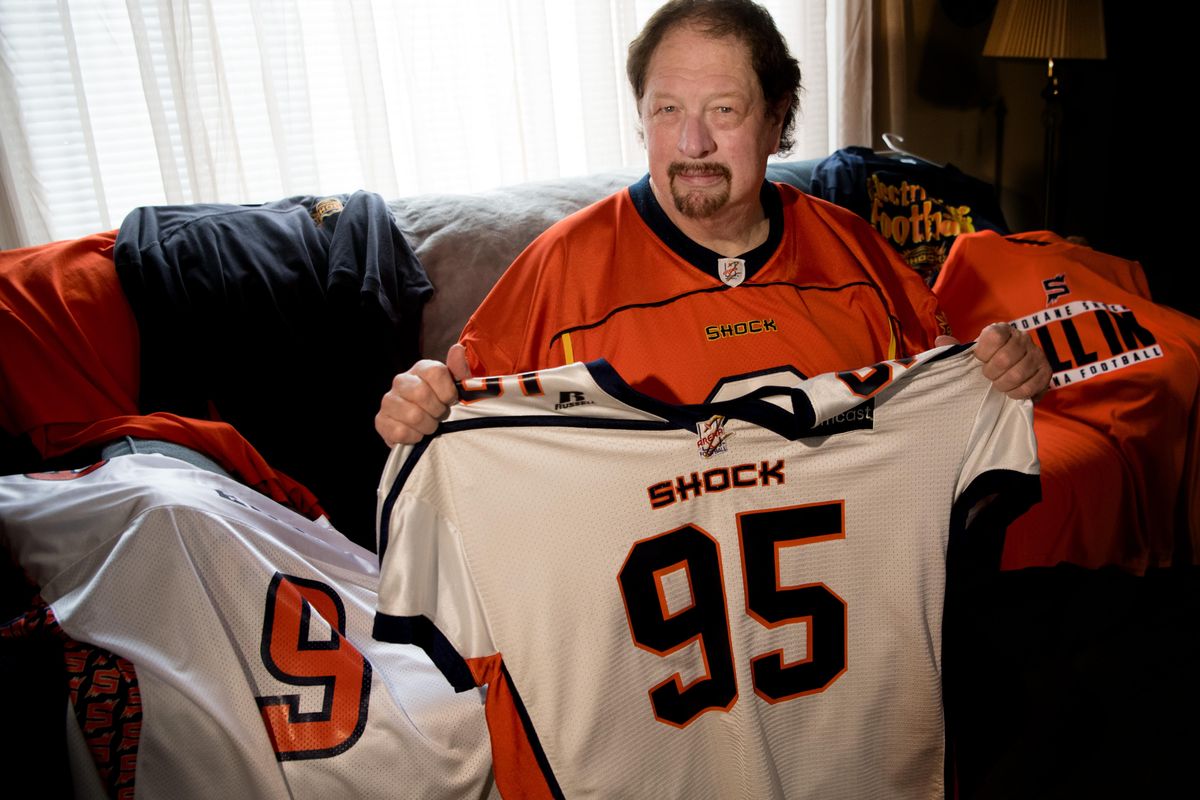 Shock superfan Mike Ellis poses for a photo with some of the Shock memorabilia he has collected on Tuesday, June 19, 2018, at his home in Spokane, Wash. (Tyler Tjomsland / The Spokesman-Review)Buy a print of this photo
The Shock's and Empire's most devoted fans still meet for breakfast once a month, many clad in team T-shirts or jerseys.
The season is winding down in arena football leagues across the country but not in Spokane. The franchise – known as the Shock for the first 10 seasons in arenafootball2 and the Arena Football League and the Empire for two seasons in the Indoor Football League – shuttered last July for financial reasons.
The organization's 12-year run was long by arena franchise standards, but not long enough for its diehard fans.
"I'm in withdrawals. It's sad there's no team in Spokane," said Karen Carruth, called "Mayor" by many players from her eight-year tenure as Davenport's mayor. "It (arena football) just got me from Day One. I got to know some of the players very well."
Ardent fans treasured the fast-paced arena game, the deafening sound of 10,000-plus that filled the Spokane Arena early on and the close bonds developed with players over the years.
Carruth's Facebook page has a picture of her granddaughter and grandson with Shock quarterback Kyle Rowley. She baked 400 cookies and personally handed them out to players and coaches at the airport when the team returned from road trips their last three seasons.
Carruth missed two home games in 12 seasons, both for health reasons.
Mike Ellis was one of the original members of the Shock booster club and stayed involved when it morphed into the Empire fan club. Before the rules changed, the booster club held barbecues for the players, provided items for their apartments and took them four-wheeling or for boat rides.
Ellis has an assortment of Shock and Empire memorabilia, including banners, shirts, jerseys, jackets and polos. "Probably about half my closet," he said.
The fans' monthly breakfast at Timber Creek Grill Buffet on the first Saturday of each month usually draws 20-25 people. Former players Palauni Ma Sun and Bill Vavau and ex-assistant coach Cleveland Pratt have dropped by.
Pictures from the gatherings are posted on a Facebook page: The Empire Of Shocked Arena Fans Waiting On A Team!!!
"We talk football," said Ellis, who came to Spokane in 1975 when he was in the Air Force and retired after working 32 years at the post office. "A lot of players have gone on to other teams and we talk about the games they're involved with. We still talk with them on Facebook and social media. Of course, it's not just all football.
"The whole focus is trying to keep the group together if we ever get a team back in Spokane."
In that regard, there's some good news and not much news.
Owner Nader Naini, who purchased the Shock from Brady Nelson in January 2014, shut the team down after years of losing money, including at least $600,000 in 2017. Attendance faded in the last four seasons, dropping from an average of 9,296 to 4,682.
One sticking point with fans was the loss of the Shock nickname when the team joined the IFL in 2016. Naini tried to work out a deal for the Shock trademark but declined the AFL's $300,000 price tag, prompting the rebranding to Empire.
"That was probably the dagger in the heart," Ellis said.
However, Naini now owns the Shock trademark after the AFL called seeking the Empire name for a new franchise in Albany, coached by former Shock player and head coach Rob Keefe.
"That happened about a year ago after we shut down. I said I want the Shock name so we traded," said Naini, adding no money was exchanged. "It's an ironic twist of events."
That doesn't necessarily mean there's movement toward arena football returning to Spokane. There's always speculation, Naini said, but he's heard nothing substantive. He said he's all ears if a local ownership group came forward.
Another large obstacle is the lack of western teams. Only Arizona, which won the IFL in 2017, remains. The other five IFL teams are in the Midwest. The first-year, six-team National Arena League is based on the East Coast. The AFL is down to four teams – Philadelphia, Baltimore, Washington D.C. and Albany.
"I was talking to my wife the other day and despite all the negative economic ramifications, I wouldn't trade it for the world," said Naini, a businessman in the Seattle area. "It was a fantastic run, but unfortunately we couldn't turn it into a business."
Some diehard fans have adjusted their game plans to stay in touch with the sport. They watch webcasts on their computer of Empire and Shock alums playing for their current teams. Some have started attending games of the Spokane Wolfpack, a semi-pro team that plays traditional outdoor football.
"We so miss them," said Julie Chase, who attended games with husband Dan. "For now we're hanging out with the Wolfpack and became season ticket holders for four home games. We're just trying to keep football in our blood."
The Chases always tried to sit in back rows at the Arena so they wouldn't block other fans' views when they stood during games. At one time, 17 family members had season tickets.
They attended several Shock road games, including one in Jacksonville. They had tickets this spring for a Washington Valor AFL game and hoped to catch up with several former Spokane players, but the date was changed to accommodate the NHL playoffs.
Dan and Julie are in the process of moving so they gave away some shirts, Arena Bowl confetti, posters, flags and gloves to friends at the monthly breakfast. Julie will never part with defensive lineman James Ruffin's signed No. 44 jersey. "He was my favorite," she said.
Carruth would stand in line for an hour before the Arena doors opened so she could find a place on the dasherboards to high-five players during warm-ups. Several would stop and give her a hug. For the Empire's final season, Carruth reached a long-time goal of securing front-row seats.
Carruth's baking bill has dropped considerably, but she's planning on sending homemade chocolate chip cookies to former receiver Sam Charles, who lives in Miami.
She'd gladly go back to long days baking in the kitchen if it meant the return of arena football to Spokane.
"I certainly hope they do come back," she said. "Spokane is missing out on a lot. I'd be in the front row again."
Local journalism is essential.
Give directly to The Spokesman-Review's Northwest Passages community forums series -- which helps to offset the costs of several reporter and editor positions at the newspaper -- by using the easy options below. Gifts processed in this system are not tax deductible, but are predominately used to help meet the local financial requirements needed to receive national matching-grant funds.
Subscribe to the sports newsletter
Get the day's top sports headlines and breaking news delivered to your inbox by subscribing here.
---