News > Spokane
Spokane-area public pools offer movies, lessons, end-of-year dog parties
Sun., June 24, 2018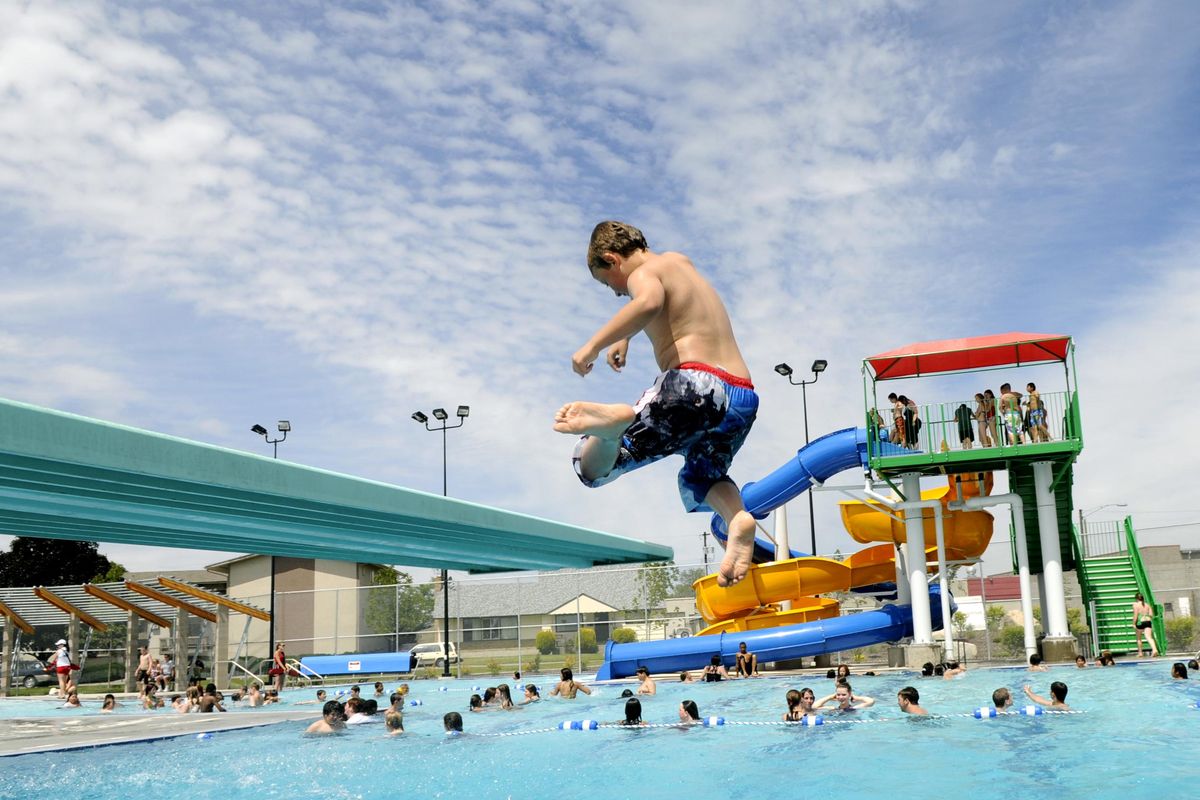 Michael Miethe, 8, adds a little twist to his jump off the diving board on the opening day of swimming at the Hillyard Pool, June 14, 2010, in Spokane. (DAN PELLE/The Spokesman-Review)
Spokane area parks with aquatic facilities are offering several amenities this summer.
The Spokane County Parks, Recreation and Golf Department, in partnership with the Spokane Federal Credit Union, the Spokane Parks Foundation and iHeartMedia, is continuing its swim-and-a-movie series for a second year.
The events are free this year and include a two-hour swim with three family-friendly movies played on each facility's large, inflatable screen beginning at 6 p.m. July 7, July 21 and Aug. 4.
"This is the first year where we made it a free community event," said Bekah Bennett, recreation program manager for Spokane County. "We'd like to continue to do that moving forward."
Spokane Valley is offering a swim-and-a movie for $1 at its Valley Mission Park on Aug. 10 beginning at dusk. There will be snacks and outdoor games as well as arts and crafts before the movie begins.
The city of Spokane will offer free family nights at its Shadle Park, Hillyard, Liberty, A.M. Cannon and Comstock aquatic centers this summer.
"We will have some family-friendly activities in the pool," said Josh Oakes, recreation manager for Spokane parks. "People can bring in their own food and we'll have a deejay."
The county, city of Spokane and city of Spokane Valley aquatic centers will offer swimming lessons this season.
Bennett said the county aquatic facilities offer two-week swimming lessons, which are $40 and held Monday through Thursday.
"People have access to wonderful lakes and rivers here, and learning to swim is so important," she said. "That's a big amenity we offer."
Spokane Valley offers swimming lessons at its three outdoor pools for $35. The two-week lessons are Monday through Thursday from 9 a.m. to noon in varied half-hour blocks. Evening swimming lessons are available at Valley Mission Park and Terrace View Park from 5:30 to 7:30 p.m. The lessons teach basic swimming techniques, a variety of dives and survival swimming as well as a lifeguard and water-safety course.
The city of Spokane has swimming lessons for children from 6 months to 15 years old that cost $48 for classes spanning two weeks.
"We also have private swim lessons that we offer for all ages," Oakes said.
The city of Spokane and city of Spokane Valley pools are allowing people to bring their dogs to a one-day swim event just before they close for the season.
The city of Spokane will allow people to bring their dogs to a "Doggie Dip" at its aquatic centers the last week of August. The event, which costs $10 and is sponsored by the Spokane Parks Foundation and SpokAnimal, will raise awareness of and funds for the High Bridge Dog Park.
Valley Mission Pool offers "Paws in the Pool," a $5 swim session for dogs on Aug. 26, which is from 1 to 1:45 p.m. for small dogs and 2 to 3:30 p.m. for dogs 65 pounds or heavier.
"Each year we have run this, it has continued to get bigger and bigger," said Mike Stone, Spokane Valley park director. "It provides much fun for the dogs and the owners."
The city of Spokane is offering free swimming at its six aquatic centers this year if people register for a SplashPass, which is an electronic membership that allows pool access.
"When they show up to swim, they give their name, and we'll get them checked into the facility," Oakes said.
Local journalism is essential.
Give directly to The Spokesman-Review's Northwest Passages community forums series -- which helps to offset the costs of several reporter and editor positions at the newspaper -- by using the easy options below. Gifts processed in this system are not tax deductible, but are predominately used to help meet the local financial requirements needed to receive national matching-grant funds.
Subscribe now to get breaking news alerts in your email inbox
Get breaking news delivered to your inbox as it happens.
---