News > Transportation
Getting There: City eyes ordinance to strip parking requirements in some parts of town
Mon., June 25, 2018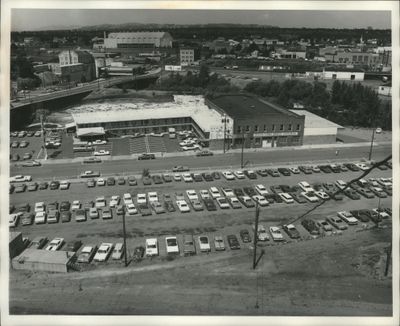 Parking your car is a very modern concept. The idea of searching for a paved piece of ground just big enough for a 4,000-pound machine capable of going faster than any animal on Earth surely never crossed the minds of medieval people, let alone our hairy human ancestors.
But Donald Shoup, a research professor of urban planning at UCLA and the "guru" of parking policy, says that while parking is new, the way we do it is ancient.
"Thinking about parking seems to take place in the reptilian cortex, the most primitive part of the brain responsible for making snap judgments about fight-or-flight issues, such as how to avoid being eaten," Shoup writes in the introduction to his new book, "Parking and the City." "The reptilian cortex is said to govern instinctive behavior involved in aggression, territoriality, and ritual display – all important issues in parking."
If you didn't catch his underlying point, here he is in his seminal tome on parking, "The High Cost of Free Parking": "Like alcohol prohibition in the 1920s, minimum parking requirements do more harm than good and should be repealed."
Shoup thinks American parking policy is deeply flawed, and it "distorts transportation choices, debases urban design, damages the economy, and degrades the environment."
Spokane City Council President Ben Stuckart is with Shoup. Today, the City Council will consider an ordinance put forward by Stuckart that would do away with parking requirements for developers of apartment buildings and condos in certain parts of town.
Before you bellow that Stuckart is some anti-car, regulation-happy proletariat, wipe that furrowed brow and think about it.
Yes, Stuckart freely talks about the need to encourage a diversity in transportation choices, but this ordinance is really one of deregulation, he said, since it strips requirements for developers and allows them to make parking decisions on their own.
"This is an example of where we're looking at regulations and seeing if they make sense," he said. "Sometimes deregulation is the right way to go. If I'm building apartments, I'm building them based on my ability to sell them. I think we should be trusting the developers a little more than we are when it comes to parking."
To get to the nuts and bolts of it, Stuckart's ordinance would not strip parking requirements across the whole city. Instead, it's aimed at projects in very specific geographic locations, constrained to the city's core and along some busy corridors. As it's written, it would do away with parking requirements in areas zoned "Centers and Corridors" on projects that qualify for the multiple family housing tax exemption.
This amounts to, generally, downtown, including the University District, the north side of the river and Kendall Yards; the medical region and other parts of the lower South Hill; North Hamilton and the Gonzaga University area; the East Sprague Avenue "Union" district; North Division Street to Francis Avenue; and Hillyard.
While Stuckart's ordinance is focused on parking, his rationale for it is focused on the nation's housing crisis, which is particularly pronounced here in the West.
"We have an affordable housing crisis, but we also have a housing crisis," he said. In a briefing paper about the proposal, Stuckart gathered facts to make his case: Spokane's rental market is in trouble. Rents have jumped more than 25 percent in just a handful of years, and the vacancy rates are strikingly low, with one-bedroom apartment vacancy rates at 0.8 percent, according to the Washington State Apartment Market Report produced this spring by the Washington Center for Real Estate Research.
A 5 percent vacancy rate is considered healthy for rental markets.
The briefing paper also referred to a 2013 study of Los Angeles from the Journal of the American Planning Association that found that parking requirements drove rents up $200 a month and increased the price of a condo by about $43,000.
Stuckart said he views this ordinance as a "pilot project." If it works, more sections of town will lose parking requirements for developments.
"We need to do everything we can get to get more apartments built," Stuckart said. "I'm open to experimentation. How are we going to increase our supply? What are the barriers to doing this?"
But back to transportation. Stuckart recognized that he'll likely get some pushback on the idea, but argued that it should appeal to many people. It strips rules for developers, which the libertarian right may like. And it encourages less driving, an idea embraced by environmentalists and others.
"You're deregulating but you're also encouraging multimodal use," he said.
Still, there's the chicken-and-the-egg question: Is Spokane ready for such nonautomobile development, or is this a way to push the city in that direction?
Stuckart said the city's ready, and noted that City Hall has pushed for years to encourage people to get around without a car, from the concepts embedded in the city's Comprehensive Plan, to the significant increase in the city's supply of trails and bikeways, to voters' support for more dollars for the Spokane Transit Authority.
"Not everybody wants to have cars, so why are we forcing the build-out?" Stuckart said. "There are people out there that don't use cars anymore – this could be a way to build living situations for them."
Of course, the "reptilian cortex" is used in more situations than when we're trying to find a parking spot. For instance, when we talk politics.
Deer Park roundabouts
The Washington State Department of Transportation is changing some intersections on U.S. Highway 395 in Deer Park.
Two roundabouts are being built, at Short Road and Main Street and Monroe Road at Crawford Street. Access to the highway is being removed at Burroughs and Dalton roads.
As part of the project, Cleveland Road is permanently closed at Crawford.
Work at the Short and Main intersection will bring lane shifts and some restrictions on side streets. The shoulders of Highway 395 near Monroe and Crawford may be closed for utility relocations and embankment work.
A temporary bypass at Main has been built for the duration of roundabout construction. Access to and from the highway on Short is closed. These revisions will be in effect until the roundabout is open, sometime in mid-July.
Speed on Highway 395 will be reduced to advisory speeds of 25 mph, but WSDOT said no lane closures will be allowed during morning and evening rushes, Monday through Friday, between 6 a.m. and 9 a.m. and between 3 p.m. and 6 p.m. Motorists should expect construction delays outside of these times.
In other roundabout news
The construction of a new two-lane roundabout between Winchester Road and Farwell Road for access to the new Costco development continues.
U.S. Highway 2 is reduced to one lane in each direction. Drivers should be alert for slow traffic, congestion and delays, especially during commute hours. They are encouraged to seek other routes.
And, Trent Avenue is still closed from Hamilton to Napa streets, but access to businesses and the Iron Bridge Campus is maintained. This $2.5 million project is the third phase of the Martin Luther King Jr. Way, and will connect Division Street to Trent Avenue through the University District.
A large roundabout is being built at the intersection of Trent and MLK Way.
School's out, go slow
Speeds around the following parks have been restricted, because it's summer and kids are out playing:
A.M. Cannon Park and pool

Audubon Park

Chief Garry Park

Comstock Park

Hays Park

Lincoln Park

Mission Park and pool

Shadle Park and pool
Go slow, and be alert.
Local journalism is essential.
Give directly to The Spokesman-Review's Northwest Passages community forums series -- which helps to offset the costs of several reporter and editor positions at the newspaper -- by using the easy options below. Gifts processed in this system are not tax deductible, but are predominately used to help meet the local financial requirements needed to receive national matching-grant funds.
Subscribe now to get breaking news alerts in your email inbox
Get breaking news delivered to your inbox as it happens.
---