News > Spokane
Then and Now: Agnes McDonald and the electric car
Mon., June 25, 2018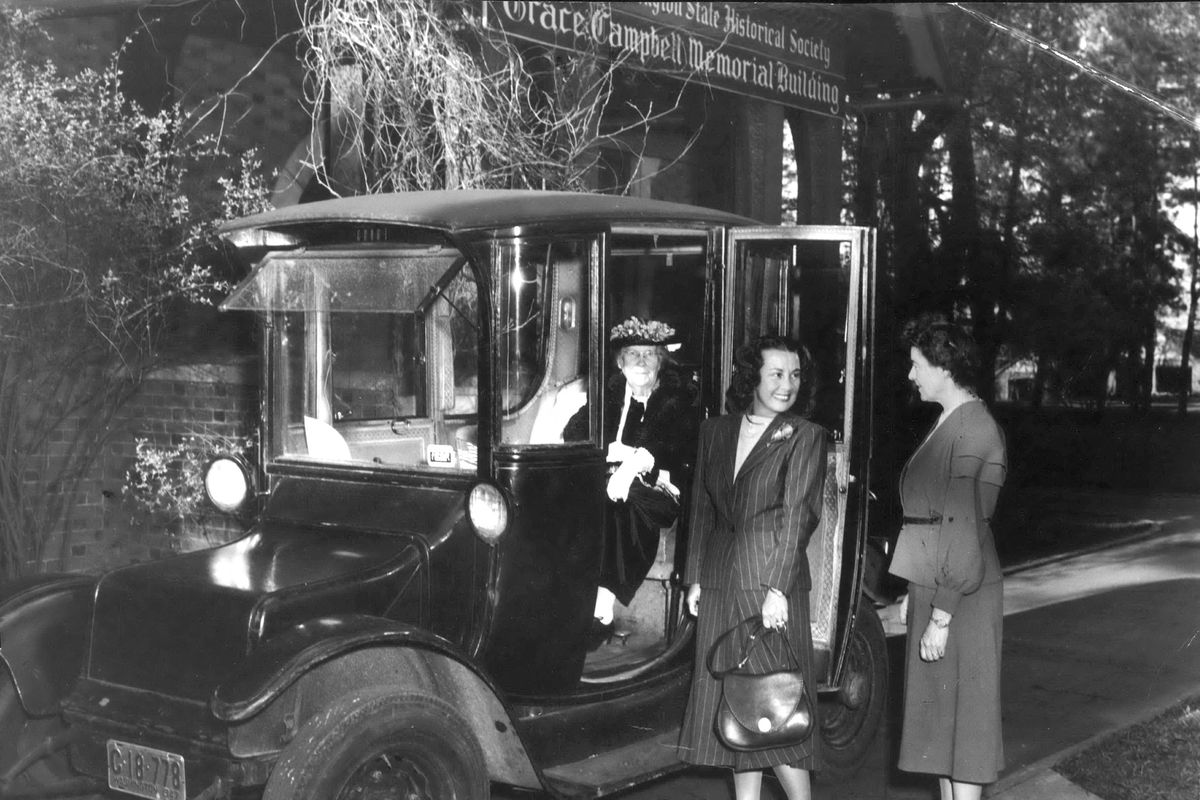 1940 - Agnes McDonald, at around 75 years of age, sits in her 1916 Rauch and Lang electric car in front of the Campbell House. "I wouldn't own any other kind of car," says McDonald, whose average operating expense was $2.50 a month. In addition, every five or six years she had to buy new batteries costing $500. The 24-year old car, mileage unknown, because the speedometer gave up the ghost years ago, still has one of its original tires. (photo archive / SR)
Agnes McDonald (1865-1961) was one of Spokane's most colorful characters. She was only 35 when her husband, a wealthy mining investor, died, leaving her with two sons to raise. His investments left her comfortably well off.
With enough money for a life of relative ease, she dedicated her life to various causes, including animal welfare and work with the Eastern Washington Historical Society. She was an early member of the Spokane Humane Society, which had been founded in 1897.
In 1911, she became the first female enforcement officer of the Humane Society. Within a few months of her appointment, several other women were appointed, as well. The eight female "humane officers" would hold their ticket books and stand on downtown street corners, watching for animals being worked too hard or without proper water and feed. When McDonald spotted a suspected violation, she would march into the muddy street and hold up a hand, force the driver to the curb and call for backup. Washington state passed the first animal protection laws in 1901.
For almost 40 years, McDonald also served on the board of the SHS, and other nonprofits. She retired from those activities in 1956.
But McDonald was better known to Spokanites as the elderly driver of a 1916 Rauch and Lang electric car that would weave through the narrow Browne's Addition streets with a stern-faced McDonald in the back seat, arms thrown over the steering tiller.
Long after the industry adopted gasoline engines, McDonald was still driving the electric. She said it only cost her pennies a day to drive, but every five to six years she spent $500 to replace the batteries.
She had several offers to buy the car, especially during World War II, when gas was rationed.
McDonald bragged that she would periodically spend 85cents on a can of black paint and a 10-cent brush to restore the car's finish.
She stopped driving the car in the early 1950s and donated the car to the historical society. She passed away in 1961 at the age of 96. The car, now restored, is on display at the Museum of Arts and Culture's Campbell House in Spokane.
Local journalism is essential.
Give directly to The Spokesman-Review's Northwest Passages community forums series -- which helps to offset the costs of several reporter and editor positions at the newspaper -- by using the easy options below. Gifts processed in this system are not tax deductible, but are predominately used to help meet the local financial requirements needed to receive national matching-grant funds.
Subscribe now to get breaking news alerts in your email inbox
Get breaking news delivered to your inbox as it happens.
---