Sports > WSU football
WSU quarterback Tyler Hilinski suffered from CTE when he killed himself
June 26, 2018 Updated Tue., June 26, 2018 at 11:06 p.m.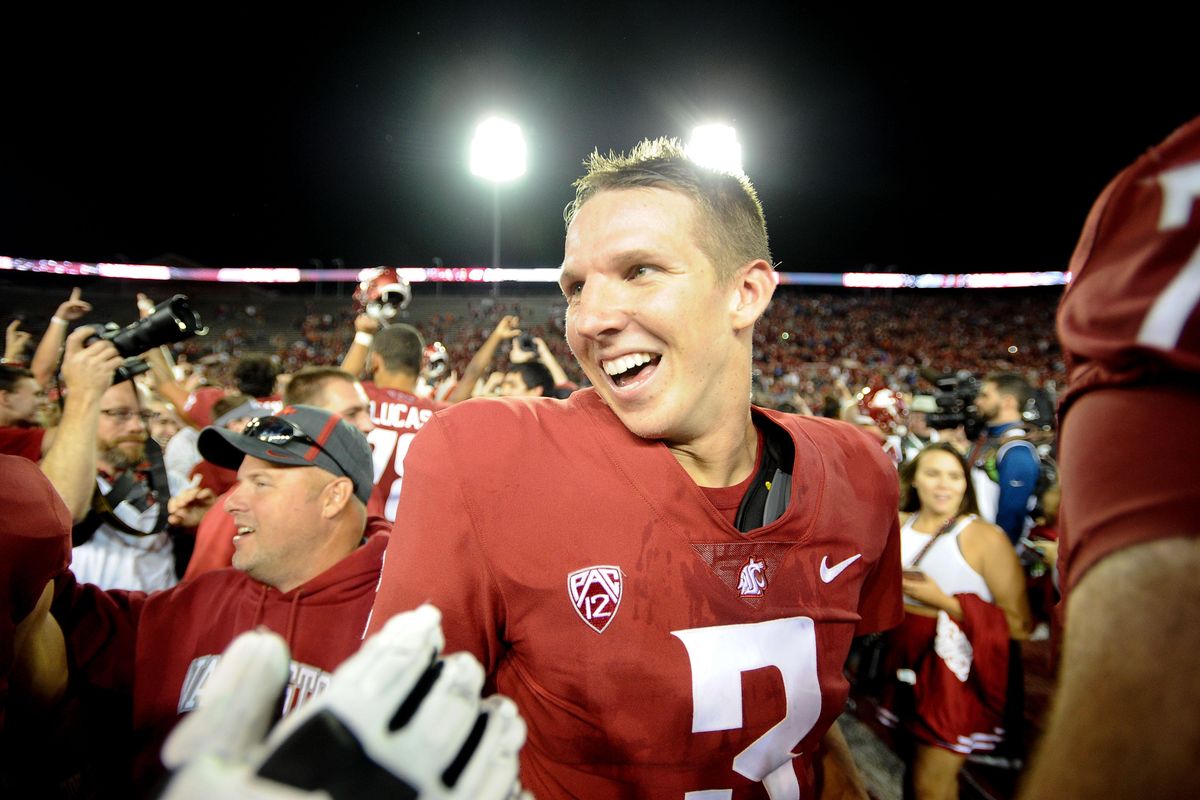 In this Sept. 9, 2017 file photo, Washington State Cougars quarterback Tyler Hilinski (3) is mobbed by teammates after WSU defeated Boise State in triple overtime on at Martin Stadium in Pullman, Wash. (Tyler Tjomsland / The Spokesman-Review)
Tyler Hilinski cemented his place in Washington State lore in September with a 22-yard touchdown pass to Jamal Morrow in double overtime to claim a 47-44 win over Boise State.
Four months later, the sophomore quarterback, who was set to take over Mike Leach's vaunted Air Raid offense, took his own life with an AR-15 rifle he had borrowed from a former teammate. Now his parents have revealed in multiple interviews that Hilinski was found to have first-stage chronic traumatic encephalopathy, or CTE.
"The medical examiner said he had the brain of a 65-year-old," his father, Mark Hilinski, told NBC's "Today." "He was the sweetest, most outgoing, giving kid. That was difficult to hear."
After Hilinski took his life Jan. 16, his parents said they were contacted by the Mayo Clinic to do a study of their son's brain.
The results showed the 21-year-old was suffering from CTE, a degenerative brain disease that has been associated with repetitive brain injuries and has put the future of professional football in doubt.
"I mean, we were in complete shock," Mark Hilinski told "Today." "We wanted to know everything we could and find out anything we could. So we immediately said, 'Sure … we'd like to know what we can find out.' "
The parents noted Tyler Hilinski hadn't played that much college football.
A backup to Luke Falk, Hilinksi led the 21-point comeback victory against Boise State on Sept. 9 and played most of the game against Arizona, a 58-37 loss Oct. 28. With an injury to Falk, the Dec. 28 Holiday Bowl against Michigan State turned out to be Hilinski's first and last start for the Cougars.
Reached by the Seattle Times, coach Mike Leach said WSU has already taken precautions to avoid exposing their quarterbacks to unnecessary hits.
"Our QBs don't get hit in practice," Leach told the Times. "They get hit less than any other position."
He also responded to a question about CTE with questions of his own. "Are they saying that CTE caused this?" Leach asked the Times in a text. "What do doctors think? Is it possible to get CTE in a couple weeks? Or is this something that he possibly had since high school?"
The Spokesman-Review
In a statement, Washington State said the university has pledged to address the mental health needs of its players, saying it launched four new initiatives after Hilinski died.
Those new changes will include a second-formal mental health screening for all football team members and meetings with all varsity athletes to "help identify individuals who might be at risk for mental health issues," the statement reads.
The university is also adding a full-time clinical psychologist to the Athletic Department and providing free access to Mental Health First Aid, a proactive intervention training for the entire student body.
Hilinski's mother, Kym Hilinski, said the parents went back and looked for any hits or signs from their son that he was developing CTE.
"Of course, you go and you look at every piece. And there's nothing really there," she told "Today." "Maybe there was comment made here and there. There are certain plays that you look at … certain hits that he took. But there weren't really any verbal signs to us or to anybody at Washington State that he was suffering."
The interview on "Today" follows the release of a documentary by Sports Illustrated about Hilinski and his family.
As a result of their loss, the Hilinski family has started the Hilinski's Hope foundation. Its aim is to promote mental health among student athletes.
"People need to keep talking about suicide and mental illness and mental health. We need to erase the stigma," Kym Hilinski told "Today." "We're trying to fund programs that support them and their mental health. They need it. There's not enough out there for these beautiful athletes that give themselves to their colleges."
As the Hilinskis, of Irvine, California, continue to deal with the loss of Tyler, their youngest of three sons, Ryan, recently committed to play for South Carolina.
Asked if she had reservations about letting Ryan play football, Kym Hilinski told "Today" that the family did a lot of research.
"Can CTE be tested in the living? It can't," she said. "Is there a genetic or hereditary link? They're not sure. We had to find out as much information as we can, talk to experts and let Ryan know."
Ryan, according to his Twitter account, wants to play to honor his brother.
"I'm all bought into football, and I think Tyler would want me to do the same thing," Ryan Hilinski tweeted. "I don't think he'd want me to stop."
In another tweet, Ryan Hilinski said he has been blessed with talents "that cannot be wasted.
"We may never know the reason why Ty did what he did but we know how we can continue to make him happy even when he's not here," he wrote. "If you are ever suffering, reach out to someone close, call the suicide hotline because You are MORE!"
Local journalism is essential.
Give directly to The Spokesman-Review's Northwest Passages community forums series -- which helps to offset the costs of several reporter and editor positions at the newspaper -- by using the easy options below. Gifts processed in this system are not tax deductible, but are predominately used to help meet the local financial requirements needed to receive national matching-grant funds.
Subscribe to the Cougs newsletter
Get the latest Cougs headlines delivered to your inbox as they happen.
---