Sports > NBA
Miami Heat guard Tyler Johnson remembers Hoopfest and childhood in Spokane
June 27, 2018 Updated Wed., June 27, 2018 at 8:33 p.m.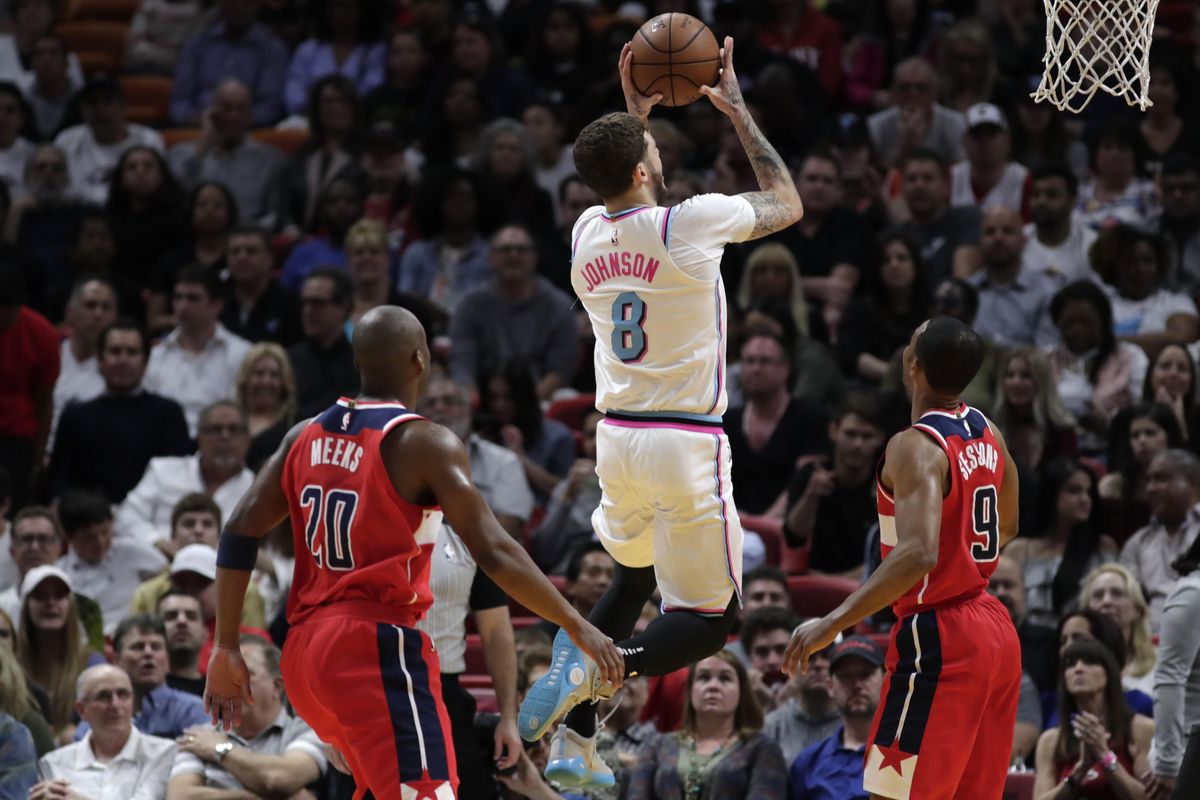 Miami Heat's Tyler Johnson (8) shoots over Washington Wizards' Jodie Meeks (20) and Ramon Sessions (9) during the first half of an NBA basketball game, Saturday, March 10, 2018, in Miami. (Lynne Sladky / AP)
Steadfast, left-handed and undrafted before carving out a lucrative career in Florida, some of Tyler Johnson's earliest memories are sweating on the streets of downtown Spokane.
No, not the Tampa Bay Lighting star and Central Valley graduate of the same namesake. Eight inches taller and about two years younger, this Tyler Johnson registered 39 starts for the NBA's Miami Heat last season.
He, too, called Spokane home.
A decade before starring at Fresno State and signing a free agent contract with the Heat in 2014, Johnson attended Hamblen, Adams and Sunrise elementary schools as his mother, Jennifer Johnson, worked in aviation resource management at Fairchild Air Force Base.
His family moved in 2001 when Jennifer was transferred to Moffett Federal Airfield near San Jose, California. Johnson returned to Spokane the following summers, though, primarily for the 3-on-3 tournament he tells his NBA teammates is the best in the world.
"Hoopfest was so competitive and the environment was great," said Johnson, a former Hoopfest champion. "I remember going to Nike Center Court and watching the games. It was a great atmosphere.
"When I talk about it with guys, some compare it the NBA Hoop It Up, but it's not even comparable."
Friend and Miami Heat center Kelly Olynyk, the former Gonzaga star, agrees, Johnson said. The two have often talked about their time in Spokane and Hoopfest has been the topic of conversation.
"(Olynyk) has been to Hoopfest more recently and says great things about it," Johnson said. "He's a good dude. I didn't like him very much when he played for the Celtics, but now that I've gotten to know him in Miami, he's good people."
Johnson's collegiate allegiance is to Fresno State, where the combo guard ranks 16th all-time in scoring and has the sixth-highest 3-point percentage. As a kid, though, he found himself locked to the television for Gonzaga games.
The names of ex-Zag greats Casey Calvary, Dan Dickau and Adam Morrison still jump off Johnson's tongue.
"Spokane is where I fell in love with the game," he said, recalling his time playing at a Spokane YMCA. "I was outside all of the time and playing in the fresh air."
Because of his mother's military career, Johnson was often on the move. He was born in Grand Forks, North Dakota and lived in Minneapolis; Wichita Falls, Texas; Biloxi, Mississippi; Spokane and the Silicon Valley. His grandparents still live in Spokane Valley.
Jennifer, a single mother to five children, said her son didn't have the luxury of playing on AAU teams to gain exposure, and had few Division I scholarship offers out of high school.
She's proud of what he's made of himself.
"It's been really exciting," said Jennifer. "For him to do this and to have moved around so much as a kid, it's great to see what he's been able to do."
In 2016, Johnson signed a four-year, $50 million deal with the Heat. He averaged 11.7 points this past season with a career-high 31 points in a December 30 win over Orlando Magic.
During college, family friends and old Spokane neighbors often made the trek to Moscow, Idaho, when Fresno State annually played the Vandals and once at Washington State in 2012.
Longtime KXLY anchor Nadine Woodward, one of Jennifer's close friends, never missed a game.
"It was like a family reunion," Woodward said.
In April, the Woodward family watched Johnson play against the Lakers in Los Angeles. For her 21st birthday, Woodward's daughter, Coley, got a picture with Tyler and Magic Johnson.
As a child, Johnson was "obsessed" with basketball, Woodward said, and she isn't suprised that his drive led him to the NBA.
"At one of my son's birthday parties, he was maybe 6 or 7 years old, we have video of him slam-dunking a basketball into a Fisher Price, nearly breaking the darn thing," Woodward said. "And he egged on other kids to try to outshoot him. He's always been very competitive."
Johnson said it's been years since he's visited Spokane, but he's due for a return.
"I want to come back," Johnson said. "I need to put a Hoopfest visit on my schedule."
Local journalism is essential.
Give directly to The Spokesman-Review's Northwest Passages community forums series -- which helps to offset the costs of several reporter and editor positions at the newspaper -- by using the easy options below. Gifts processed in this system are not tax deductible, but are predominately used to help meet the local financial requirements needed to receive national matching-grant funds.
Subscribe to the sports newsletter
Get the day's top sports headlines and breaking news delivered to your inbox by subscribing here.
---