News > Business
Hotels near capacity as Hoopfest weekend approaches
June 28, 2018 Updated Thu., June 28, 2018 at 8:51 p.m.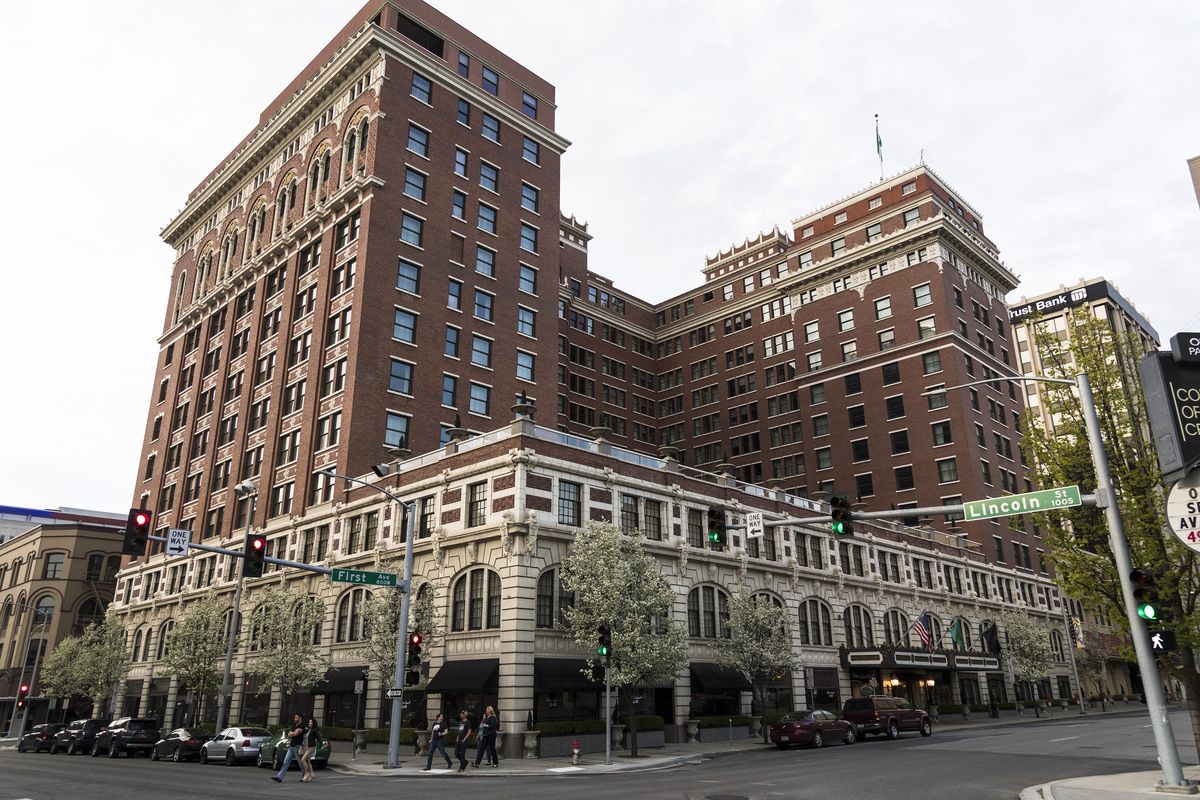 With HoopFest weekend approaching, the Historic Davenport Hotel was the only one of the Davenport Hotels Collection properties in downtown Spokane ., that had vacancies Wednesday. (Colin Mulvany / The Spokesman-Review)
At-capacity hotels in downtown Spokane are seeing last-minute cancellations for this weekend's Hoopfest, leaving the door open for some late bookings.
Hoopfest, the world's largest 3-on-3 basketball tournament, will shut down streets with its pop-up courts and tens of thousands of spectators.
Kate Hudson, Visit Spokane spokeswoman, said she expects hotels in Spokane Valley and beyond to be nearly booked.
On Wednesday, she sent inquiries to 52 hotels in the county. As of that evening, 14 hotels had responded. Only three were fully booked for both Saturday and Sunday, and two were booked for Friday only. On Thursday, Hudson said the situation remained the same.
"I think it's safe to say there's still hotel availability throughout Spokane County," she said.
Downtown hotels like Best Western Plus, Tiki Lodge, The Montvale, Historic Davenport, Holiday Inn Express and Hotel Ruby still had a few open rooms, but all hotels are expected to fill, according to their employees.
Julie Cohen, general manager of Holiday Inn Express downtown, said Wednesday she hadn't heard of any other hotels in the area being completely booked. She thinks hotels aren't as busy this year because the Ironman race in Coeur d'Alene was last weekend, when usually it coincides with Hoopfest, she said.
In response to the swarm of Hoopfest, many hotels in Spokane have increased rates for the weekend. The Montvale Hotel's rates for Hoopfest weekend range from $206 to $248. Nights on any other weekend would cost $159 to $196, said Lexi Saeger, front desk manager.
But some hotel managers said demand for hotel rooms during Hoopfest is actually decreasing.
"In the last couple years, we've had to sell rooms within the last couple weeks (of Hoopfest)," said Anny Gold, general manager of Hotel Ruby. "But five years ago, we would have been able to sell out months in advance."
Gold attributed this to the opening of new hotels in Spokane and the increased supply of rooms.
Davenport's four hotels in downtown Spokane were booked except the Historic Davenport. A handful of single-bed rooms were open there, Matt Jensen, Davenport Hotels Collection corporate director of sales and marketing, said Wednesday.
Jensen said he keeps a tally of the busiest days of the year for the Davenport hotels, and Hoopfest takes the cake.
"I refer to it as the little mini-Super Bowl here in Spokane," he said.
Local journalism is essential.
Give directly to The Spokesman-Review's Northwest Passages community forums series -- which helps to offset the costs of several reporter and editor positions at the newspaper -- by using the easy options below. Gifts processed in this system are not tax deductible, but are predominately used to help meet the local financial requirements needed to receive national matching-grant funds.
Subscribe now to get breaking news alerts in your email inbox
Get breaking news delivered to your inbox as it happens.
---