News > Nation
Gunman kills 5 in attack targeting Maryland newspaper
June 28, 2018 Updated Thu., June 28, 2018 at 10:57 p.m.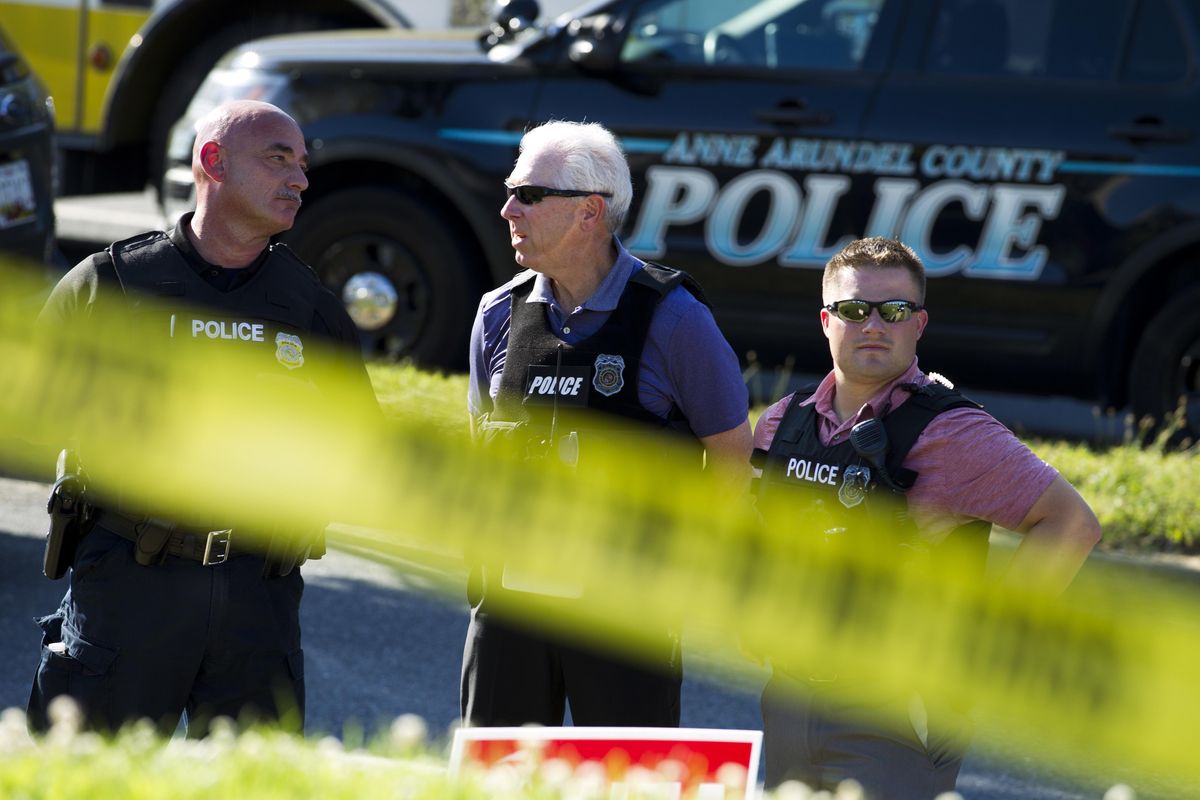 Police officers secure the area after five people were shot to death at The Capital Gazette newspaper in Annapolis, Md., Thursday, June 28, 2018. (Jose Luis Magana / Associated Press)
ANNAPOLIS, Md. – A man armed with smoke grenades and a shotgun attacked a newspaper in Maryland's capital Thursday, killing four journalists and a staffer before police quickly stormed the building and arrested him, police and witnesses said.
The shooting came amid months of verbal and online attacks on the "fake news media" from politicians and others from President Donald Trump on down. It prompted New York City police to immediately tighten security at news organizations in the nation's media capital. The Spokesman-Review also increased security measures in response to the attack.
Police in Annapolis said a white man in his late 30s was in custody after the rampage at the Capital Gazette. A law enforcement official said the suspect was identified as Jarrod W. Ramos. The official wasn't authorized to discuss the ongoing investigation and spoke on condition of anonymity.
Acting Police Chief William Krampf of Anne Arundel County called it a targeted attack in which the gunman "looked for his victims."
"This person was prepared to shoot people," Krampf said, who added the gunman was a Maryland resident, but didn't name him.
The dead included Rob Hiaasen, 59, assistant managing editor and brother of novelist Carl Hiaasen. Carl Hiaasen said he was "devastated and heartsick" at losing his brother, "one of the most gentle and funny people I've ever known."
Also slain were Gerald Fischman, editorial page editor; features reporter Wendi Winters; reporter and editor John McNamara, and sales assistant Rebecca Smith.
McNamara was remembered by his colleagues for his flexibility, concise writing and extensive knowledge of regional sports, according to the Baltimore Sun, which reported an account of a trip the reporter once took to Spokane during the 2010 NCAA basketball tournament. While here, he took a long walk around the city with Gary Williams, the University of Maryland coach. McNamara later remarked how great a job he had to be able to spend one-on-one time with a future Hall of Fame coach, the Sun reported.
Police said two others suffered minor injuries in the shooting, and the newspaper later reported both were employees later released from a hospital with injuries that were not life-threatening.
Phil Davis, a reporter who covers courts and crime for the paper, tweeted the gunman shot out the glass door to the office and fired into the newsroom, sending people scrambling under desks.
"There is nothing more terrifying than hearing multiple people get shot while you're under your desk and then hear the gunman reload," he wrote.
At the White House, spokeswoman Lindsay Walters said: "There is no room for violence, and we stick by that. Violence is never tolerated in any form, no matter whom it is against."
Meanwhile, investigators said they would seek to learn more of the gunman's motives.
"The shooter has not been very forthcoming, so we don't have any information yet on motive," Anne Arundel County Executive Steve Schuh said.
In 2012, Ramos filed a defamation lawsuit against the paper, alleging he was harmed by an article about his conviction in a criminal harassment case a year earlier. The suit was dismissed by a judge who wrote Ramos hadn't shown "anything that was published about you is, in fact, false." An appeals court later upheld the dismissal.
In an interview appearing on the Capital Gazette's online site, Davis said it "was like a war zone" inside the newspaper's offices.
"I'm a police reporter. I write about this stuff – not necessarily to this extent, but shootings and death – all the time," he said. "But as much as I'm going to try to articulate how traumatizing it is to be hiding under your desk, you don't know until you're there and you feel helpless."
Reporter Selene San Felice told CNN she ran after hearing shots but found a back door locked, then watched as a colleague was shot.
"I heard footsteps a couple of times … I was breathing really loud and was trying not to, but I couldn't be quiet," she added.
The reporter recalled a June 2016 mass shooting attack on Orlando's gay nightclub Pulse and how terrified people crouching inside had texted loved ones as dozens were killed. She added: "And there I was sitting under a desk, texting my parents and telling them I loved them."
Police spokesman Lt. Ryan Frashure said officers arrived within about 60 seconds and took the gunman into custody without an exchange of gunfire. About 170 people were evacuated, many leaving with their hands up as police and other emergency vehicles arrived.
"These are the guys that come to city council meetings, have to listen to boring politicians and sit there," Annapolis Mayor Gavin Buckley said. "They don't make a lot of money. It's just immoral that their lives should be in danger."
The newspaper is part of Capital Gazette Communications. It is owned by the Baltimore Sun.
The attacker had mutilated his fingers in an apparent attempt to make it harder to identify him, according to a law enforcement official who was not authorized to discuss the investigation and spoke on condition of anonymity. Another official speaking on condition of anonymity said he was identified with help of facial recognition technology. Of the two accounts, Krampf said: "We have no verification of either."
Local journalism is essential.
Give directly to The Spokesman-Review's Northwest Passages community forums series -- which helps to offset the costs of several reporter and editor positions at the newspaper -- by using the easy options below. Gifts processed in this system are not tax deductible, but are predominately used to help meet the local financial requirements needed to receive national matching-grant funds.
Subscribe now to get breaking news alerts in your email inbox
Get breaking news delivered to your inbox as it happens.
---