Sports > National sports
Gael Force routs Air Force Bomb Squad 82-54 in The Basketball Tournament opener
Fri., June 29, 2018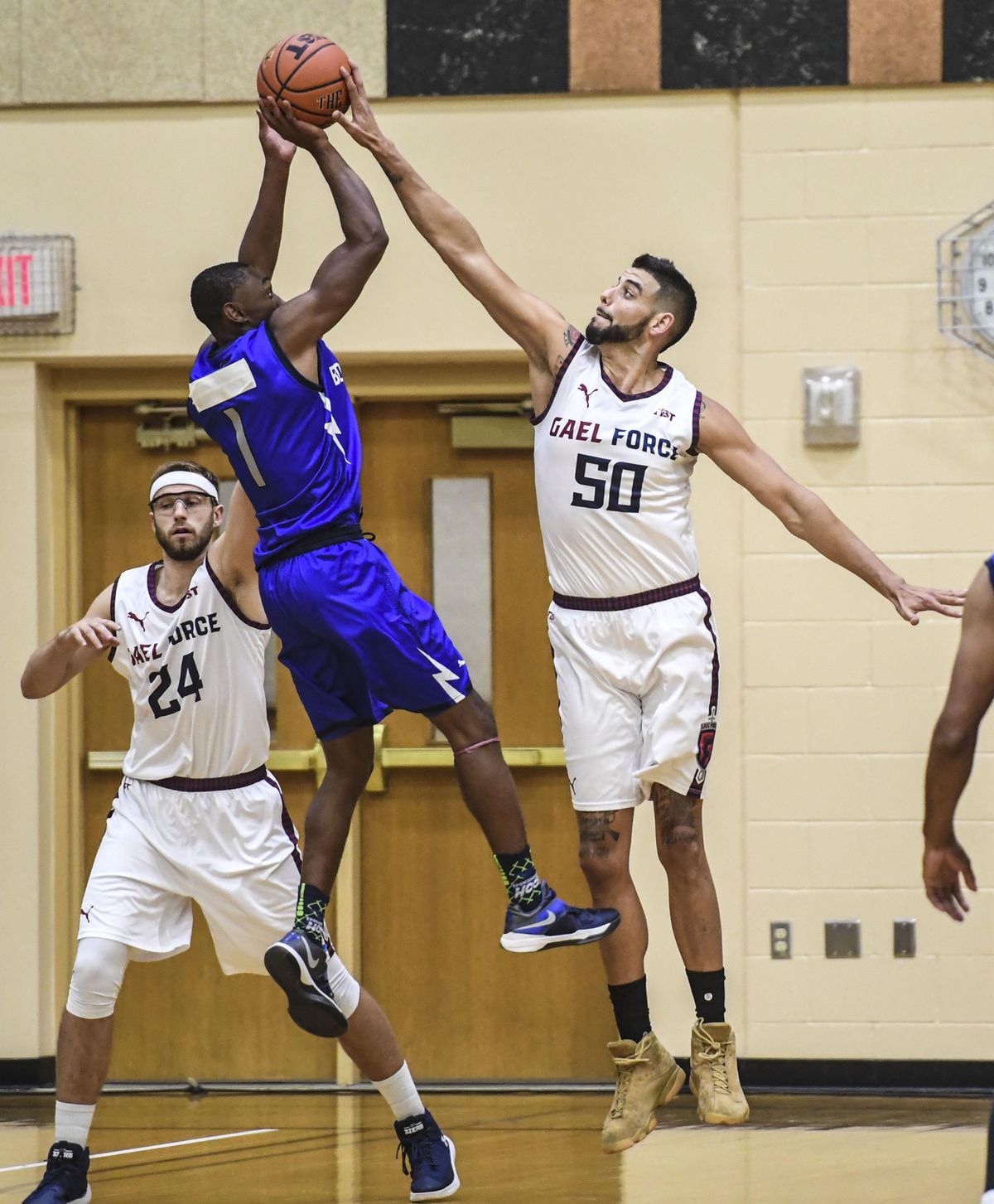 Gael Force center Omar Samhan (50) blocks a shot by Air Force Bomb Squad guard CJ Siples in the first quarter, Friday, June 29, 2018 at Lewis and Clark High School as part of The Basketball Tournament. Calvin Hermanson (24) is at left. (Dan Pelle / The Spokesman-Review)
Gael Force never trailed, led by double digits after Ian O'Leary's dunk midway through the opening quarter and cruised to an 82-54 win over Air Force Bomb Squad in the TBT opener at Lewis and Clark High School.
O'Leary continually got open underneath and his teammates found him with nice feeds. The 6-foot-7 forward scored 12 points in the first half as Gael Force built a 35-17 lead.
Air Force Bomb Squad misfired on its first six 3-pointers and never heated up from distance with the exception of a pair of 3s by Matt Holland early in the second quarter.
Guard Mickey McConnell hit two of his four 3-pointers in the third period as Gael Force stretched its lead to 28.
Gael Force center Omar Samhan scored 10 of his 17 points in the fourth quarter. O'Leary finished with 15 points, McConnell 14 and Calvin Hermanson added 11.
Mike Fitzgerald led Air Force with 15 points.
Local journalism is essential.
Give directly to The Spokesman-Review's Northwest Passages community forums series -- which helps to offset the costs of several reporter and editor positions at the newspaper -- by using the easy options below. Gifts processed in this system are not tax deductible, but are predominately used to help meet the local financial requirements needed to receive national matching-grant funds.
Subscribe to the sports newsletter
Get the day's top sports headlines and breaking news delivered to your inbox by subscribing here.
---