Sports > National sports
Matt Bouldin puts finishing touch on Few Good Men's 84-83 win over Team Utah in The Basketball Tournament opener
UPDATED: Fri., June 29, 2018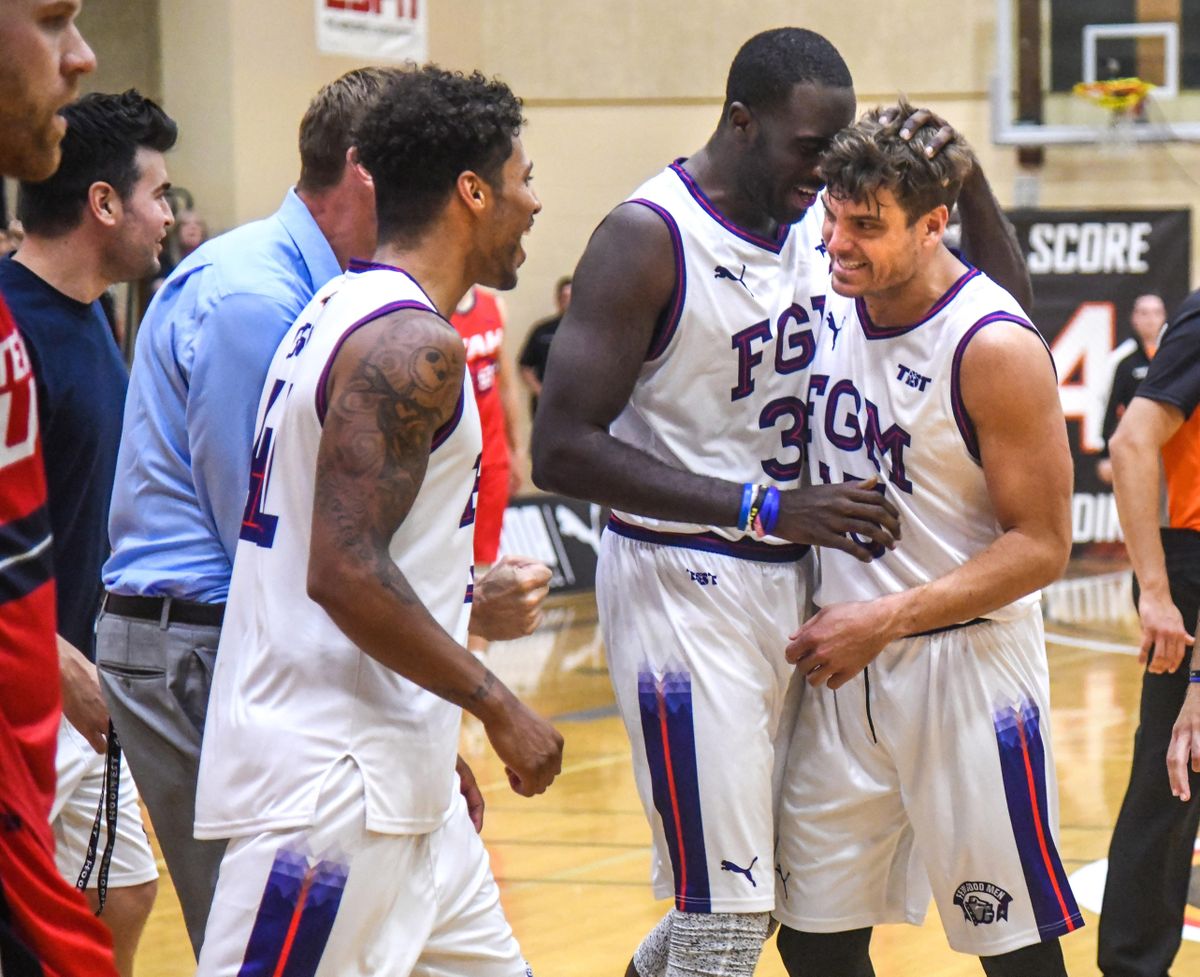 Few Good Men guard Matt Bouldin is hugged by teammate Sam Dower after Bouldin hit a pair of free throws to beat Team Utah in The Basketball Tournament, Friday, June 29, 2018 at Lewis and Clark High School. (Dan Pelle / The Spokesman-Review)
The Basketball Tournament organizers added a new wrinkle to their winner-take-all, $2 million event with the Elam Ending.
Under Elam rules, at the first dead ball with under 4 minutes remaining, seven points is added to the leading team's score to set a target score. In the case of sixth-seeded Few Good Men and No. 11 Team Utah on Friday night, the score was tied at 77 so the target became 84.
The Elam Ending was a mirror image of the first 32-plus minutes, a tense, back-and-forth affair between two evenly matched teams. And then came the Bouldin Ending.
Former Gonzaga standout Matt Bouldin coolly nailed two free throws, the last accounting for a walk-off 84-83 victory in front of an estimated 1,400 at Lewis and Clark High School.
"You don't really think too much about it," said Bouldin, who finished with 16 points, including a driving layup that evened the score at 81. "I've been in situations like that before. It's just repetitions, do it all the time."
Few Good Men's victory sets up a showdown against third-seeded Gael Force at 7:30 p.m. Saturday for a spot in the Super 16. While FGM survived a dogfight, the team of ex-Saint Mary's standouts breezed past Air Force Bomb Squad 82-54 in the opener at LC.
"It's almost like we're at GU all over again," said Few Good Men forward Sam Dower, who showed off his smooth shooting stroke with 19 points. "We're repping the Zags still, we're a little older but that rivalry is still there. That's something that will never leave."
Bouldin has been on the sidelines for most of the last two years. He went to Korea both years, but his seasons were cut short by a sports hernia and a torn tendon in his groin.
"This is the first time I've played 5-on-5 full court at this level in over a year," Bouldin said. "Not even one practice (with FGM), (player-coach) Blake Stepp is putting in offense on the fly. The more and more we play together, the better we'll get."
Bouldin made 78.5 percent of his free throws at Gonzaga from 2007-10. He hit 85.8 percent his senior season.
Before Bouldin finished off Team Utah, center Robert Upshaw, a former Washington Husky, provided a couple of key plays in crunch time. The 7-foot center came out of a huddle with FGM trailing and shouted "I call game" to former UW teammate Nigel Williams-Goss, who was seated nearby.
Later, Upshaw explained that he thought he was going to hit the game-winning shot. Instead, Upshaw left his man to reject Dakarai Tucker's potential game-winning shot. At the other end of the court, Upshaw passed up an open jumper to feed Bouldin, who was fouled underneath.
"I saw that nobody was paying attention to (Bouldin) so they either had to foul him or he gets the two-point basket to win the game," Upshaw said. "We aren't where we need to be but we stuck together and we shared the ball."
Dower, whose pro career has been on hold due to a knee injury, buried three 3-pointers. He said his knee "feels great."
Steven Gray added 18 points and former Washington State Cougar DaVonte Lacy and Upshaw both chipped in 10.
Tucker, who played at the University of Utah, scored a game-high 21 points. Akolda Manyang, a 7-foot center who played at Utah Valley, added 18 points.
The Elam Ending produced what TBT officials had hoped: A thrilling finish and a fair amount of strategy on the closing possessions while limiting the customary parade to the free-throw line.
"It's intense," Bouldin said. "I like it though because it takes away a lot of different things teams do in terms of fouling, slowing it down, holding the ball. You're just playing, which is great."
Few Good Men edged Team Utah 85-83 in last year's TBT after falling to Team Utah in the 2016 tournament.
Local journalism is essential.
Give directly to The Spokesman-Review's Northwest Passages community forums series -- which helps to offset the costs of several reporter and editor positions at the newspaper -- by using the easy options below. Gifts processed in this system are not tax deductible, but are predominately used to help meet the local financial requirements needed to receive national matching-grant funds.
Subscribe to the sports newsletter
Get the day's top sports headlines and breaking news delivered to your inbox by subscribing here.
---