Sports
On eve of Hoopfest, former Gonzaga great Nigel Williams-Goss leads skills camp for kids, talks about his future plans
June 29, 2018 Updated Fri., June 29, 2018 at 9:14 p.m.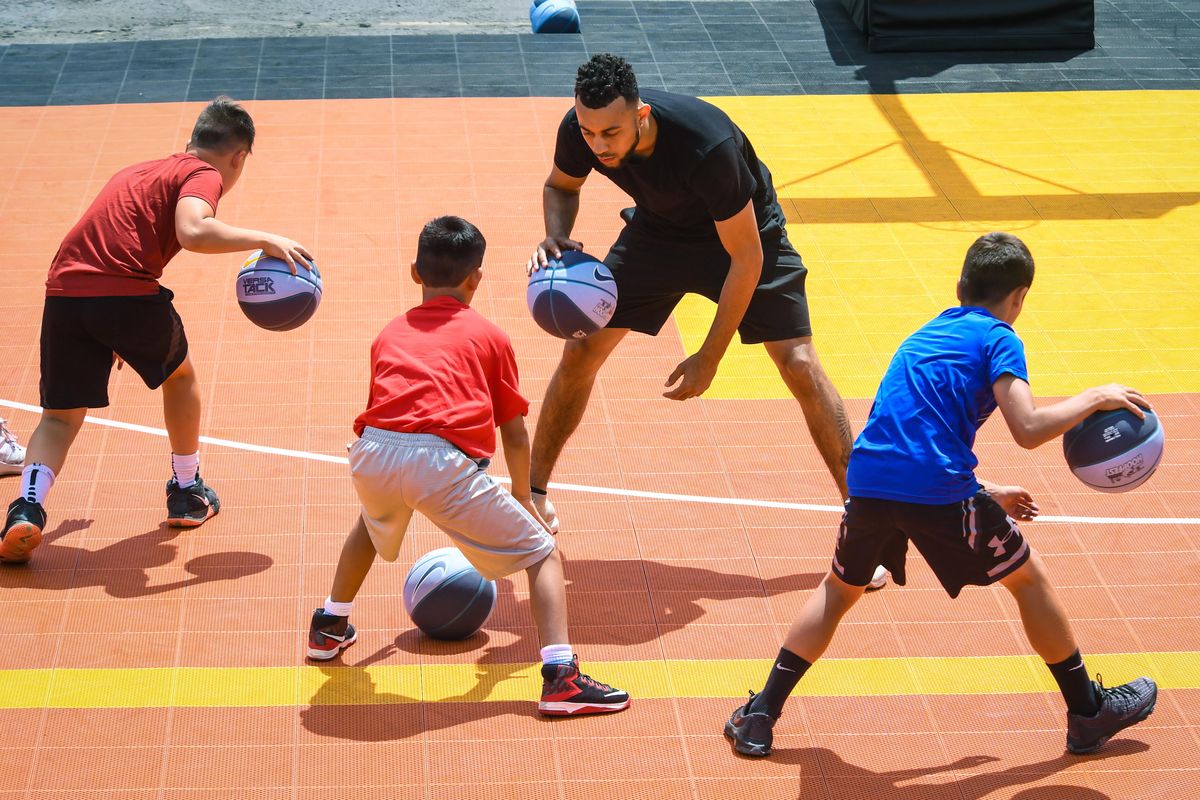 Former Gonzaga guard Nigel Williams-Goss instructs youngsters during a clinic at Hoopfest last Friday. (Dan Pelle / The Spokesman-Review)Buy a print of this photo
Twenty children dribbled in unison Friday on the plastic tile of Hoopfest's Nike Center Court, each of them keeping an eye on former Gonzaga guard Nigel Williams-Goss.
The All-American who led the Bulldogs to the national title game in 2017 was back in Spokane, giving a one-hour skills camp on the eve of the world's largest 3-on-3 tournament.
"Keep your eyes up," Williams-Goss said as boys and girls dribbled around the 3-point arc, many of their parents taking pictures of the session.
Smiling and engaging, Williams-Goss gave instruction, encouragement and sometimes playfully poked the ball away from kids during drills.
"It's a fun clinic," said Williams-Goss, who will also run his own basketball camp in Spokane in August. "They get to work on ballhandling, some moves and play some fun games."
The clinic marked the start of Hoopfest 29's weekend festivities. Music blasted from speakers at center court around noon Friday as passersby dropped in to see the second-round NBA Draft pick.
John Guire, 13, made the 106-mile trek from Clarkston to see Williams-Goss and polish his game.
"It's cool because he's a local celebrity who came out and taught us kids how to be better basketball players," Guire said. "I want to improve my dribbling and shooting, so this is good."
Wiliams-Goss said he drove to Spokane on Thursday from his hometown of Portland, his first time in the Lilac City since August. After being drafted by the Utah Jazz as the 55th overall pick, he signed with KK Partizan in Belgrade, Serbia, two months later.
After playing in last year's NBA Summer League, Williams-Goss opted to take the EuroLeague route. He averaged 17 points and seven assists with Partizan last season and says he relished the experience.
"It was unbelievable," said Williams-Goss, who would have likely been assigned to the Jazz's G-League team if he didn't play overseas. "I got to play for a historic club and was in an unbelievable city. Belgrade is one of the best cities I've ever been to."
Now, Williams-Goss said, he's in talks with some of Europe's top clubs, including Olympiacos (Greece), Fenerbahçe (Turkey) and PBC CSKA (Russia).
The Jazz still own the rights to Williams-Goss, who said he won't be playing in this year's NBA Summer League.
"I got some pretty good options overseas, some pretty high-level EuroLeague teams. We just felt it was in my best interest to get that stuff situated first, then deal with everything after that," Williams-Goss said.
"I am looking forward to this next week and maybe getting some things ironed out."
Some of his former Gonzaga teammates are in town for Hoopfest weekend, including 7-footer Przemek Karnowski who plays for Spain's Baloncesto Fuenlabrada.
"Just driving in and getting into downtown and seeing the city skyline brought back a lot of memories," Williams-Goss said. "There's no place like Spokane for me."
Local journalism is essential.
Give directly to The Spokesman-Review's Northwest Passages community forums series -- which helps to offset the costs of several reporter and editor positions at the newspaper -- by using the easy options below. Gifts processed in this system are not tax deductible, but are predominately used to help meet the local financial requirements needed to receive national matching-grant funds.
Subscribe to the sports newsletter
Get the day's top sports headlines and breaking news delivered to your inbox by subscribing here.
---