Two Spokane businesses turned vintage vehicles into photo booths for weddings and other events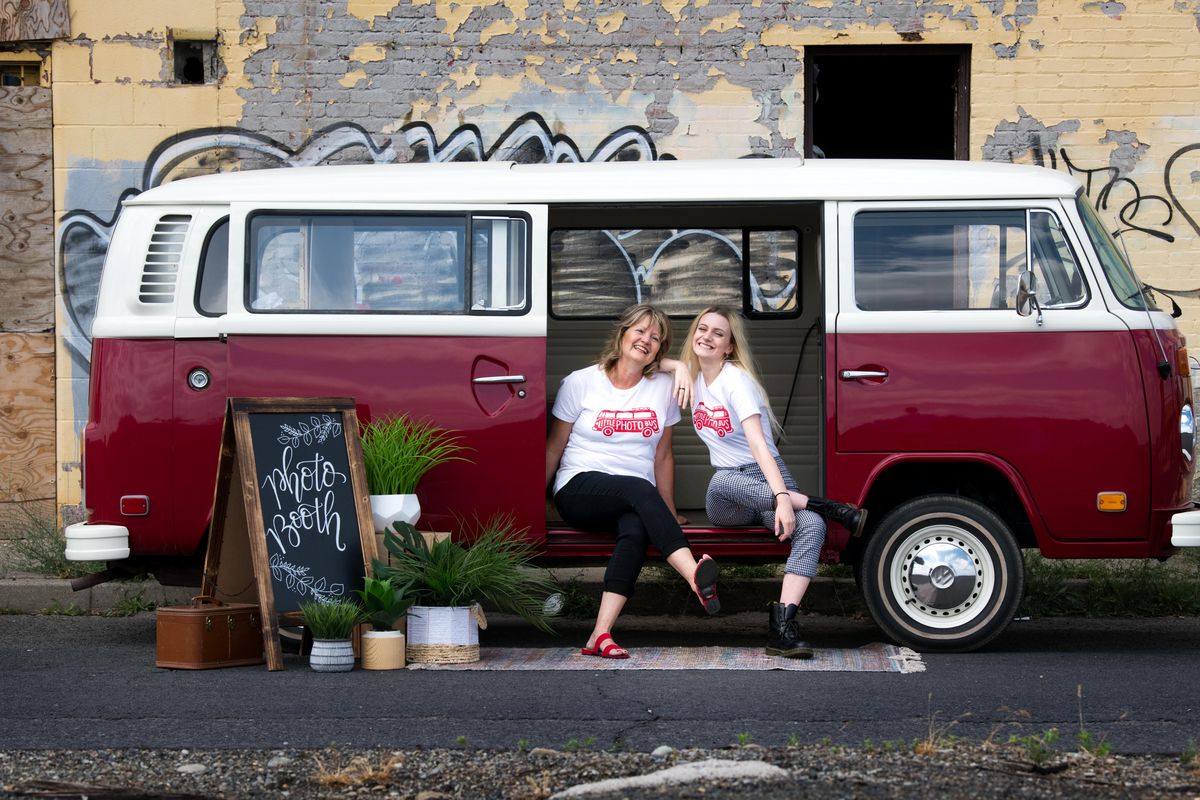 Two family businesses in Spokane have captured the nostalgic traveler spirit with vintage vehicles that house photo booths for weddings, birthday parties and other events.
"The photo booth is kind of the last thing that people think about when planning a wedding," said Deanna Haggerty, owner of the Little Photo Bus Co.. "But it's the fun factor."
Haggerty and her 19-year-old daughter, Kyra, run the Little Photo Bus Co. out of a 1976 Volkswagen bus. They started in January.
An older company offering similar services, Happy Camper Photobooth, has been in Spokane for four years. Owner Libby Russell owns two Shasta "canned ham" campers from 1959 and '60 that she uses for her business.
In addition to offering the photo booths, both companies set up a "scene" next to their vehicles with props such as vintage suitcases and plastic plants that complement their style.
Haggerty and Russell met for the first time at a bridal festival in January. Both said there's not even a hint of competitiveness because their vehicles are unique enough to attract different markets, and the demand for photo booths is good enough to keep the two companies busy.
"We're not the same," Russell said. "Somebody who's a Volkswagen lover might want (Haggerty) more. Somebody who's a camper lover might want me."
Both of the owners said during events, they frequently are hearing stories from people about old memories in either a VW bus or a "canned ham" camper.
"I have heard hundreds of camping stories," Russell said. "People say, 'Oh, my grandpa had one of these.'"
The nostalgia is a big selling point, Haggerty said.
Happy Camper Photobooth
About for years ago, Russell and her husband went to a wedding and found a photo booth, but she was disappointed to see that it was just a "little black box in the corner of the room," she said. "I said to my husband, 'How ugly is that?' The guy running it was also on his phone half the time.
"I remember thinking, this could be so much better," she said.
She had studied photography at Spokane Falls Community College about four years earlier, which gave her the confidence to start the photo booth. But putting a vintage spin on it came from her years selling antiques online.
"I wanted to mesh those two together," she said.
Her company has been growing. Less than a year after she started, Russell bought her second Shasta camper. Russell had to drive to Port Townsend, Washington, for it. She said they're becoming more sought-after because people are buying them for "glamping," glamorous camping.
Russell is starting to add employees to her team, made up of herself, her husband and their four children, she said.
Happy Camper Photobooth was even invited to a celebrity wedding last year in California. Julianne Hough of "Dancing with the Stars" and professional hockey player Brooks Laich featured Russell's company at their wedding.
Prices depend on the event and the number of people attending, she said. Weddings can range from $695 to $1,295. Graduation parties and birthday parties are about $450. But Russell also occasionally donates her services to schools and charitable- events.
She said she's traveling as far as Montana and Oregon to provide her photo booth because it's unique.
"There's not a ton in the United States," she said.
Little Photo Bus Co.
Deanna and Kyra Haggerty bought a 1976 Volkswagen bus for $4,500 last year to start their photo booth business. They spent $20,000 on its restoration and painted it candy apple red and white.
They named her "Lucy" because it was "the hippiest name we could find," Kyra said.
They got the idea during a trip to California for Kyra after her high school graduation. While seeking photogenic scenes, they came up with the idea to take a picture with a VW bus, and found a photo booth company that was held in a VW bus.
The two decided shortly after to start their own version in Spokane. Deanna had been in a furniture and antique restoration business, which gave her inspiration to buy and put money into restoring a VW bus they bought from a high school student in Spokane.
"It was pretty rusted out," she said. "The panels were rusted. There were holes in the floor."
Haggerty said prices are negotiable for weddings, private parties and corporate events. She said on average, an event lasting four hours costs about $1,200. She posts photos on her website and also gives a USB drive to the wedding couple with all the photos from the booth.
"Brides love the idea of having a Pinterest-type wedding," she said.
---