Girls 4A: Central Valley registers record-setting win over Kentlake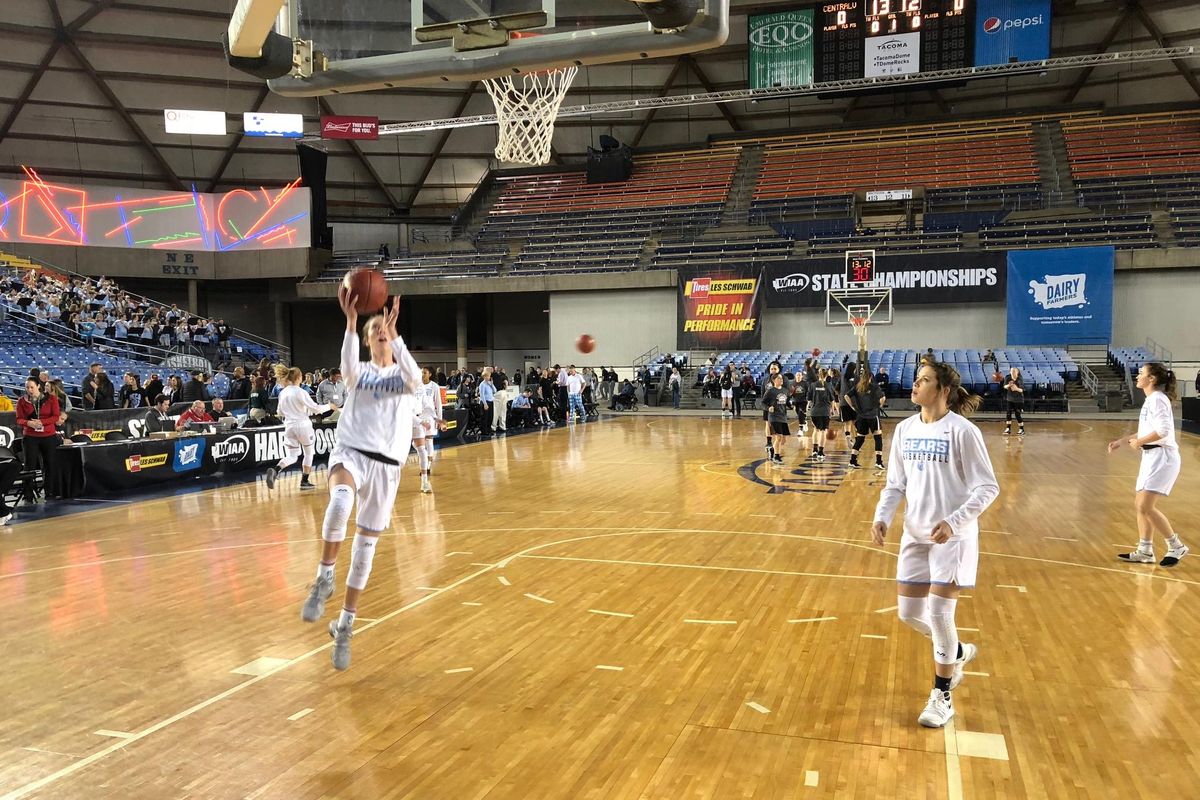 The Central Valley girls have used a quarterfinal upset in last year's state tournament as motivation all season. They didn't make the same mistake – or any, really – this year.
The Bears took care of business in much the same fashion as they have all season long, even instigating a running clock in the fourth quarter.
Reigning Gatorade state player of the year Lexie Hull scored 18 points with eight rebounds, twin sister Lacie added 11 and No. 1 seed Central Valley (25-0) routed No. 10 seed Kentlake (20-8) 61-16 in a state 4A quarterfinal at the Tacoma Dome on Thursday.
Central Valley faces No. 4 seed Moses Lake on Friday in a semifinal showdown. The Chiefs (24-0) dispatched University 71-60 in a quarterfinal in the morning game.
Lexie Hull became CV's all-time leading scorer – girls or boys – and the first to eclipse 1,800 points. She passed Madison Hovren, who had 1,798 from 2012-15, and sits at 1,804 heading into Friday's semifinal.
Central Valley shut out Kentlake in the second half, tying the record for fewest points in a quarter – twice.
In the process, the Bears set records for lowest losing score, previously set in 1974, and largest margin of victory, set in 1979, in a state tournament game.
"This was our hiccup round last year," said Central Valley coach Freddie Rehkow. "We just wanted to make sure we were ready. Now this round is over.
"Once again we'll go into the locker room talking about being 0-0 and prepping for Moses Lake."
Is the feeling any different than last year?
"This year they're loose and they know they have a job to do," Rehkow said. "It's good to get that first win out of the way."
"That's what we came here to do," said Lexie Hull. "We were a little nervous for this game since this is where we got out last year, but to be able to get past this game was a big relief.
"Now it's go time."
CV raced out to a quick 8-0 lead, backed by 3-pointers from Mady Simmelink and Lacie Hull.
Kentridge called an early timeout, then recovered a bit. Aniston Denckla scored all nine points for the Falcons in the frame and CV led 14-9 after one.
Denckla made it 14-11 with a jumper in the lane at the start of the second and this time it was CV coach Freddie Rehkow that asked for time.
After the break. the Bears ran off three straight buckets – Lacie Hull hit a short jumper, Lexie Hull drained a 3 from the corner and Hailey Christopher picked up a layup – and CV opened up a 10-point lead.
"We talked about it during the time out," Rehkow said. "I said, 'We're just not playing like we play.' I just think we jumped out early and kind of got a little hesitant in our offense. And defensively, we started retreating.
"So I said, 'Go get 'em. We worked all year long to do this so we've got to get after it.' After that it was a whole different story."
Simmelink and Camryn Skaife buried back-to-back 3-pointers and it was 27-13 with just under 3 minutes left in the half. An 8-3 run to close the half made it 35-16 at intermission.
Lacie Hull led scorers in the first half with 11 points and Lexie Hull added nine.
"I though Kentlake did a really nice job in the first half," Rehkow said. "They slowed the pace down. But once you turn it up, you have to go. And that's what we did. You can't get steals on the press? Fine, we'll play man defense."
As they've done all season, CV took over in the third quarter.
The Bears in-your-face defense shut out Kentlake, forcing the Falcons into turnovers and poor shot selection, while CV made easy buckets in transition at the other end.
But the Bears did it with mostly backups, as Christopher, Simmelink and Lacie Hull sat much of the frame. Tomekia Whitman had eight points in the quarter and Lexie Hull added six.
Whitman finished with 13 points and seven boards.
Central Valley led 51-16 after three.
"That's what's more impressive is the fact that we were able to still do that defensively with our second group in there," said Rehkow. "Our second group works hard. They practice every day against that first group. They aren't going to see anyone any faster or tougher than (the CV starters)."
"It was impressive," said Christopher. "Our bench came out and locked down the defense for us. It was a team effort and I'm really proud of our whole team."
The lead reached 40 to instigate a running clock with just under 5 minutes left on a free throw by Lexie Hull.
"We knew coming in to halftime we had to step it up in the second half," Hull said. "I think we came out and did that in the second half."
Denckla led the Falcons with 11 points, nine in the first quarter.
Now that the rest of the state has seen the Bears in person, is Rehkow worried about the scouting report against his team?
"They probably have a larger video library over here on us that I have of ourselves," he admitted. "Regardless of how much film you have you have to go out and you have to play against them.
"We're attacking this as if we have to work our way back up the mountain," Rehkow explained. "Kentridge is defending state champions, we're not. So we've told ourselves we're going to be the hunter, not the hunted this year."
In the game following CV's win, Kentridge lost to Woodinville 55-54 on a 3-pointer by Madison Dubois at the buzzer in overtime, so girls 4A will see a new state champion regardless.
---