This column reflects the opinion of the writer. To learn about the differences between a news story and an opinion column, click here.
Opinion > Column
Huckleberries: Monkee business brings fond memories
Thu., March 1, 2018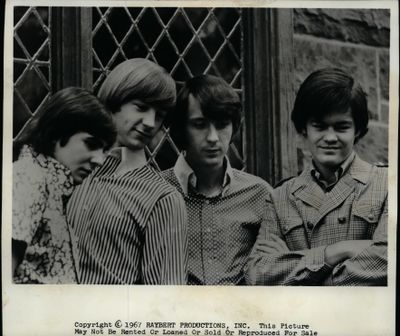 A long time ago in a Southern California city far, far away, a woman who now lives in Hayden had a brush with a Monkee on the cusp of fame.
Toni Hohensee, now retired from the Lake City High cafeteria, recalls her glory days in the San Fernando Valley and the time she met Davy Jones and Peter Tork of a made-for-TV boy band, The Monkees. A junior high student in summer 1966, Hohensee baby-sat for a cameraman who was filming the TV series that would feature the band. Hohensee was invited by the cameraman to his home to meet two of the boys in the band – and remembers snagging the pit of a peach eaten by Tork.
"My friends hadn't heard of them," Hohensee tells Huckleberries. "But with their hair and their looks, you knew they were going places." Hohensee kept the peach pit as Davy, Peter, Micky Dolenz, and Michael Nesmith soared to fame behind their television antics and hits like "Last Train to Clarksville" and "I'm A Believer." For years, the peach pit reminded Hohensee of her brush with fame until Taffy, the family cockapoo, ate it.
All good things come to an end, including The Monkees.
A religion of hate
Speaking of a long time ago, the Aryan Nations was making a nuisance of itself 35 years ago this month. Founder Richard Butler was trying to pass his neo-Nazis off as a church – and catch a property tax break. But Kootenai County commissioners weren't going along. The county had twice rejected Butler's application for a religious tax exemption and was pressing the racist for the $2,222 he owed in property taxes, according to the Coeur d'Alene Press. The Aryans were three years in arrears. The late Commissioner Glenn Jackson said at the time: "I prefer that they pay," he said. "But I'm ready to put their property up for sale to the highest bidder." Unfortunately, the Aryans wouldn't lose their land for another 17 years, when they were sued into bankruptcy. Of note from that long-ago article, the reporter identified the Aryan leader as "William Butler." His real name would become too familiar all too soon.
Huckleberries
Poet's Corner: "Few things on earth/ are quite so merry/ as sunny days/ in February" – Tom Wobker, The Bard of Sherman Avenue ("Winter Treat") … Sightem: Three women sat in the Kootenai County DMV Monday morning – two were holding Parker Subaru packets and the third a Parker Subaru pink slip. In order, the three were there to register their purchases of a Subaru Outback, a Subaru Crosstrek Hybrid and a Subaru Forester. Seems Our Winter Without End, Amen, has locals dreaming of all-wheel drive. As well as spring … Kellogg may be small but it ain't Mayberry. A drunk who had been abandoned by friends wanted to spend the night in the local jail. But the Kellogg PD rejected the Otis Campbell wannabe, according to Sgt. Paul Twidt of the KPD Roll Call report. Otis? The old-timers out there know who he is … Jadd Davis, who wears many theatrical hats including Coeur d'Alene Summer Theatre director, figures he auditions about 1,000 actors annually. He loves seeing hungry, young actors ply their craft. But hates all the rejection notices he hands out. His solution? He'll simply stay in the business forever and hire them all over the next 50 years … Sign of the times: The words Shaun White spoke after winning halfpipe gold at the 2018 Winter Olympics were copied on the Davis Donuts reader board at 4th and Best afterward: "I'm proud of the USA. To wear our flag in the Olympics is an honor." Amen.
Parting shot
Coeur d'Alene helicopter pilot Mark Sales celebrated a half century of life on Planet Earth recently by knocking out 50 Army pushups in 37 seconds and 50 situps in under two minutes. Mark told friends he wasn't impressed with his situp time, but he saw a silver lining on his golden milestone: "I can still crank them out! I ain't dead yet! Not too bad for someone now halfway to old age." Some might say that 50 is the youth of old age.
D.F. "Dave" Oliveria can be reached at at dfo.northidaho@gmail.com.
---
---