Sports > Gonzaga basketball
John Blanchette: Ronny Turiaf still keeps his Gonzaga memories close, no matter where in the world he may be
March 2, 2018 Updated Fri., March 2, 2018 at 11:01 p.m.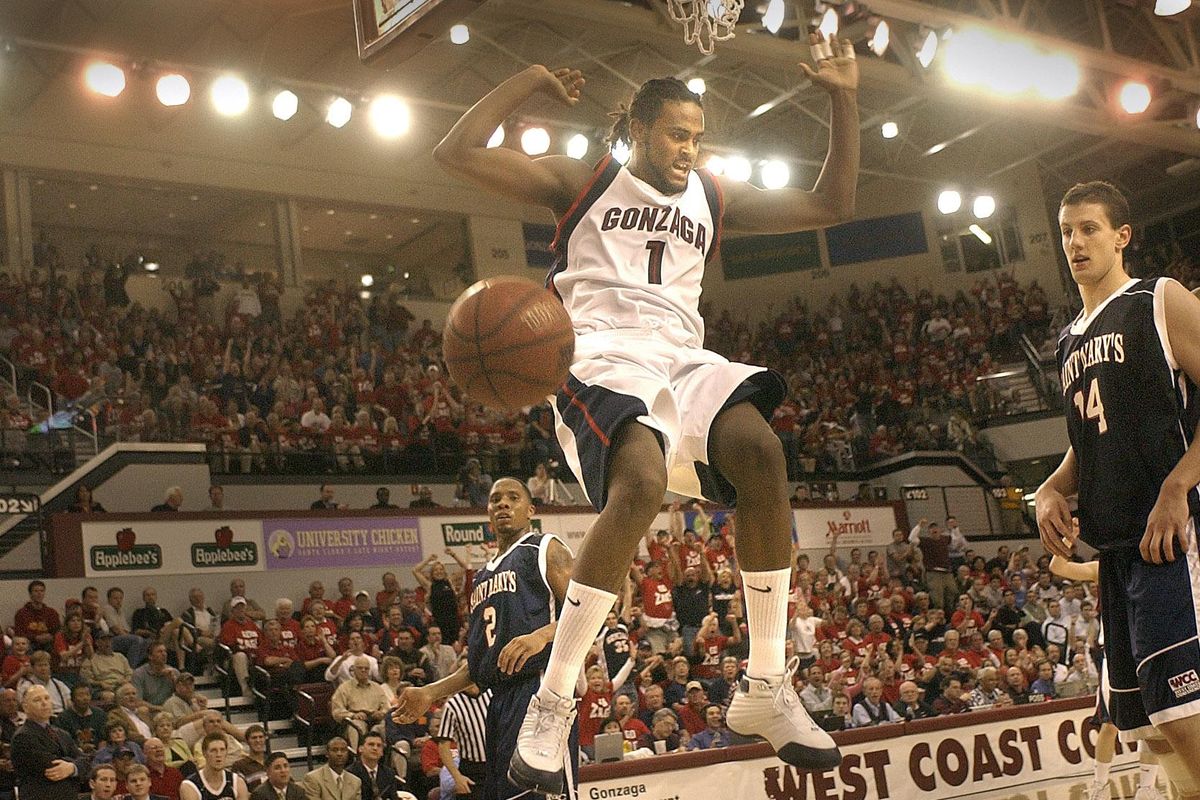 Gonzaga forward Ronny Turiaf clears the paint after a first-half dunk in the 2005 WCC Tournament title game vs. St. Mary's. (Brian Plonka / The Spokesman-Review)
LAS VEGAS – During Ronny Turiaf's playing days at Gonzaga, not a single telecast of a Bulldogs game could pass without mention of his ability to speak five languages.
It was every play-by-play man's crutch, and the chug-the-glass moment at every viewing party drinking game. Fans can still name those languages – English, French, Spanish, Italian and Antillean Creole – more easily than they can recall the Zags' starting five his senior year.
It made Turiaf – Zag by way of France by way of Martinique – the school's international man of mystery. Or would have, except he made sure there was no mystery. His reflexive engagement of nearly everyone he encountered built relationships that transcended basketball, especially when you came to realize he was even more curious about you than you were about him.
Spokane thought of Ronny Turiaf as ours, and he was. But his reach cannot rest.
"My goal is still to go to every country in the world," he said – and his passport and personality have taken him to nearly 80 already.
But it doesn't stop there.
"I want to be able to create tangible spaces for creative and aspiring people to get together," he said. "My goal is to lead a balanced life, to acquire knowledge, to try, with however much time I have on this earth, to make it worthwhile by being a positive influence, and to really apply those amazing life lessons I had from being a professional basketball player. I'm just trying to accomplish all those bucket-list items."
That's a big bucket.
The journey takes a brief pause this weekend in Las Vegas, where Turiaf will be Gonzaga's inductee on Saturday into the West Coast Conference Hall of Honor, a moment he'll share with family – both his mother and father are expected – and friends from the teams, faculty and staff who became part of Ronny's large circle.
But really, with everyone.
A lot of hands helped boost Gonzaga into the prominence it now enjoys, but Turiaf's touch was central in that growth spurt after the initial splash. Three of the teams he played on finished their regular seasons in the Top 10. He was the WCC's Player of the Year in 2005 and still ranks seventh on Gonzaga's career scoring list.
"I was talking with Adam (Morrison) and we both still wish we could have gone further in the NCAA Tournament," Turiaf said. "But I could write a book about my time at Gonzaga."
Then came a 10-year NBA career – nearly derailed by a faulty heart valve before it started – with seven teams, a fit for his wandering spirit. Much of his time in retirement has been devoted to grassroots development of the game on the international youth level for NBA Academies and the Basketball Without Borders program, which produced Timberwolves center Gorgui Dieng – but just as important has sparked educational opportunities for dozens like the one Turiaf received.
"And it's given me another reason to wake up in the morning," he said.
Turiaf calls what he's in the "third phase of my life" – the Caribbean childhood, followed by his basketball pursuits and now ports and possibilities unknown. And like a lot of athletes, the post-competitive phase has had its hiccups.
"The first year was not without struggle," he said. "I never thought it would be difficult stepping into something else. Working with those kids, it's like me looking at my young self."
But it's also whetted his appetite for travel and self-discovery, and to not be defined solely by his basketball identity. There's been reflection in South Africa in the footsteps of Mandela, meditation in Nepal, volunteer work in Senegal.
And more is ahead.
"Starting April 1," he said, "I will not have a place to stay anymore."
He's rented out his Los Angeles apartment and he's heading out to "live the full nomadic lifestyle that I've dreamed of," he said. "This is what I'm going for. I will be, like my dad likes to say, like a free electron."
There will be stops to see family in Martinique and France, then on to New Zealand, Cambodia, Laos, Myanmar and Japan. For starters.
"I'm trying to attack one of my biggest fears – fear of the unknown," he said.
Turiaf heads out in a "grateful, reflective mood" – buoyed by memories like Gonzaga's Final Four run last year, where he sat in the stands with Bulldog players spanning 40 years and watched "guys on the court trying to win it for us." But there are also the rewards of his recent globetrotting that urge him onward.
"I want to lead a life surrounded by inspiring people," he said, "and just using basketball as a crutch to be able to satisfy this never-ending quest for knowledge that's inside my heart.
"Let's see where it takes me."
Local journalism is essential.
Give directly to The Spokesman-Review's Northwest Passages community forums series -- which helps to offset the costs of several reporter and editor positions at the newspaper -- by using the easy options below. Gifts processed in this system are not tax deductible, but are predominately used to help meet the local financial requirements needed to receive national matching-grant funds.
Follow along with the Zags
Subscribe to our Gonzaga Basketball newsletter to stay up with the latest news.
---