Gonzaga Men's Basketball
Men's MVPs
It's no coincidence Gonzaga and Saint Mary's have collected all nine tournament Most Outstanding Player awards since the WCC's main event moved to Las Vegas, and it's also no surprise that the winner has been chosen from the championship team each season, with the Zags winning the honor seven times and the Gaels the other two. One thing that does stand out is the parity in individual winners (8). Only GU's Kyle Wiltjer (2015, '16) won MOP honors more than once. Wiltjer is pictured below on the far right after the 2016 title game.
Micah Downs won MOP in 2009 and had Matt Bouldin and Jeremy Pargo join him on the first team, Marquise Carter was top dog in 2011 with teammate Steven Gray also on the all-tourney team. Elias Harris was the tournament's best player in 2013 and was joined by teammate Kelly Olynyk on the all-tourney squad and Sam Dower Jr. was MOP in 2014 (joined by David Stockton). Saint Mary's players Mickey McConnell (2010) and Matthew Dellavedova (2012) were the other winners.
Lamond Murray Jr.
After leading the WCC in scoring during the regular season (21.4 PPG), this son of an NBA player posted the second-highest point total in conference tournament play (tops in Vegas), scoring 41 points gainst Pacific in the first round of the 2017 competition. Pacific won 89-84 before losing 82-50 against top-seeded Gonzaga.
Other notable performances
BYU star guard Kyle Collinsworth recorded the only triple-double in WCC tournament history in a 2015 win over Portland in Las Vegas, tallying 13 points, 14 rebounds and 11 assists in the Cougars' 84-70 win.
Santa Clara big man John Bryant grabbed a tourney record when he snatched 27 rebounds in a 2009 first-round game against San Diego, shattering the previous mark of 20 set by San Francisco's Darryl Johnson in 1992.
Men's decade all-WCC tournament nominees
The conference's website opened up the polls to you, the fans, to see who you think belongs in a 10-man squad of all-WCC tournament performers from the last nine years. A number of notable performers who didn't qualify for official all-tournament teams are included without a year next to their names. Vote at wccsports.com.
Men's Tournament results since 2009
Gonzaga Women's Basketball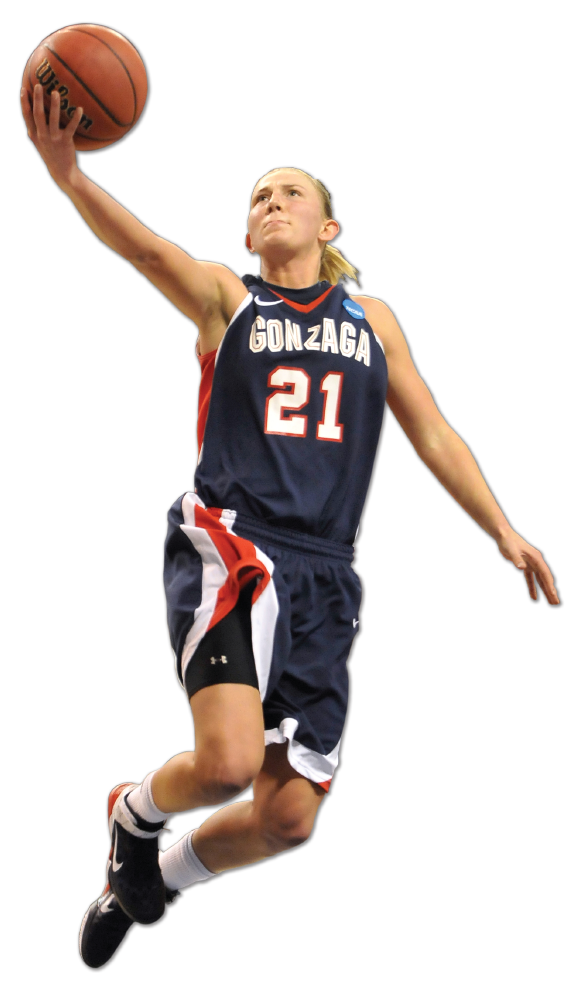 Women's MVPs
Besides Vandersloot's three tourney Most Outstanding Player awards, Gonzaga players Haiden Palmer (2013), Sunny Greinacher (2014) and Jill Barta (2017) earned the honor. BYU's Lexi Eaton (2015) and Haley Steed (2012), and San Francisco's Taylor Proctor (2016) are the other winners, all coming in the same year their teams won WCC championships.
Courtney Vandersloot
Vandersloot led the Gonzaga women to three straight WCC tournament titles in Las Vegas, taking home Most Outstanding Player honors each time. In nine conference tourney games, she averaged 14.2 points, 8.8 assists, 3.2 rebounds and 1.7 steals per game. These contributions were sweetened by guaranteed NCAA tournament berths after each WCC-clinching victory.
Record assist total in 2011
Vandersloot ended her WCC tournament playing career in style, dishing out a record 16 assists in GU's 26-point victory over Saint Mary's in the championship game.
Other notable performances
Gonzaga set the women's tournament high-water scoring mark with a 96-point effort against Portland in 2010.
San Diego's Kiva Herman scored 95 over four games to break the scoring record in 2009, but the defending champ Toreros came up short, falling 66-55 against Gonzaga in the title game.
Bracket busters
San Francisco and BYU faced off for the 2015 and 2016 title games, marking the only times since the tournament moved to Las Vegas that the GU women didn't contest the championship.
Women's Tournament results since 2009