Boys 4A: Gonzaga Prep 'wins ugly' to bring home championship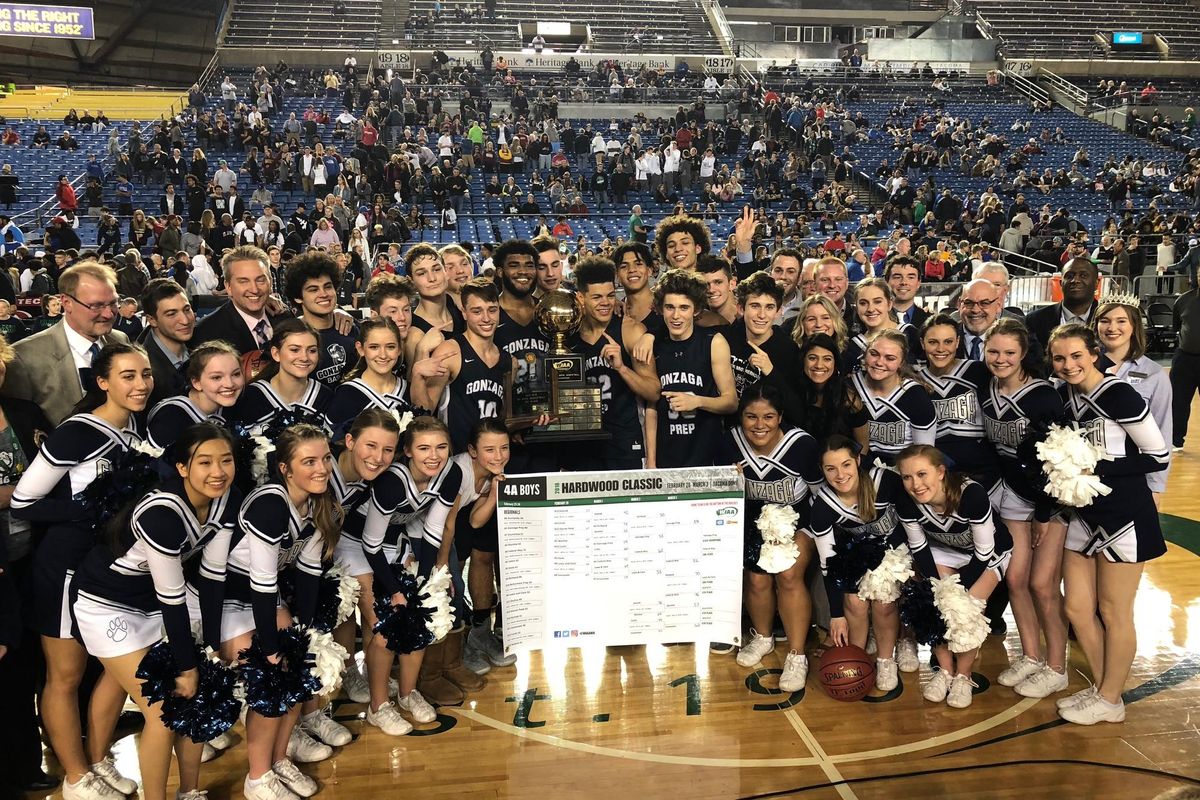 This championship game didn't disappoint. And for Gonzaga Prep, for the first time in three years the result didn't either.
Down by nine points at halftime, Gonzaga Prep found a way to "win ugly," as coach Matty McIntyre said, turning up its physical defensive effort and getting just enough offense down the stretch to win its first state title since 2011.
State 4A tournament MVP Anton Watson scored 22 points, Liam Lloyd added 15 – including a huge late 3-pointer – and Gonzaga Prep (26-0) finished its perfect season with a 54-52 win over Federal Way (27-2) in the State 4A championship game at the Tacoma Dome on Saturday.
"It feels great. I'm overwhelmed with emotion," Watson said. "It's so hard to take it all in right now."
"That's what we do," McIntyre said. "We love it ugly. We'll score just enough to get it done.
"If we keep the game in the 50s, we'll score just enough to get it done. But ugly is good when you're holding the golden ball."
The Bullpups reversed a loss to eventual state champ Federal Way 46-44 in the 2016 semis and finally reached their goal after two straight third-place finishes.
"It's unbelievable the feeling right now. It's indescribable," senior Devin Culp said. "The amount of effort you put in for so long. You come up short so many times. Back-to-back third place.
"It just symbolizes everything we've done over four years. Me and Sammy (Lockett), we've come from nothing in the program, going 13-8 to undefeated state champs. I'd call that a turnaround, for sure."
McIntyre spoke about the impact Culp and Lockett have had on the program.
"The program has grown around those guys," he said. "They've brought us to new heights. They have to be two of the winningest kids in school history, with both football and basketball.
"They've really created a winning culture."
"I just want another one," Lloyd said. "I want to go get it next year."
Federal Way was going for its fourth state title in school history and third in the past four seasons.
Jaden McDaniels, who averaged 23.5 points for the tournament, and Marcus Allen led Federal Way with 14 points apiece.
Federal Way's previous loss (53-44) was to Enumclaw in West Central District championship, the Eagles' lowest scoring output of the season. They beat 13th-seeded Curtis 73-60 in quarterfinal and ninth-seeded Lewis and Clark 62-53 in the semis.
Liam Lloyd drilled a 3 from the corner and G-Prep took a 48-47 lead with 3:07 left.
Watson came down with a rebound with McDaniels draped on his back, then went to the other end with a scooping layup to put G-Prep up 50-47.
G-Prep then came down with three consecutive offensive rebounds on misses to retain possession and led by three with 25.5 seconds left.
"We got beat up on the boards pretty good for the first 31 minutes," McIntyre said. "So they owed us a couple, the way I looked at it."
Watson hit both ends of a 1-and-1 and Fed Way's Etan Thomas answered with a layup.
G-Prep led 52-49 with 9 seconds left.
Watson made a free throw to make it a four-point game, then Federal Way raced down and Jalen Womack hit a deep 3 with 2.3 seconds left.
G-Prep got the ball in bounds and Federal Way had no miracle play in its pocket.
"Everyone on this team has heart," Watson said. "They're never going to give up no matter the adversity. We're going to play our hardest, no matter what. We have faith in our defense. Faith in our coaches. We know we're going to come out to win."
It was a sluggish start, with a lot of bumping and hand-checking. Lloyd drove to the hoop and picked up the three-point play to give G-Prep its first lead at 9-8.
Watson picked up his second foul with about 1 minute left in the frame, but came back and his turnaround jumper at the horn put the Bullpups up 11-10 after one.
Federal Way scored the first 10 points of the second quarter, with Womack picking up a 3-pointer and a follow-up layup.
Jacob Parola made a pair from the line and Jamaari Jones got loose for a layup and G-Prep trailed 20-15 with 3 1/2 minutes left in the half.
Federal Way got it out to nine on a follow by Jordan Magee, and Marcus Austin's 3-pointer as time expired on the half made it 29-20 at intermission.
G-Prep shot 33 percent in the first half and went 0 of 7 from beyond the arc. Federal Way hit 12 of 23 (52 percent) from the field and hit 3 of 6 3-point attempts.
On the first set play back, G-Prep worked inside to Watson for a layup, then ran an alley-oop to him and the Bullpups made it 34-31 with just less than 4 minutes to go in the third.
Watson hit a floater and a twisting layup at the end of the frame and G-Prep trailed 40-37 at the end of three.
A few moments later, Jones gathered a steal at midcourt and went the distance, putting it down with authority one-handed to tie it at 45.
---