Girls 4A: Central Valley dominates in championship win over Woodinville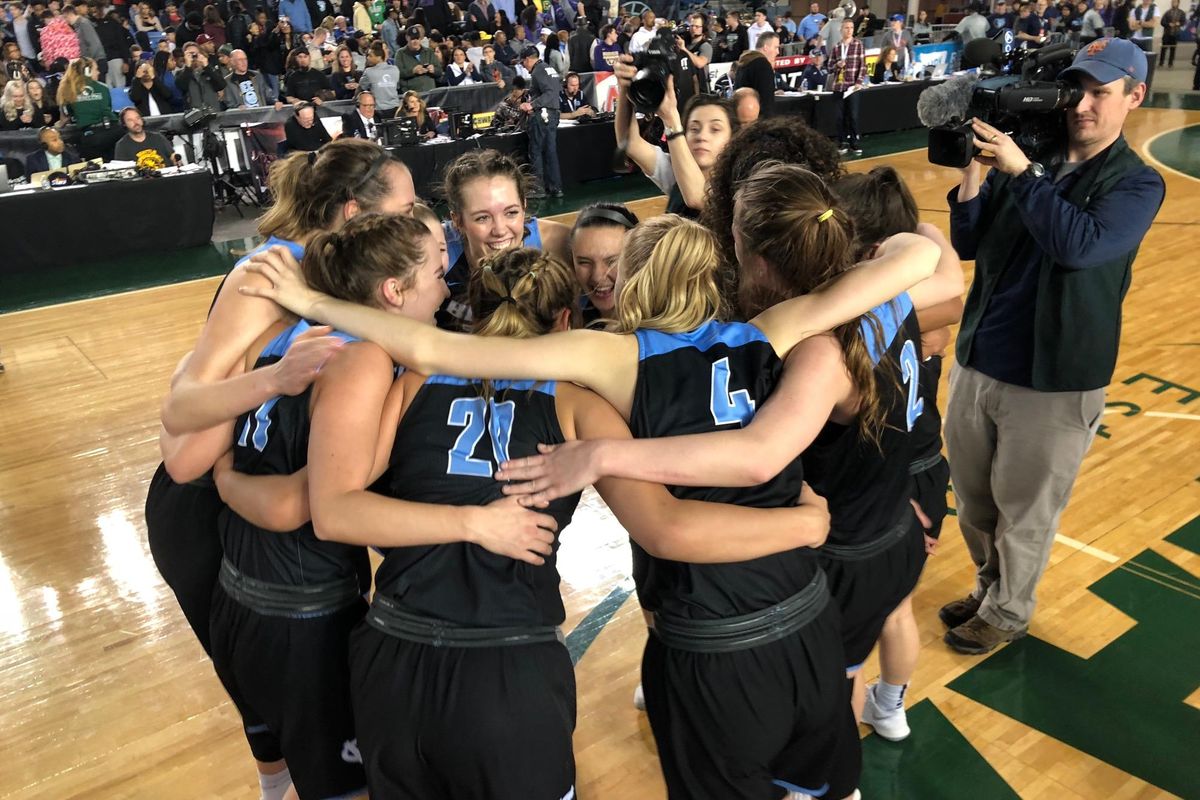 The biggest question entering the girls state tournament wasn't whether Central Valley would win or not.
They are ranked No. 2 in the nation by USA Today, beat opponents this season by an average of 44 points per game and have three Division I recruits – including the reigning state player of the year.
It was whether anyone was going to give Central Valley a serious, 32-minute challenge.
The Bears answered that all tourney long with an oppressive, record-setting defensive effort – from starters and backups alike – with three convincing victories and yes, another state title.
Lacie Hull scored 19 points with 10 rebounds and six steals and No. 1 seed Central Valley (27-0) shut down fifth-seeded Woodinville (22-5) 70-39 in the state 4A championship game at the Tacoma Dome on Saturday.
It's the Bears' second title in three years and fifth overall, avenging a quarterfinal loss in last season's tourney.
"We got back to the top of the mountain," said Central Valley coach Freddie Rehkow. "I said all along if somebody beat us congratulations to them, but we just didn't want to beat ourselves.
"I thought the girls took care of business tonight."
It also marks the sixth Greater Spokane League girls state 4A title appearance in seven years and 17th overall.
CV had such a dominant tournament, it prompted talk about if they could win a title in some boys classifications.
"Maybe. I don't know," said senior Hailey Christopher. "I haven't seen them play."
"I couldn't be more proud of these girls," said Rehkow. "Coming into tonight we felt confident but for them to come out and play the way they did… They locked down that defense in the first half."
Lacie and sister Lexie Hull were both named to the all-tournament first team, and Lexie was named tournament MVP. The twins finished their high school careers with a 100-6 record –and one loss in the last three years.
Lexie Hull scored 13 points and Hailey Christopher added 12.
"They really focused on (Lexie) defensively," Lacie Hull said. "It just helped to have the rest of our team stand out more."
The team generated 19 steals – seven off the tournament single-game high.
"They bought into the whole defensive philosophy the last three years," said Rehkow. "When people see scores they might think we're trying to score a lot. That's not the goal.
"We will never try to embarrass anybody. But we're going to play defense."
This was the second win for CV this season over Woodinville, topping the Falcons 67-50 on Dec. 30.
Woodinville needed three straight overtime games to reach the finals.
The Falcons beat 12th-seeded Lewis and Clark 58-56 in Wednesday's elimination game, No. 3 seed Kentridge 55-54 in the quarters and No. 2 seed Eastlake 80-78 in the semis.
Woodinville freshman Mia Hughes, who entered the game averaging 24.6 points in the tournament, including 31 in the semifinal win over Eastlake, was shut out in the first half and finished with nine points.
Hughes was also named to the all-tourney first team, while teammate Madison Dubois was a second-team selection.
Lacie Hull drilled a 3-pointer on the first shot of the game. She added another a moment later and a fastbreak layup by Lexie Hull made it 10-1. Lexie Hull hit a put-back a minute later and the Bears were up 15-3 at the media timeout.
"Our defense in the first half was lock-down defense," said Christopher. "That's what we've been striving for is defense and that's what has been getting us to win games."
It became a fastbreak-layup drill in the latter half of the second quarter as the Bears stifling defense came up with steal after steal, sending teammates streaking toward the basket at the other end.
Christopher, Camryn Skaife and Tomekia Whitman all had easy layups and the Bears led 42-11 at intermission, prompting questions about a running clock in the third quarter of a state title game.
Central Valley made 13 steals in the first half – on pace for the tournament record of 26 – shot 44 percent and went 10 of 15 at the line. Lacie Hull and Christopher shared the scoring lead with 12 points apiece before the half.
Woodinville got a 3-pointer from Alena Coomar and three free throws from Hughes to keep the deficit within 40 in the early stages of the third. CV led 52-19 at the media timeout midway through the frame.
CV's second line played the rest of the quarter. Anika Chalich made a couple of mid-range jumpers and the Bears took a 33-point lead into the fourth.
The starters came back out for the start of the final quarter and Lacie Hull picked up a quick three-point play.
With roughly 6 minutes left Rehkow made a line change, inserting his backups for the rest of the game to collect valuable playing time – and memories – in a state title game.
"They came out and the second group have played just as much as (the first)," said Christopher. "They come out and play just as hard and as well as we do."
"We've been practicing like that all year long" said backup guard Tomekia Whitman, "We go out there and we do our best. We've been working hard for it and hope we can keep up with the starting five."
"How often does a second group get that many minutes in a state championship game?" Rehkow asked rhetorically. "It's great experience."
As they watched from the bench as the seconds ticked off the clock, the starters for a once-in-a-generation high school basketball program finally allowed smiles to cross their faces, with a few tears mixed in as well.
"At that moment we knew what we had finally accomplished," said Lexie Hull. "Just watching, with the rest of the (starting) five, out on the floor giving their all and looking at the five sitting on the bench. It was just a feeling that is not matched by anything else."
"I think we left everything out on the floor. It was perfect."
---