News > World
Protest parties make major gains in deadlocked Italian election
UPDATED: Sun., March 4, 2018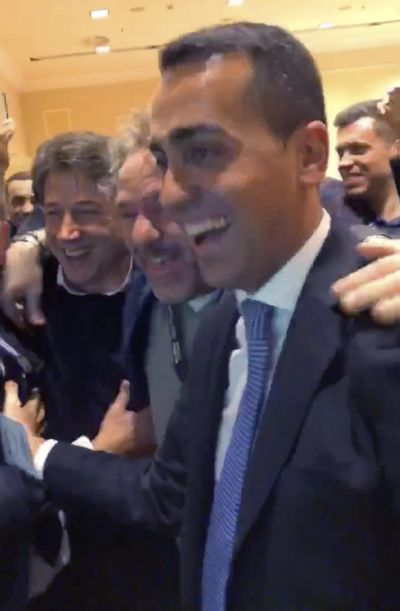 ROME – The anti-establishment Five Star Movement and the far-right League made big gains in a Sunday general election in Italy that is expected to produce a hung parliament and major political uncertainty.
The outcome is concerning for Brussels, as it boosts populist and eurosceptic forces in one of the biggest European Union members at a time when the bloc is trying to embark on major economic and political reforms.
"If the results are confirmed, it will be a triumph for the Five Star Movement," Alessandro Di Battista, a leading party figure, said at a news conference in Rome. "Everybody will have to come to talk to us (to form a government,)" he added.
However, it was unclear what kind of government Italy could have.
The Five Star Movement, or M5S, led by 31-year-old Luigi Di Maio, would have to overcome its traditional reluctance toward alliances, and look left or right for partners. Meanwhile, poor results for centrists means that a pro-EU grand coalition is unlikely.
Vote projections by the La7 news channel for both houses of parliament had the M5S emerging as the single most popular party with 32 percent to 33 percent of votes, rising to an astonishing near 50 percent in Italy's impoverished south.
Nationally, it still trailed a conservative coalition on target for 36 percent to 37 percent of the vote. The League emerged as the alliance's dominant force, with about 17.5 percent of the vote, against about 14 percent for the Forza Italia party of ex-premier Silvio Berlusconi.
The center-left bloc was predicted to have scored a lowly 22 percent to 23 percent, including about 19 percent for the ruling Democratic Party, or PD, of former premier Matteo Renzi, while the leftist Free and Equals had little more than 3 percent.
In another blow for the EU, the strongly pro-European and pro-migrants More Europe party, led by former foreign minister and EU commissioner Emma Bonino, looked short of the minimum 3 percent needed to win parliamentary representation.
"If these results were to be confirmed, it would be a defeat for us," PD parliamentary speaker Ettore Rosato said on the broadcaster RAI. "We would move to the opposition," he added, ruling out any coalition prospects with the M5S or the center-right.
Renzi, under pressure to resign, postponed public comments to later Monday, when final results are due. He is facing the second major setback of his career, after a referendum loss on constitutional reforms in 2016 led him to quit as premier.
Wolfango Piccoli, co-president of political consultancy Teneo Intelligence, singled out Berlusconi and Renzi as the main losers of the election night, and suggested on Twitter that the M5S and the League could make a government together.
The League's main campaign promises have been mass expulsions of illegal immigrants and scrapping EU-backed pension reforms, while the M5S' main rallying cries are basic income subsidies for the poor and cutting politicians' perks.
Coming at the end of a campaign marred by political violence, rising anti-migrant sentiment and discontent with a weak economic recovery, Italy's elections had been closely watched for the possible rise of populist forces, such as the M5S and the League.
Fears about rising voter apathy proved exaggerated: with data in from nearly all of about 8,000 municipalities, the Interior Ministry said turnout was just over 75 percent, about the same as in the 2013 general elections.
Berlusconi voted in his native Milan, where he was confronted by a half-naked activist. "Berlusconi, your time is over" was written on the bare breasts of the woman who climbed on a table inside a polling station.
There were also regional elections in Lombardy and Lazio, the regions that encompass Milan and Rome. Attilio Fontana was expected to have won the race for governor in the former, while the PD's Nicola Zingaretti was well-placed to be re-elected in the latter.
Local journalism is essential.
Give directly to The Spokesman-Review's Northwest Passages community forums series -- which helps to offset the costs of several reporter and editor positions at the newspaper -- by using the easy options below. Gifts processed in this system are not tax deductible, but are predominately used to help meet the local financial requirements needed to receive national matching-grant funds.
Subscribe to the Coronavirus newsletter
Get the day's latest Coronavirus news delivered to your inbox by subscribing to our newsletter.
---