News > Education
With shortages of medical professionals on the horizon, MultiCare nudges students toward careers in the field
Sun., March 4, 2018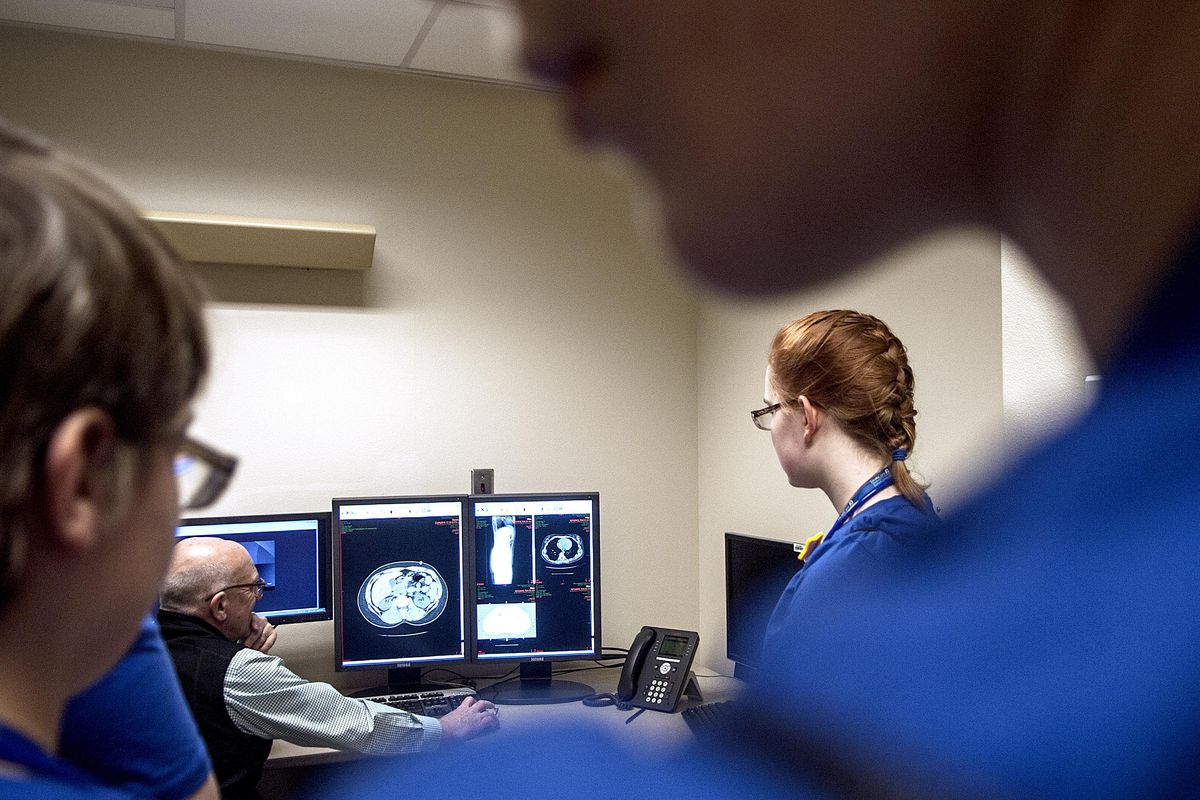 Dr. Randi Hart, center left, talks with students from Pines Middle School about an X-ray during career day. (Kathy Plonka)
North Pines Middle School students had a rare opportunity to test their mettle in the field of medicine this week.
At a MultiCare Valley Hospital career day Friday, about 20 students learned hands-on how to intubate a patient and perform CPR. They also spent time in imaging, dietary and IV access stations, and got a sneak peek into the daily tasks of a surgeon.
Diagnostic radiologist Dr. Randi Hart showed students X-rays of fractures, explaining how they occur and sharing options for proper treatment.
"(The career day) is a chance to hopefully show the young adults a part of what we do for patients," he said.
North Pines Middle School student Kaidence Fuchs said she was impressed with the reach of different medical fields. Dietitians, for example, are not limited to working in hospitals – they can also work as research dietitians for NASA, she said.
Fuchs said the career day prompted her to consider a career in medicine.
"It's helpful to know what there is (in terms of) options in the medical field," she said.
Hart said there will be a huge position shortage in the medical field within five to 10 years.
"The opportunities are definitely going to be there," he said.
Overall employment for physicians and surgeons is expected to grow by 13 percent nationally by 2026, according to the Bureau of Labor Statistics.
Central Valley School District Superintendent Ben Small said MultiCare Valley Hospital CEO Greg Repetti approached him a year and a half ago with the idea of forming a partnership to get students involved in the community and local workforce.
"The ultimate goal was to expose our young people to careers in the medical fields," he said. "If this ignites the passion for kids to get to thinking what they want to do as a career, then we're serving our kids in helping them chart their pathway forward."
The career day was a first for the hospital and involved a lot of planning by staff, said Kevin Maloney, spokesman for MultiCare Valley Hospital.
The students really enjoyed the event and it was rewarding, Maloney said.
"Some students already have aspirations in mind of what they want to go into in the medical field," he said. "It was a really good way for us to kind of plant that seed. Hopefully, in the job market, we can cultivate that field and help them become a part of the MultiCare team."
Small said the partnership between MultiCare and the school district could serve as a model for other Valley organizations to provide opportunities for youth to connect with the community.
MultiCare Director of Professional Outreach Cherne Haskell has coordinated events for North Pines Middle School and Broadway Elementary students, such as a school supply drive and bringing guest speakers to the schools.
Haskell said Dr. Michael Coats – who specializes in sleep medicine – spoke last month with Broadway Elementary fourth-grade students about the importance of getting enough sleep, while Pines Middle School students had a dietitian speak with them about healthy eating and portion control.
Haskell said MultiCare Tacoma General Hospital hosts a weeklong nurses camp for high school juniors and seniors where they job-shadow nurses and perform mock surgeries. In a few years, she would like to implement that same type of program in Spokane Valley.
The partnership between Central Valley School District and the hospital removes limits for students by allowing them to see what is possible in a future career, she said.
"We want to give all those opportunities (to the students) to do something phenomenal," she said. "Everybody plays an important role here and they can be just as important as Dr. Hart."
Local journalism is essential.
Give directly to The Spokesman-Review's Northwest Passages community forums series -- which helps to offset the costs of several reporter and editor positions at the newspaper -- by using the easy options below. Gifts processed in this system are not tax deductible, but are predominately used to help meet the local financial requirements needed to receive national matching-grant funds.
Subscribe now to get breaking news alerts in your email inbox
Get breaking news delivered to your inbox as it happens.
---