News > Crime/Public Safety
Sandpoint police officers wounded in shootout recovering; suspect killed
UPDATED: Mon., March 5, 2018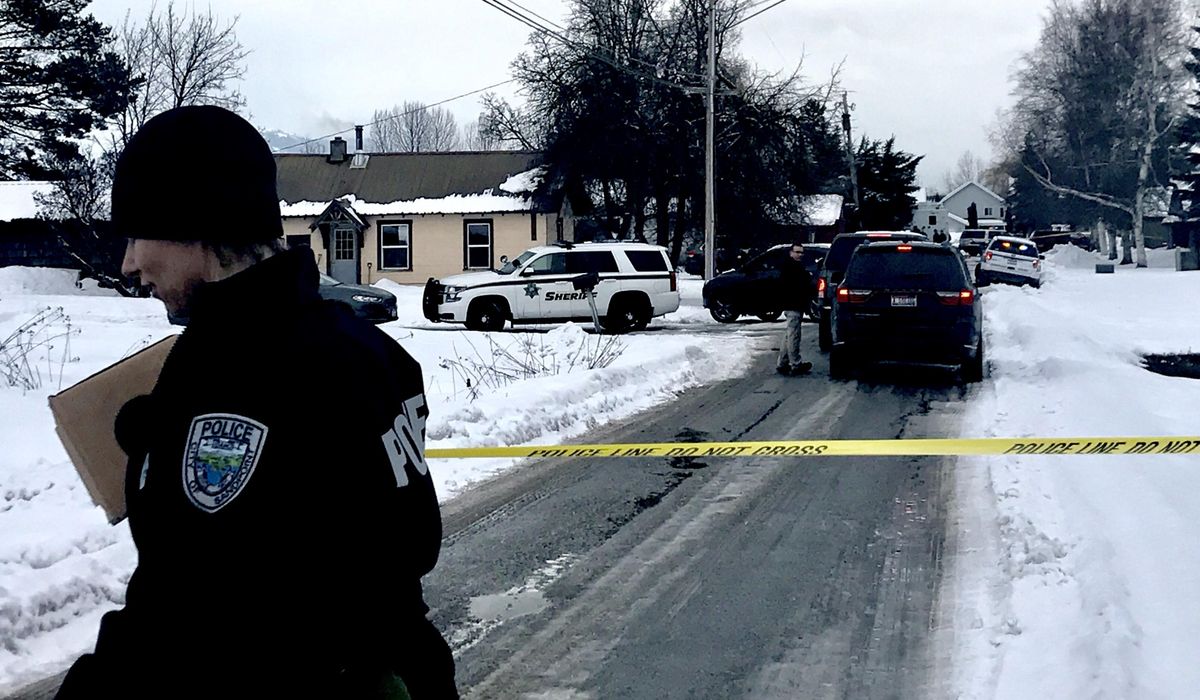 A Sandpoint police officer tapes off a crime scene on Ridley Village Road on Monday, near the residence where two Sandpoint police officers were shot. (Kathy Plonka / The Spokesman-Review)
SANDPOINT – Two Sandpoint police officers were wounded and a suspect was killed during a shootout early Monday at a small apartment complex as North Idaho copes with another bout of violence against police.
The officers, Michael Hutter and Eric Clark, responded to a 911 call at about 3:10 a.m. When they arrived at the Ridley Village apartments on the west side of Sandpoint, the suspect, Brandon Kuhlman, 28, stepped out of his residence and began shooting, according to reports.
Both officers were hit twice, including one who was shot in the neck and the other who suffered a gunshot to the chest.
Kuhlman died when at least one of the officers returned gunfire, Sandpoint Police Chief Corey Coon said. He couldn't immediately say if both officers fired their weapons.
The violent encounter in Sandpoint came less than a week after a Coeur d'Alene police officer was shot during a traffic stop. The suspect was also killed by return fire in that case. Since January 2017, six law enforcement officers in the region have been wounded in shootouts while on duty.
The Spokesman-Review
In Sandpoint on Monday, the shooting erupted suddenly. In a news release that identified the officers, Sandpoint City Administrator Jennifer Stapleton said Hutter and Clark responded to a call and within seconds "the suspect started firing at them."
"The officers sought cover and the suspect actively engaged the officers a second time," she said in the news release. "The officers returned fire."
Hutter apparently was able to return fire after he was wounded in the leg and the chest. The 30-year law enforcement veteran was later treated and released from Bonner General Hospital.
Clark was shot in the neck and left hand and taken to Kootenai Health hospital in Coeur d'Alene "due to the severity of his injuries. He has undergone two surgeries and is in recovery," Stapleton said in the news release.
Coon earlier said that he expected both officers to make full recoveries.
A family member told a KHQ reporter that Kuhlman had depression and had been acting strangely. When Kuhlman got hold of one of his grandfather's guns, police were called.
The shots were exchanged during a confused few moments in the apartment doorway. The grandfather suffered some sort of heart problem during the attack, but recovered enough later Monday to recount what had happened, according to KHQ.
A team from the Coeur d'Alene Police Department will investigate the shooting.
Ridley Village Road, a cul-de-sac that branches off the south side of U.S. Highway 2, was cordoned off for much of the day. There was a heavy police presence in the vicinity into the afternoon. Coeur d'Alene police brought in a trailer that serves as a mobile command post, and the Idaho State Police and other local law enforcement agencies also had personnel at the scene.
The Bonner County Sheriff's Office sent out an alert at 3:37 a.m. telling residents of the area to stay inside. Some residents of Ridley Village, which has a few dozen ground-floor units, were evacuated after the shooting and sheltered at a county building downtown.
"I got a knock on my door about 4:30 this morning," said Alex Dameron, who lives in one of the apartments. He said he didn't see or hear any part of the shootout and didn't learn what had happened until he was allowed to return home several hours later.
As an precaution, Sandpoint High School and Sandpoint Middle School both locked their doors after students arrived Monday. Forrest Bird Charter Middle School, just across the street from Ridley Village, canceled classes for the day so children wouldn't walk past an active crime scene to get to school.
In the other recent incident, another North Idaho law enforcement officer was wounded in a Feb. 27 shooting. That Tuesday evening, Coeur d'Alene police Officer Charles Hatley was shot in the abdomen during a traffic stop. Hatley and accompanying officers returned fire, killing 34-year-old suspect Curtis B. Ware.
Reporter Thomas Clouse contributed to this report.
Local journalism is essential.
Give directly to The Spokesman-Review's Northwest Passages community forums series -- which helps to offset the costs of several reporter and editor positions at the newspaper -- by using the easy options below. Gifts processed in this system are not tax deductible, but are predominately used to help meet the local financial requirements needed to receive national matching-grant funds.
Subscribe now to get breaking news alerts in your email inbox
Get breaking news delivered to your inbox as it happens.
---