News > Spokane
City awards No. 2 contract for North Monroe work
Mon., March 5, 2018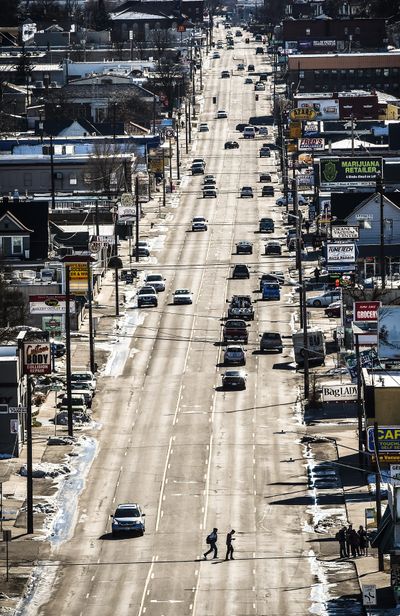 The Spokane City Council approved a $4.3 million contract with Murphy Brothers, Inc. to build a portion of the North Monroe Corridor Project from Carlisle to Chelan avenues.
The contract – approved Monday afternoon on a 5 to 1 vote with Councilman Mike Fagan voting in opposition – is the second of two contracts awarded for construction of a 1.1 mile section of North Monroe Street from Indiana to Kiernan avenues. Councilwoman Candace Mumm was not present for the vote.
The city approved the first contract with Red Diamond Construction, Inc. on Feb. 26 for roadwork.
The city of Spokane plans to minimize the construction time frame by splitting the project into two separate contracts, with both projects to be completed in four block segments to be worked on simultaneously by both contractors.
The project includes reconfiguring the street from five traffic lanes to three lanes, adding on-street parking, widening sidewalks and adding three crosswalk flashing beacons at key intersections.
The project faces opposition from 16 businesses on Monroe Street, who sent a $15 million tort claim – the first step in a lawsuit – to City Hall in September, stating they would lose customers during construction.
The city wants to reduce traffic lanes on Monroe Street to promote safety for pedestrians and reduce collisions. The city also aims to improve curb appeal to encourage pedestrian-level shopping in the area.
Construction is set to begin in April with estimated completion this fall.
Local journalism is essential.
Give directly to The Spokesman-Review's Northwest Passages community forums series -- which helps to offset the costs of several reporter and editor positions at the newspaper -- by using the easy options below. Gifts processed in this system are not tax deductible, but are predominately used to help meet the local financial requirements needed to receive national matching-grant funds.
Subscribe to the Coronavirus newsletter
Get the day's latest Coronavirus news delivered to your inbox by subscribing to our newsletter.
---