Sports > Gonzaga women
Gonzaga's Emma Stach stymies USF leading scorer Anna Seilund in semifinal victory
UPDATED: Mon., March 5, 2018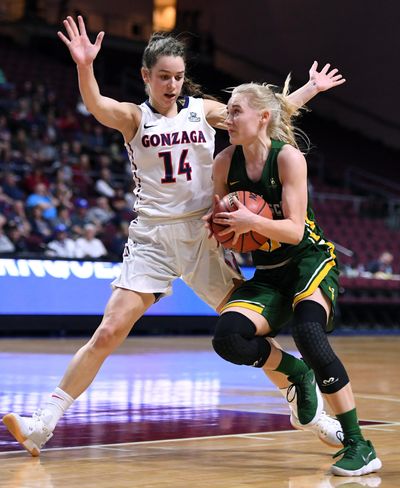 LAS VEGAS – Emma Stach isn't the type to hand off a tough defensive assignment to the next-closest teammate, so even before Gonzaga took the court for Monday's WCC Tournament semifinal against San Francisco, it was a foregone conclusion that the senior guard had dibs on Dons star Anna Seilund.
Stach has spent four years examining the habits and tendencies of the WCC's top scorers, so by now she feels like she's constructed a full study guide for Seilund, who came to USF from Copenhagen, Denmark, the same year Stach arrived at GU from Buchholz, Germany.
"I've always defended against her and I know her strengths," Stach said.
So Monday's matchup at the Orleans Arena was the ultimate litmus test. Turns out Stach's studies haven't gone to waste.
Seilund, an All-WCC first-teamer coming off a 28-point outing in the quarterfinals against Loyola Marymount, was held to nine points on 3-of-11 shooting by Gonzaga in a 65-53 Bulldogs win in Las Vegas.
A goal of Stach and the Zags was to hold Seilund in check from the 3-point line. Mission accomplished. The USF guard attempted six 3-pointers, converting once. That after Seilund buried 6-of-10 long bombs in the quarterfinal win over the Lions.
"We really wanted to limit her from the 3-point line," Gonzaga coach Lisa Fortier said. "I had mentioned this Friday (against Pepperdine), that we didn't do a good job in the fourth quarter; it wasn't necessarily Emma, but our team in general, we were letting them shoot too many 3's. (Emma) did a great job on her. Primary defender, played 35 minutes and she played 37, so they were seeing each other a lot."
Seilund might be one of the most familiar faces in the WCC for Stach, a four-year Zags veteran with 130 appearances under her belt. GU and USF have seen each other 10 times during that span, including two WCC Tournament meetings.
"She's a really tough player to guard," Stach said. "She can hit a 3, she has really deep range, can go either side on you, has a good pull-up jumper. But that's the challenge I love, playing against the best player, and it was great that I could limit her."
Seilund has hit the 20-point benchmark eight times this season and reached 30 twice, against Sacramento State and Portland. But she's had her work cut out for her facing GU. In limited minutes, she scored just six points on 3-of-7 shooting when the teams met in Spokane earlier this year. Seilund had 16 points in the rematch at USF's War Memorial Gym, though it came on 5-of-13 shooting.
Dons coach Molly Goodenbour said the Zags did a good job of taking away Seilund's best assets.
"I think Anna Seilund is a player that, if she really gets in the flow and the tempo and she makes her first shot, gets to feel good about herself, she can have a 30-point night," Goodenbour said. "She can also go the other way sometimes if she doesn't make that first shot, and other teams take away the things that are her strengths."
Stach was also a major contributor for GU on offense, scoring 14 points, which included 4-of-7 shooting from the 3-point line.
Local journalism is essential.
Give directly to The Spokesman-Review's Northwest Passages community forums series -- which helps to offset the costs of several reporter and editor positions at the newspaper -- by using the easy options below. Gifts processed in this system are not tax deductible, but are predominately used to help meet the local financial requirements needed to receive national matching-grant funds.
Subscribe to the sports newsletter
Get the day's top sports headlines and breaking news delivered to your inbox by subscribing here.
---