News > Spokane
Then and Now: Jensen-Byrd Hardware
Mon., March 5, 2018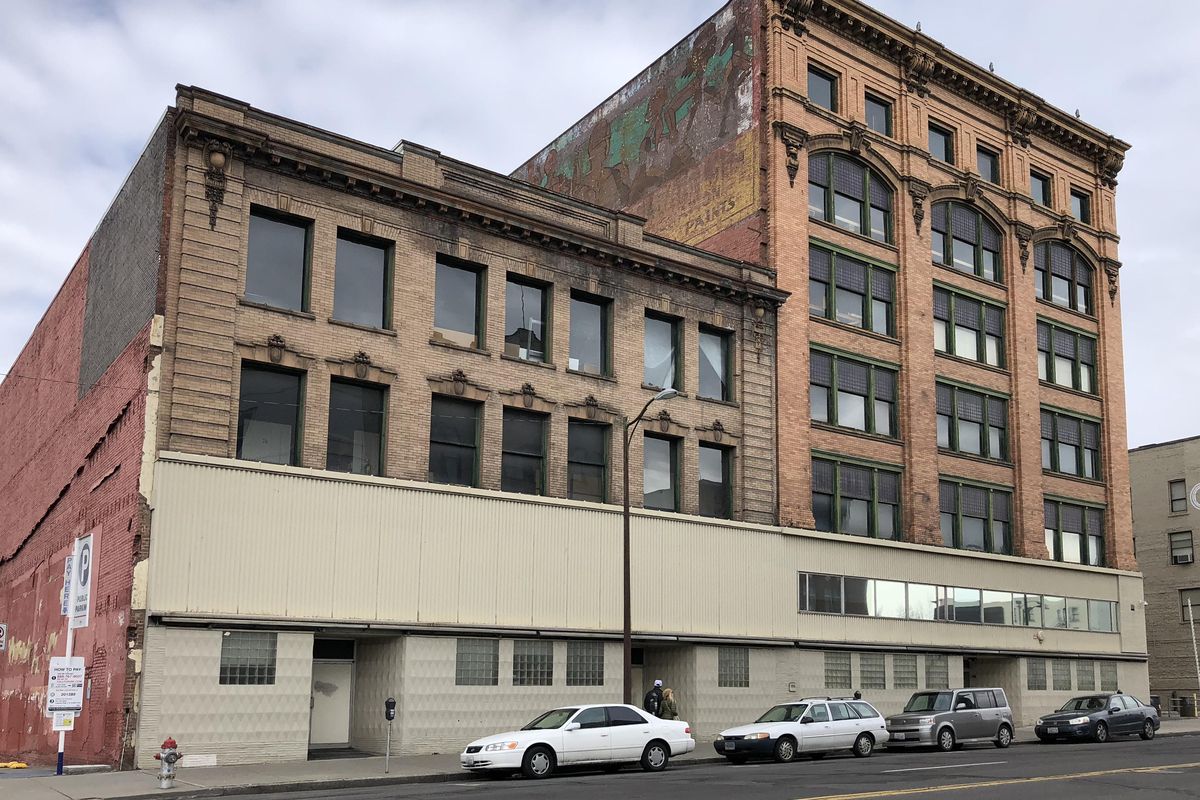 The Jensen-Byrd buildings where the successful hardware business has been run since the early 1900 are on the 300 block of West Riverside Ave. The ground floor was a massive retail hardware store until 1958, when the company turned its attention to wholesale distribution. The firm, founded in 1883 by Oliver C. Jensen, still has offices in the buildings, but the main warehouse is on the West Plains, near the Medical Lake exit of I-90. The company is now called Jensen Distribution Services. Jesse Tinsley/THE SPOKESMAN-REVIEW (Jesse Tinsley / The Spokesman-Review)
Oliver C. Jensen, Danish by birth, founded a hardware store in Sprague, Washington in 1883. A decade later, he partnered with Charles King to become Jensen-King Hardware.
The partners moved Spokane in 1895 after a devastating fire in Sprague. A year later, they bought out Wolverton-Byrd, to become Jensen-King-Byrd Hardware.
After trying a couple of other locations, the company built on the 300 block of West Riverside, eventually occupying two side-by-side buildings, one three-story, one six-story.
Their early business was based on horseshoe nails. "In the early days it was not unusual for us to sell $3000 worth of horseshoe nails on Monday morning," E.F. Byrd, brother of original partner J.S. Byrd, told the newspaper in 1935. "We sold about 4800 kegs of nails annually. That was the nucleus of our business, at first. Then, of course, followed buggy wheels and vehicle repairs." The store sold hardware, wood stoves, common and exotic lumber, housewares, horse tack and many other categories of products.
In 1925, Scott and Alvin Jensen, O.C.'s sons, bought out King and the company became Jensen-Byrd Hardware.
For many decades, farmers, loggers, miners, tradesmen, do-it-yourselfers and housewives shopped at the double storefront on Riverside Ave. The wholesale business operated out of a warehouse on the north bank of the Spokane River.
The senior Jensen died from a stroke in 1928, at the age of 75.
In 1958, with the second and third generations of Jensens at the helm, the firm took over the Marshall-Wells company and traded their three smaller warehouses for a large one at 131 W. Main Ave. At the same time, the Jensens shut down their storefront after 75 years of retail sales to focus on their wholesale business.
In the mid-1980s, Jensen-Byrd built a new warehouse on the West Plains and the old warehouse on Main is now part of the University District, though plans for it are still up in the air.
The company became Jensen Distribution Services in 1995, and distributes 65,000 products to 2000 retailers in 11 western states.
Local journalism is essential.
Give directly to The Spokesman-Review's Northwest Passages community forums series -- which helps to offset the costs of several reporter and editor positions at the newspaper -- by using the easy options below. Gifts processed in this system are not tax deductible, but are predominately used to help meet the local financial requirements needed to receive national matching-grant funds.
Subscribe now to get breaking news alerts in your email inbox
Get breaking news delivered to your inbox as it happens.
---