Sports > NCAA basketball
Former Weber State star Damian Lillard follows Big Sky basketball, including Eastern Washington's Bogdan Bliznyuk
March 6, 2018 Updated Wed., March 7, 2018 at 9:35 a.m.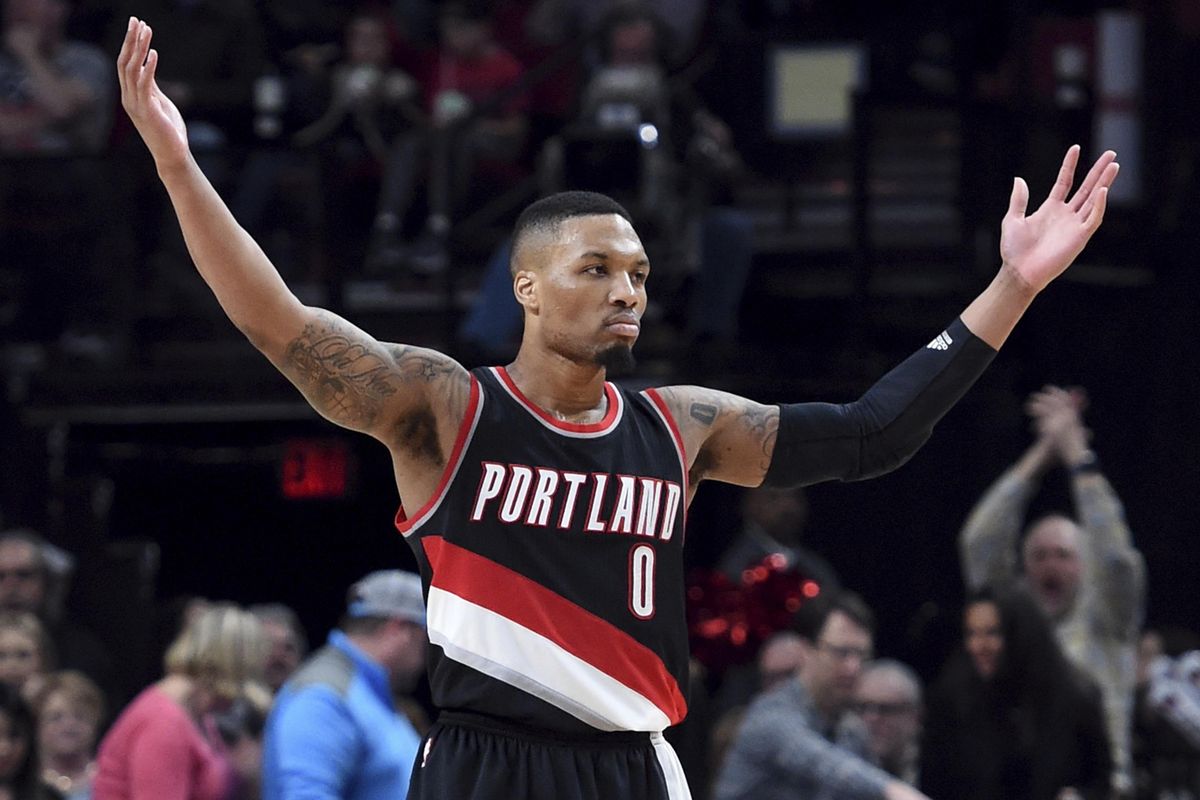 Portland Trail Blazers guard Damian Lillard acknowledges the crowd during the team's NBA game against the visiting Utah Jazz last April. Lillard scored a franchise-record 59 points as the Blazers won 101-86. (Steve Dykes / Associated Press photos)
PORTLAND – Long before he hit the NBA, Damian Lillard was an inherent underdog.
From his days playing ball an a lightly recruited high-schooler in Oakland to his time as a big fish in a small pond at Weber State through his years with the small-market Portland Trail Blazers, Lillard has had the proverbial chip on his shoulder, always itching to prove doubters wrong.
Loyalty, too, is an important quality for Lillard. So it's not surprising that the Trail Blazers' All-Star point guard follows his alma mater with interest, and cherishes his small-college roots and ties to the Big Sky Conference.
Four days after scoring 21 points in 21 minutes in his third All-Star Game appearance on Feb. 18 at Staples Center in Los Angeles, Lillard was in the stands at Dee Events Center in Ogden, Utah, to watch Eastern Washington beat Weber State 75-70. The next night, he scored 39 points, guiding Portland to a 101-82 romp past the Utah Jazz.
After arriving in Salt Lake City with his team the day before the Blazers' game against their Northwest Division rival, Lillard made the 40-minute drive to Ogden to see his old school play.
"I always do that when we get (to Salt Lake City) a day early," Lillard said.
In Eastern's victory over the Wildcats, senior forward Bogdan Bliznyuk scored 27 points and became the fifth player in Big Sky history to reach the 2,000-point plateau. That night, Lillard sent the message, "Good Game Bro," via Twitter to Bliznyuk.
"They tweeted it out and listed me in it," Lillard said, "so I responded."
Bliznyuk had recently passed Lillard (1,934) to move into fifth place on the Big Sky career scoring list. Montana State's Tyler Hall and Idaho's Victor Sanders are closing in on Lillard, who stands sixth on the list.
"But I only played three years (at Weber State)," Lillard notes.
The game in Ogden gave Lillard the opportunity to visit with Randy Rahe, in his 12th season as the Wildcats' head coach.
"I played for the same coaches," Lillard said. "I was there for four years (including a redshirt season), so I have a relationship with all those people."
It has worked out better for Lillard to watch the Wildcats in Utah than in Portland through his NBA career.
"I haven't seen them play in Portland one time," he said. "Our schedules are opposite every time they come to town."
After Lillard's third NCAA season in 2015, he attended graduation ceremonies at Weber State after earning his degree in technical sales. He gave the commencement address at the behest of his graduating classmates, and delivered it in extemporaneous fashion.
"I didn't even write it out," Lillard said. "I just gave it. Went up (to the podium) and did it.
"It was cool. I was sitting there with all of the people I graduated with, waiting in line. We walked across the stage and everybody was taking pictures, and I gave a lot of autographs. I had a great time."
Last summer, Weber State retired Lillard's jersey No. 1 in a ceremony during the school's basketball alumni classic.
"I have a great relationship with the people there," he said. "They're proud of me, and I appreciate that."
Throughout his six-year career with the Blazers, Lillard has had teammates from the biggest of NCAA basketball powerhouses. This season, Ed Davis played at North Carolina, Shabazz Napier at Connecticut, Evan Turner at Ohio State, Brandon Rush at Kansas and rookie Zach Collins at Gonzaga.
There was a time when teammates may have kidded Lillard about being from a smaller school. Not so much anymore.
"They can say what they want about it," Lillard said. "I just take pride in the league that I played in, and try to represent it the right way."
Local journalism is essential.
Give directly to The Spokesman-Review's Northwest Passages community forums series -- which helps to offset the costs of several reporter and editor positions at the newspaper -- by using the easy options below. Gifts processed in this system are not tax deductible, but are predominately used to help meet the local financial requirements needed to receive national matching-grant funds.
Subscribe to the sports newsletter
Get the day's top sports headlines and breaking news delivered to your inbox by subscribing here.
---