News > Spokane
Gardening: Phyllis Stephens retiring after decades as Spokane's foremost gardening authority
March 7, 2018 Updated Wed., March 7, 2018 at 11:41 a.m.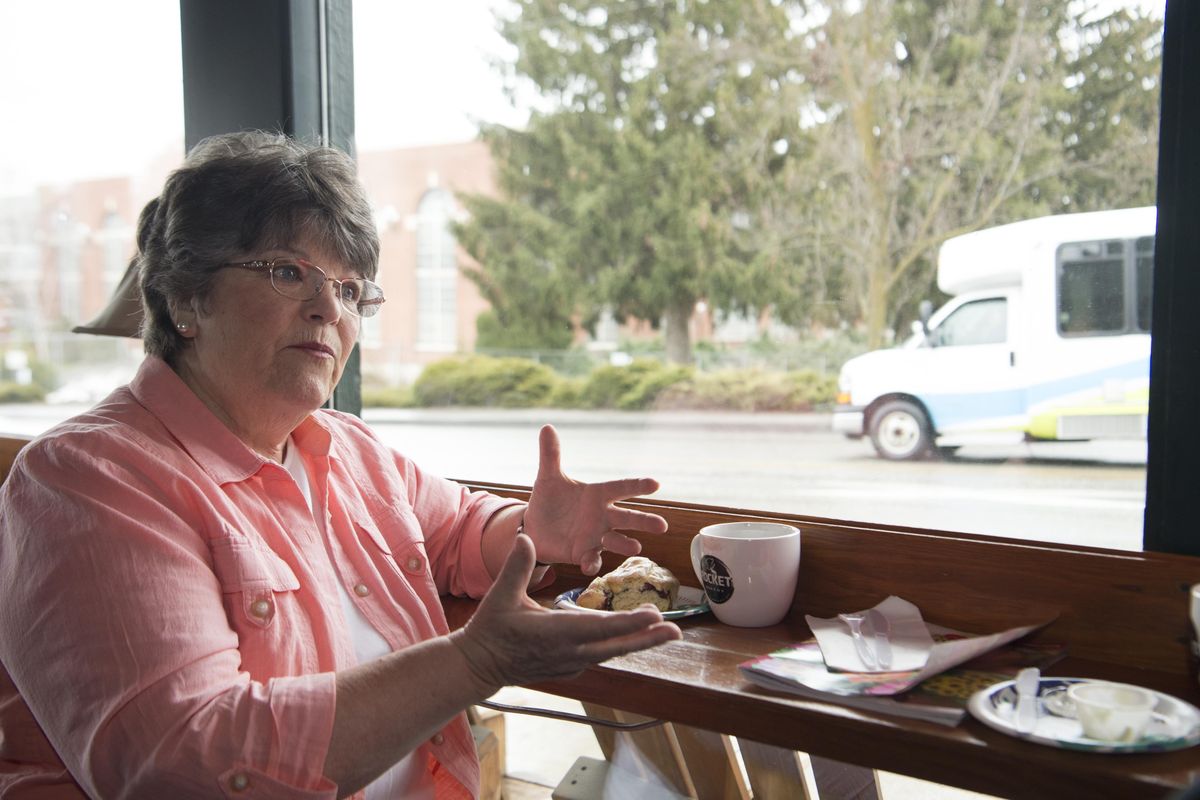 Longtime gardening guru Phyllis Stephens talks about her work as a radio, TV and newspaper gardening adviser over coffee at the Rocket Bakery Thursday, March 1, 2018. She is retiring. (Jesse Tinsley / The Spokesman-Review)
My fondest memory of Phyllis Stephens was from the early 1990s when she was working with Peter Colford, a much-loved weathercaster for KREM at the time. Through a weekly "in the garden" broadcast she was teaching Colford how to garden. They are standing side by side with Colford holding a live microphone and Stevens a hose. You guessed it. As he's broadcasting Stephens cuts loose with the hose drenching him. Colford stands stock still and continues talking. Stephens? She's in the background laughing and dancing.
So, when I heard she was retiring from her KXLY Lawn and Garden Show, I had to catch my breath. No! She can't retire, we need her! But she is and after over 30 years of telling us how to plant tomatoes, dogwoods and petunias and sharing her experiences from her own garden, she just wants to read a good novel and be with her family.
"I thought about doing nothing for a while but somehow the greenhouse is already planted with flowers and vegetables for the spring. I can't stay out of the dirt."
Stephens is a Spokane native and learned her gardening from her mother. After marrying Jim, and following him around the country while he was in the military, she settled back in Spokane in 1973.
"With four boys, we were always growing food and canning just to keep them fed," she said.
With a few years of experience under her belt, she joined the WSU Spokane County Master Gardeners in the early 1980s and then joined the Master Gardener staff as a horticulture aide. One day the staff got a call for someone to do a broadcast with KREM. They asked if she was interested in doing it and she jumped at the chance. For the next five years she did gardening spots on KREM, including her stint with Colford.
Times changed, and one day in 1992 she found herself driving and listening to KXLY Radio as the announcer was lamenting that the station needed a local gardening show after listening to a particularly annoying nationally syndicated one. On a whim, Stephens drove to the station, and the rest is history.
"I started off doing a three-hour show with a stack of reference books every Saturday morning, and we ended with a computer and the internet at our fingertips," she said. In 1990, she also picked up a gardening column in The Spokesman-Review. That lasted until 2001, and I'm proud to say I was her successor in that endeavor.
In asking several gardening friends how Stephens influenced their gardening, most said they are far better gardeners because of the tips and tricks she taught them.
"She is probably the reason I am a Master Gardener today," said Marci Haynes as she helped open the Master Gardener clinic for the season last week. Bud Nameck of KXLY Radio said, "Phyllis did every show with a smile in her voice. She made every caller feel their call and their problem was the most important thing in the world to her."
Thank you, Phyllis, from all of us for sharing your knowledge and your experience with us. Enjoy your Saturdays with Jim and the grandkids.
Local journalism is essential.
Give directly to The Spokesman-Review's Northwest Passages community forums series -- which helps to offset the costs of several reporter and editor positions at the newspaper -- by using the easy options below. Gifts processed in this system are not tax deductible, but are predominately used to help meet the local financial requirements needed to receive national matching-grant funds.
Subscribe now to get breaking news alerts in your email inbox
Get breaking news delivered to your inbox as it happens.
---