Sports
Grip on Sports: The past is always there for the Mariners, even if it's not all that pretty
Thu., March 8, 2018 A GRIP ON SPORTS • Thursday seems like a good day to have thoughts on three subjects, so we do. We'll lead off with Ichiro's return, which seems appropriate, and roll into Washington State basketball. Then we'll finish up with the changing Seahawk lineup. Read on.
••••••••••
• The past always seems brighter than the present or the future to the Seattle Mariners' hierarchy, no matter who is part of it. Which is sort of odd, considering this is a franchise that's past is marked by only occasional success.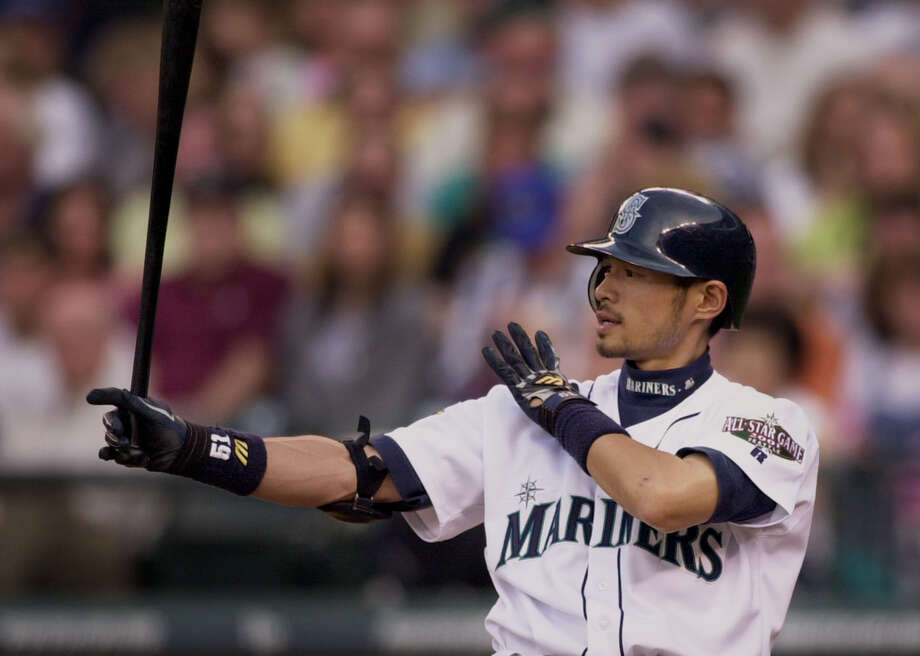 But Edgar is in the dugout, Junior finished his career in the same place and everyone seems to get together each year to celebrate some milestone or other.
Now the organization, bereft of minor league outfield talent, is dipping into the nostalgia well once again. No. 51 will be manning right field once more.
Let's not swerve into "they-need-the-other-51-more" territory, though even a 44-year-old Randy Johnson might be able to help this pitching staff. Instead, let's focus on the 44-year-old they signed yesterday.
Far be it for us to criticize an organization for bringing back someone it cut ties with, no matter whose choice it was. That would be the height of hypocrisy. But one question has to be asked: can Ichiro help?
The answer is murky. He did finish last season swinging the bat OK, though he hardly played in Miami, starting just 22 times. More will be expected of him in Seattle, at least early on as the Mariners deal with outfield injuries. But he isn't a long-term solution and, hopefully, won't be an impediment to the youngsters Seattle has lined up ready to break into the big time.
Oh, ya. That's why Ichiro's here in the first place. The cupboard's bare. At least his arrival, running around the Peoria outfield in the familiar 51, will distract most M's fans from that reality. This won't be their year. And the future is about as bright as a Seattle day in December.
• Speaking of the future, does anyone have a lot of faith the Cougars will turn their basketball fortunes around next season? If you watched the first six games and the last six games of the 2017-18 regular season, you probably would.
Ernie Kent's team was 9-3 in those dozen, winning a tournament title, a road conference game, competing in all but one contest.
But there is the matter of the other 19 games they played. The Cougars were 3-16 in those and many times looked lost or disinterested or out-toughed. Just insert whichever not-so-nice descriptive word you want to there, it works.
There is some hope, but it might be illusory.
The Cougars have decent players returning, from Malachi Flynn to Robert Franks to Viont'e Daniels. But the way things go these days in college hoops, if every player who is slated to return – WSU had just two seniors on the roster – does, we'll be surprised. There will be turnover, there always is.
For Kent's team to take a step forward, that turnover can't include any of the better players. They have to stay, buy in and be the core of whatever team the Cougars put on the floor next season. If anyone of significance leaves, it could be another long year.
• The NFL is about winning. About cost effectiveness too. A player's contract cost has to pencil out in the team concept. If his utility is outweighed by the monetary pull on the cap, then off they go. Especially when the team is coming off a down year, as the Hawks are.
Michael Bennett wasn't as good last season, especially late last season, as he's been in the past. He came up just short of making big play after big play. Those inches might have been the difference in a game or two down the stretch – and whether he stayed in the Northwest.
He is slated to make pretty good money next season. So he's gone, traded for a draft pick and a wide receiver.
Richard Sherman is slated to make even more money. He's going to be coming off a couple of major surgeries. It sounds like the Hawks have asked for a little help, financially. And Sherman isn't ready to concede money to stay. So he could be gone, giving Seattle $11 million in cap space to, maybe, send Earl Thomas' way. At least some of it.
It seems cruel. Players give up the one commodity they have, their body, to help your team be successful. In return they are given another commodity: money. But loyalty, that commodity isn't part of the long-term deal, either way. As much as fans wish their favorite player would stay and play forever, it isn't reality.
The Hawks, one of the most successful NFL franchises of the last decade, are being treated to a full dose of reality right now.
It's the offseason of the long goodbye.
•••
WSU: The Cougars' season ended last night in the first round of the Pac-12 tournament. That's the same way it's ended every year since Tony Bennett left for Virginia. The 64-62 overtime loss to Oregon last night was a bit different, in that WSU had every opportunity to win and move on. But the Cougars couldn't get over the hump. Theo Lawson was in Las Vegas and has this game story, an analysis of what happened and video of interviews with Kent and Franks. … WSU holds its Pro Day today. … In other games at the Pac-12 tournament, Arizona State's freefall continued with a first-round loss to Colorado. The Buffs will face Arizona tonight. … Stanford dominated rival California. … Washington's hope of an NCAA tournament-earning run ended after just one game, as they lost in overtime to Oregon State. … USC hasn't had a bye in this tournament before. … UCLA has, but both of them need some wins this week. … So does shorthanded Utah. … We also have spring football news.
Gonzaga: The Zags are waiting for Sunday, when they will find out their NCAA seed, opponent and matchups. Between now and then they will fine-tune things, trying to improve what they are already doing really well. And there will be recruiting. Jim Meehan has stories on both. … I joined Larry Weir for the Press Box podcast. Want your ears to have some fun? Listen. … Around the WCC, embattled San Diego head coach Lamont Smith resigned yesterday after allegations of assault in a San Francisco hotel. The Toreros seemed to be moving forward on the court, having posted the first winning season in Smith's three-year tenure. … BYU will wait to see who it will play in the NIT.
EWU: The Eastern women saw their season end in a loss to Portland State, 82-73, last night in Reno. Jim Allen has the game coverage. … Jim also has a story on Bogdan Bliznyuk's contributions to the program as well as a preview of tonight's tournament action for the Eagles and Idaho. … Also in Big Sky tournament play, top-seed Montana faces off with North Dakota. … Northern Colorado defeated Northern Arizona and will face Weber State. … Southern Utah defeated Idaho State and now gets Idaho.
Idaho: The Vandal women moved on to the Big Sky semifinals with a 78-74 win over Montana State in Reno. Jim has that story as well.
Chiefs: Spokane returned to winning, getting past Victoria on the road 5-2. … Portland won in a rout at Prince George.
Mariners: ESPN has an interesting feature on Ichiro's career, which is really appropriate right now. … The move to sign Ichiro says a lot about the M's organization. … There was a game yesterday.
Seahawks: Bennett is gone for sure, traded to Philadelphia. He's said his goodbye to the Hawk fans. His departure means the defensive line will look different. … Sherman? That's still up in the air. … Russell Wilson is straying further and further away from his main job. Now he's going to be an ESPN star.
Sounders: A late Clint Dempsey goal lifted Seattle to a 1-0 win over Chivas in Champions League play. Now comes the always-tough trip to Mexico.
•••       
• Did you know the Weather Channel app can predict days with 60-degree highs? Me neither. But there they are, listed for next week. I may have to go shopping for some new golf clubs today. Just saying. I'm thinking of making this the summer of the slice, or something like that. Until later …
Local journalism is essential.
Give directly to The Spokesman-Review's Northwest Passages community forums series -- which helps to offset the costs of several reporter and editor positions at the newspaper -- by using the easy options below. Gifts processed in this system are not tax deductible, but are predominately used to help meet the local financial requirements needed to receive national matching-grant funds.
Subscribe to the sports newsletter
Get the day's top sports headlines and breaking news delivered to your inbox by subscribing here.
---