Sports > WSU basketball
Analysis: Kenny Wooten was everywhere in Oregon's 66-64 OT win over Washington State … just not in a Cougar jersey
March 8, 2018 Updated Thu., March 8, 2018 at 8:48 p.m.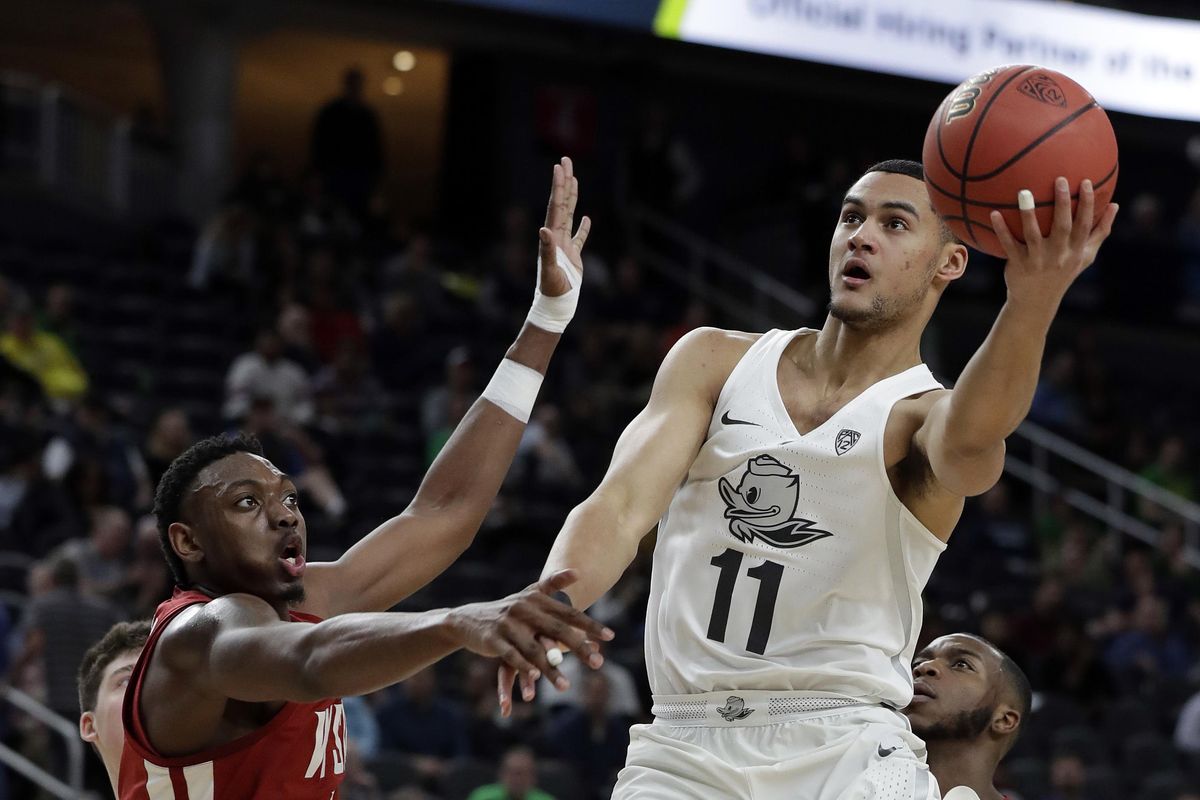 Oregon's Keith Smith, right, shoots over Washington State's Robert Franks during the first half of an NCAA college basketball game in the first round of the Pac-12 men's tournament Wednesday, March 7, 2018, in Las Vegas. (AP Photo/Isaac Brekken) ORG XMIT: NVIB163 (Isaac Brekken / AP)
LAS VEGAS – Players like Kenny Wooten don't just fall out of trees, but one look at the springy, 6-foot-9 forward and it's easy to understand why Washington State coach Ernie Kent wouldn't mind cloning the Oregon freshman and suiting him up in the crimson and gray.
A player with Wooten's physical makeup, bounce and defensive tenacity wasn't the only thing missing for the 11th-seeded Cougars in their 64-62 overtime loss to the sixth-seeded Ducks late Wednesday night at the Pac-12 Tournament. But as Washington State saunters into the offseason on the heels of another short stay in Las Vegas, Kent will have a better idea of what his program needs to do – or acquire – if it wants to finally turn the corner.
"At the end of the day, we don't have a Wooten," Kent said. "Wooten made two big plays, two big blocks to win the game for them. Those are big-time plays and I don't have that guy. We've got to find that guy."
Thirteen seconds after Wooten sent back Malachi Flynn's layup at the rim – one that could have tied the game at 64 – the Oregon big man took another swipe at a WSU offering, spiking Milan Acquaah's reverse layup into the hardwood to preserve a two-point win in front of 10,458 fans who stayed up 15 minutes past 11 o'clock to watch a thrilling finish at T-Mobile Arena.
WSU, which opened the season 6-0 and secured a championship at the Wooden Legacy tournament in Fullerton, California, finished with a record of 12-19. Oregon (21-11), which overcame an 11-point deficit at one point and didn't have its first lead until there were 59 seconds left in the second half, continued to hunt for a sixth-straight bid to the NCAA Tournament when it played Utah in Thursday's quarterfinal.
For the sixth consecutive year, WSU finishes a basketball season well shy of the postseason. But one step at a time. The Cougars might first need to put an even longer skid to bed before that happens.
Wednesday's loss marks the ninth straight year WSU has failed to advance past the first day of the Pac-12/10 tourney, dropping the Cougars to 0-7 in Las Vegas and 0-4 under Kent. Their last win came in 2009 under Tony Bennett, against an Oregon team coached by Kent.
"It's tough," junior forward Robert Franks said.
He might as well have been conveying the mood of every member inside a somber WSU locker room.
"The season's over," Franks said. "It's a sad feeling right now."
"The game came down to mental mistakes and they ended up closing the game better than we did," senior forward Drick Bernstine said. "It sucks that's the way the season ended."
"The season's over, so I don't think there's any positives," added sophomore point guard Malachi Flynn, a 22-point scorer for WSU on the night who seemed to lift the Cougars and their chances of stealing a win with every clutch shot, including a key 3-pointer with 32 seconds left in regulation that would send the game into overtime.
Granted, through the first 20 minutes of Wednesday's game, there was an abundance.
WSU left a potent Oregon offense anguished in the first half, holding the Ducks to 17 points on 7-of-24 shooting from the field. It was the first time all season that UO, an offensive engine that's scored 90 points eight times this season, failed to hit 20 in the first half – not to mention the first time the Cougars had held an opponent under that number. Additionally, it was the ninth-lowest total allowed by WSU in the shot clock era.
So even if the Cougars themselves weren't firing on all cylinders – a pedestrian 10 of 24 – the suffocating defense was enough to earn them a 24-17 halftime lead.
"It was the best defense we have played since I've been here," said Kent, 124 games into his WSU tenure. "We've beaten teams with the zone defense, we have beaten teams with the 1-3-1 trapping defense. I'm sure it shocked (Oregon) that we could be that good, and take a team that athletic, that big, and lock them up in man-to-man defense."
But in the second half, Oregon's Wooten, Troy Brown and MiKyle McIntosh decided they could break through a thin Cougars front line simply by putting their heads down and bulldozing straight through.
"Those big bodies," Kent said. "The big bodies, they just started driving at us. … We don't have their athleticism. … When they started using their athleticism, spreading us out, we were in trouble a little bit."
The conference's best free-throw shooters left plenty of points on the board at the foul line, going just 8 of 18, but Oregon got there enough – 16 times in the second half and OT, opposed to two times in the first half. The Cougars didn't attempt a free throw through the first 33 minutes, but once they got to the line, it was all they could do to stay off of it. WSU finished 15 of 18 from the line.
WSU's press-breaker was successful for large parts of the game, but Oregon's full-court trap finally forced a Cougars turnover with 2:07 left when Franks lost the ball just shy of midcourt. Bernstine then had his pocket picked by Troy Brown, who coasted freely to the hoop for a dunk.
The moment the Cougars might lament most came in overtime when Bernstine couldn't manage to block out Brown for a rebound after Pritchard missed his second-straight free throw. Rather than securing the board and giving WSU possession, Bernstine resorted to fouling the Oregon freshman, who made one free throw to make it 64-62.
On the other end, Wooten swatted the Cougars into the offseason with his second and final block.
"I can't give up an offensive rebound at the end of the game, I can't make a turnover at the end of regulation," Bernstine said. "… It is what it is. You've got to take it as a lesson from God and learn from it."
Pritchard and McIntosh each had 18 points for the Ducks and Elijah Brown chipped in another 10. Flynn's 22 led the Cougars, who also got 16 from Franks and 11 from Acquaah.
Local journalism is essential.
Give directly to The Spokesman-Review's Northwest Passages community forums series -- which helps to offset the costs of several reporter and editor positions at the newspaper -- by using the easy options below. Gifts processed in this system are not tax deductible, but are predominately used to help meet the local financial requirements needed to receive national matching-grant funds.
Subscribe to the sports newsletter
Get the day's top sports headlines and breaking news delivered to your inbox by subscribing here.
---