A&E > Stage
Spokane Civic Theatre tackles tough questions in 'Two Point Oh'
March 9, 2018 Updated Fri., March 9, 2018 at 5:16 p.m.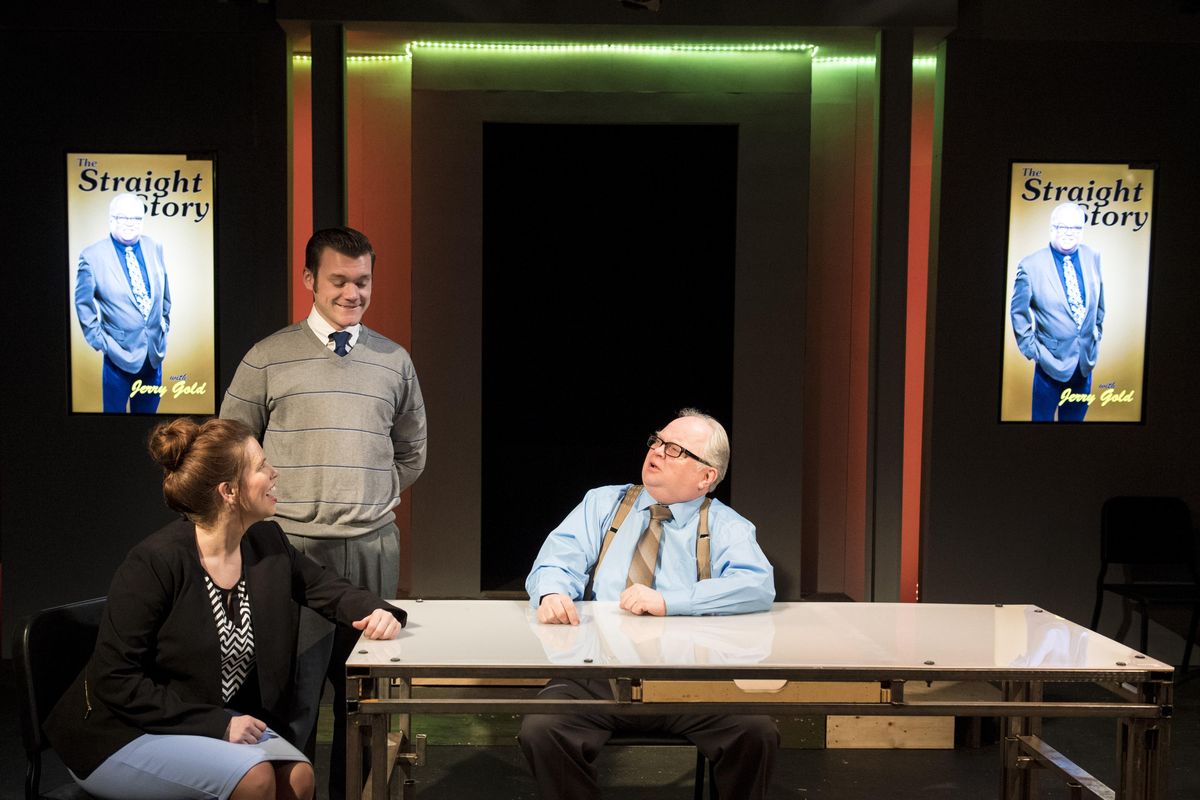 Actors left to right: Julie Berghammer (Catherine Powell), Dalin Tipton (Ellito Leeds) and Ron Ford (Jerry Gold) perform a scene from Spokane Civic Theatre, Studio Theatre production of Ò2.0 (Two_Point_Oh)Ó Colin Mulvany/THE SPOKESMAN-REVIEW (Colin Mulvany / The Spokesman-Review)
Depending on how it's done, incorporating TV screens and other multimedia elements into a live theater production could help or hurt a show.
On one hand, digital elements, when used correctly, can help tell the story in a way that tangible props simply can't.
On the other hand, if audiences wanted to watch TV, they would've stayed home, right?
Playwright Jeffrey Jackson's "Two Point Oh," a play in which the main character only ever appears on screen, relies almost entirely on the use of technology, which means a lot is riding on the relationship between the multimedia and live elements.
With a talented cast and two TV screens, graphical elements, live video manipulation, prerecorded clips and photographs, director Chris Wooley, creative consultant Jake Schaefer, set designer Matt Egan and stage manager and tech specialist Chris Brock seamlessly marry the two components in Spokane Civic Theatre's production of "Two Point Oh."
"Two Point Oh" takes place months after the death of software pioneer Elliot Leeds in a plane crash.
His widow Melanie is still mourning when she receives a package from her husband containing a program he created before he died, "Elliot 2.0," a digital version of himself programmed with thousands of hours of recorded thoughts and speech.
"Elliot 2.0" can answer questions, hold conversations, share memories and, time will tell, maybe even grow in intelligence. But, the characters wonder, is he alive?
"Two Point Oh" stars Dalin Tipton as Elliot Leeds, Allison Peterson as Melanie Leeds, Benjamin Dyck as Ben Robbins, Julie Berghammer as Catherine Powell and Ron Ford as Jerry Gold.
Wooley's choice to have Tipton stand onstage in place of the screens early in the rehearsal process so the actors could build connections was really smart, as, when it came time for Tipton to appear on screen, each character's relationship with Elliot seemed authentic.
Elliot could have very easily come off as flat, but Tipton's portrayal made the character, though digital, seem as lifelike as the actors onstage.
From a sound booth offstage, Tipton brought Elliot – his joy, anger, hope for the future – to life on screen.
The character of Melanie experiences a lot in this show, going from grieving widow to elated wife with a virtual husband to a woman forced to make tough decisions and stand on her own two feet, and Peterson handled Melanie's arc with grace and conviction.
Berghammer played the role of the suspicious boss with the perfect amount of snark, especially in the scene when she had a little too much to drink, and Dyck made a great friend to both Melanie and business partner Elliot as Robbins.
Robbins' epiphany about "Elliot 2.0" near the end of the show was particularly sweet, and scenes between Berghammer and Dyck, nearly all of them filled with constant bickering, were especially fun to watch.
Ford, as TV host Jerry Gold, kept the story moving with frequent updates. His spot-on impression of the O'Reillys and Hannitys of the world, elicited laughs from the audience as soon as the "Straight Story with Jerry Gold" theme song played.
Reactions to "Elliot 2.0" are mixed, with Melanie telling Robbins that in some ways, she and Elliot are closer than they've ever been, and Powell calling what Elliot has done morally wrong and vowing to shut it down.
But it's ultimately up to the audience to answer the questions at the center of "Two Point Oh": What makes us human? Our mind? Our soul? And is it possible to use technology to, as Wooley wrote in his director's note, "cheat death and live on?"
"Two Point Oh" tackles those questions with an extreme use of technology, but given how far artificial intelligence has come, Civic's production makes "2.0" versions of ourselves seem not so far-fetched.
Local journalism is essential.
Give directly to The Spokesman-Review's Northwest Passages community forums series -- which helps to offset the costs of several reporter and editor positions at the newspaper -- by using the easy options below. Gifts processed in this system are not tax deductible, but are predominately used to help meet the local financial requirements needed to receive national matching-grant funds.
Subscribe to the Spokane7 email newsletter
Get the day's top entertainment headlines delivered to your inbox every morning.
---