News > Idaho
Looking to the future after becoming a teenage felon
Sat., March 10, 2018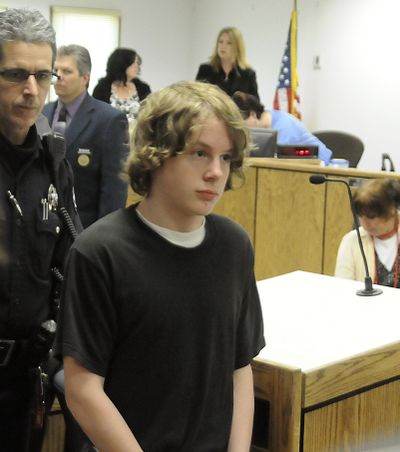 NAMPA, Idaho – Zachary Neagle was 14 when he shot and killed his father.
In May 2009, Neagle killed his 32-year-old father, Jason Neagle, in their Caldwell home. When his defense argued that years of sexual abuse prompted the killing, national and international news outlets swarmed to Canyon County to cover the story of a 14-year-old who said he did it to protect his siblings.
Having served his time for voluntary manslaughter, Neagle shared his attitude about moving on from the tragedy of his past.
"I can choose to be bitter or happy for the future," he said.
Neagle was indicted by a grand jury on first-degree murder charges on June 11, 2009.
Following testimony that his father had sexually abused him, Neagle pleaded guilty in 2010 to killing his father on a reduced charge of voluntary manslaughter. Five years into a seven-year sentence, a judge determined him fit to be released to probation, allowing him back into society in August 2014.
Nearly a decade after the incident, Neagle reflected on the abuse he said he endured up to the tipping point where he made the fateful decision to kill his father.
The physical abuse happened for as long as Neagle can remember, he said. But the sexual abuse didn't begin until his parents divorced a second time when he was 8 years old. As time went on, the sexual abuse became more frequent. The abuse was something his mother never knew about, and as far as Neagle knew, only happened to him.
But, as Neagle testified in 2010, his father, who had just finished abusing him, told Neagle that he was going to take a nap and abuse his siblings once he woke up. Neagle said he already had bags packed to run away but knew he couldn't care for his brother and sister at the age of 14. As his father started waking up, panic set in.
"I'm trying to figure out what the hell I'm going to do," Neagle said.
He grabbed a rifle and shot his father. His father was dead when Neagle called 911.
Neagle wasn't arrested until three days following the shooting. In a police interview room, he unintentionally revealed to his grandmother that he had killed his father. The conversation was being recorded, giving police enough evidence to arrest him.
Serving time
Although many people came to Neagle's defense, Neagle was still guilty. For being charged as an adult, Neagle spent only two weeks in the county jail. During his court proceedings, he stayed at the Southwest Idaho Juvenile Detention Center. Once sentenced, he served five years in the Nampa Juvenile Corrections Center.
But through five years, he was never alone. His mom and siblings supported him through the entire process.
Neagle's paternal grandfather, Eugene Neagle, regularly visited him while he was locked up. During his visits to the corrections center, Neagle said he and his grandfather never discussed Neagle's choice to kill his father – Eugene's son.
About three years into his sentence, his grandfather Eugene died. Neagle attended the funeral in shackles.
"A couple of my dad's family won't talk to me," Neagle said. "But most live out of state."
He found solace in drawing while he was serving time, which he was taught how to do by a staff member. During different periods of his sentence, Neagle said, you can see the moods he was in. A colorful photo of a heart surrounded by roses and a sun in the background portrays a time in corrections when Neagle was happiest – it's one of his favorites. During a darker time, a drawing of an elk with his father's initials, J.S.N., above and the word "sorry" reveals moments of remorse.
Though media fascination calmed down, interest in his case poured in from around the world. Letters from supporters of his choice came from as far away as Malaysia and Switzerland.
His mother, Cindy Neagle, who classifies herself as a small-town girl, was just as shocked as her son to see the volume and range of support for her son.
"It helped knowing that everyone wasn't condemning him for what he did," Cindy Neagle said.
To this day, Zachary Neagle said he rarely encounters anyone who thinks his actions were bad when they take the time to hear his story.
Welcome to the real world
In 2014, Neagle was released on supervised probation. Neagle took part in two correctional programs, received his high school diploma and took college credit courses amounting to about a half-semester of college. Other than a one-month step-down program where he lived in a house and was offered tips on how to live in the real world, he said he had little introduction to the outside world. He'd come to learn that the real world was a lot harder for a then-19-year-old felon convicted of manslaughter.
Neagle has kept about two jobs at a time during the four years he has been on probation – mostly in food service. Now he is working only one job at a vape shop in Boise. He said it takes employers listening to his story, and not just looking at the background check, for him to get a job.
The terms of Neagle's probation also make it difficult to find housing and roommates willing to conform to the restrictions on alcohol and firearms that Neagle lives with. Neagle is set to be on probation until he's 30, but with good behavior he hopes to get unsupervised probation, which would save him meetings with his probation officer and a $60 fee.
Though his current probation officer, Ryan Kinney, has yet to meet Neagle, Kinney said Neagle has had an exemplary last couple of years on probation. Because of that, Neagle does not have to check in with his probation officer often.
Save for a petty theft charge a couple of weeks following his exit from the corrections center, Neagle's only encounters with police since then have been traffic infractions. He got out of a speeding ticket last August, but that was just a prelude to another tragedy.
In August, Neagle said he was speeding 90 mph down the freeway to get to his mother's house after receiving a phone call that his 14-year-old brother was dead.
Neagle and his brother, Dawson, had been playing video games and wrestling – brother stuff – the night before Dawson died. Neagle left for the night. When Dawson went to sleep, he never woke up. His family still doesn't know how Dawson died.
The death of his brother only six months ago is difficult for him when certain songs and memories come to mind. He got Mika, a 10-month-old husky, a month prior to losing his brother, and he feels the dog helps him cope with the death a little better.
But other distractions, like his job and friends, keep him from thinking about his brother's death. Neagle said he doesn't think he tries to distract himself from hard times forever, just until he has a good moment to process his emotions privately.
"I try to be the rock for my family," he said. He played that role following the death of his brother.
"I can honestly say I don't think I would've made it as well if he wasn't there to help me get through it," said Cindy Neagle, about his help while she learns to cope with her 14-year-old son's death.
Neagle spends every Sunday with her and his maternal grandparents, which is family and football time. Cindy Neagle said she and her son talk at least once a day.
Neagle would like to leave Idaho, but being on probation stops him from getting very far. The second he is free, he plans to pack his car and leave the state. He plans to stop at whatever cities he feels like. He will get odd jobs here and there.
Neagle thinks he'd like to go to Florida and Oregon to see family. And he definitely plans to see a New England Patriots game.
"I've been in Idaho my whole life," he said. "I want to go see places."
Local journalism is essential.
Give directly to The Spokesman-Review's Northwest Passages community forums series -- which helps to offset the costs of several reporter and editor positions at the newspaper -- by using the easy options below. Gifts processed in this system are not tax deductible, but are predominately used to help meet the local financial requirements needed to receive national matching-grant funds.
Subscribe now to get breaking news alerts in your email inbox
Get breaking news delivered to your inbox as it happens.
---