Sports > NCAA basketball
Baylor women denied No. 1 seed despite having only one loss
Mon., March 12, 2018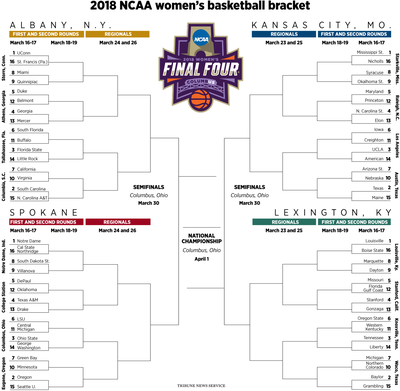 STORRS, Conn. – There were five teams vying for the four No. 1 seeds in the NCAA Tournament on Monday, and when the music stopped, Baylor was left without a chair.
The Lady Bears, who lost just one game all season (31-1), instead get a No. 2 seed in Lexington, a region that includes top-seeded Louisville, Tennessee and Stanford.
"We felt there was a razor-thin margin between Baylor and Notre Dame," said NCAA women's basketball committee chair Rhonda Bennett. "Notre Dame did have the top strength of schedule in the country and they did have the best strength of schedule in the country and they had nine more top-50 wins than Baylor and those were the reason that the committee put Notre Dame on that one line and Baylor on that two line."
Baylor coach Kim Mulkey said she doesn't see it as that big a deal.
"We've won a national championship as a two seed, we've won it as a one seed," she said. "And really what does it matter? Because the one has to play the two. Mississippi State was a two last year and they played for the national championship. We were a two seed in 2005 and we played and won the national championship."
Some other things to watch for in the women's tournament:
The Duck of the Irish
Notre Dame (29-3) gets the top seed in Spokane, but would have to play what amounts to a road game in the regional final if No. 2 seeded Oregon makes it that far.
The Ducks (30-4) won both the Pac-12 regular season and tournament title, led by sophomore sensation Sabrina Ionescu, who averages just over 19 points a game and already owns the NCAA record for triple-doubles in her career.
Oregon coach Kelly Graves is very familiar with Spokane, having coached Gonzaga from 2000-1014, leading the Zags to a regional final in 2012.
"If we are fortunate enough to go back to Spokane where I spent so many amazing years at Gonzaga, that would be incredible," he said. "For our Duck fans it's close enough where they can justify a trip there. As the former Gonzaga coach, it was one of the highlights of my professional life, when we made it to Elite Eight."
Mid majors
Dayton and Buffalo both made the tournament as at-large teams from mid-major conferences.
The Flyers (23-6) get in as a No. 9 seed, despite losing to George Washington in the Atlantic 10 semifinals and will play Marquette in the first round
Buffalo (27-5) is an 11-seed after losing to Central Michigan in the MAC championship. The Bulls face South Florida in the first round in Tallahassee.
UConn coach Geno Auriemma said the respect for those teams is a step forward in the women's game and he believes mid-major teams will make some noise in this year's tournament.
"I'm glad that they got rewarded and I think it should happen more often," he said. "Who else is in, South Dakota State? Yeah, go ahead and play them and tell me they are a mid-major team. Good luck with that."
The Jackrabbits (26-6), champions of the Summit League, are a No. 8 seed and will face Villanova from the Big East in the Spokane Regional.
"I am watching that game," Auriemma said.
Last in
Buffalo, Creighton, Minnesota and Oklahoma were the final teams to get bids to the tournament. Purdue, Rutgers, Southern Cal and West Virginia were the others on the list the NCAA released Sunday of the final eight under consideration.
Rutgers, which finished 20-12, was left off despite having beaten Minnesota head-to-head.
Oklahoma got in with a 16-14 record – the fewest wins for an at-large team since 2005.
Regionalism
Where a school is located played a role in where they were sent for their first games and that may have hurt some in the tournament.
South Florida (26-7), which lost just four games to teams not named UConn, ended up with a No. 6 seed. The committee put them in Tallahassee playing Buffalo in the Albany Region, which means they could also end up playing in-state rival Florida State and perhaps UConn for a fourth time.
"Geography is one of our principals when it comes to placing teams in the bracket," said Bennett. "We seed the teams and then we place them in the bracket using that "S" curve and geography is one of the things that we consider and one of our principals."
That principal also means the second best women's basketball team in Connecticut will have to go through the best if they want to make another improbably run to the Sweet 16.
Quinnipiac, (27-5) last year's Cinderella, is the No. 9 seed in the Albany Regional and will face No. 8 Miami on Saturday in a rematch of last year's second-round upset.
The winner likely gets UConn.
"Our fans will travel very well, because it's right up the road," said QU coach Tricia Fabbri. "Hopefully, some of those UConn fans who got so excited about what we were able to do last year will stay for the second part of Saturday's doubleheader and root us on."
The Bobcats are currently on a 22-game winning streak.
Local journalism is essential.
Give directly to The Spokesman-Review's Northwest Passages community forums series -- which helps to offset the costs of several reporter and editor positions at the newspaper -- by using the easy options below. Gifts processed in this system are not tax deductible, but are predominately used to help meet the local financial requirements needed to receive national matching-grant funds.
Subscribe to the sports newsletter
Get the day's top sports headlines and breaking news delivered to your inbox by subscribing here.
---