News > Spokane
Eviction attempt leads to officer-involved shooting in Hillyard
March 12, 2018 Updated Mon., March 12, 2018 at 5:50 p.m.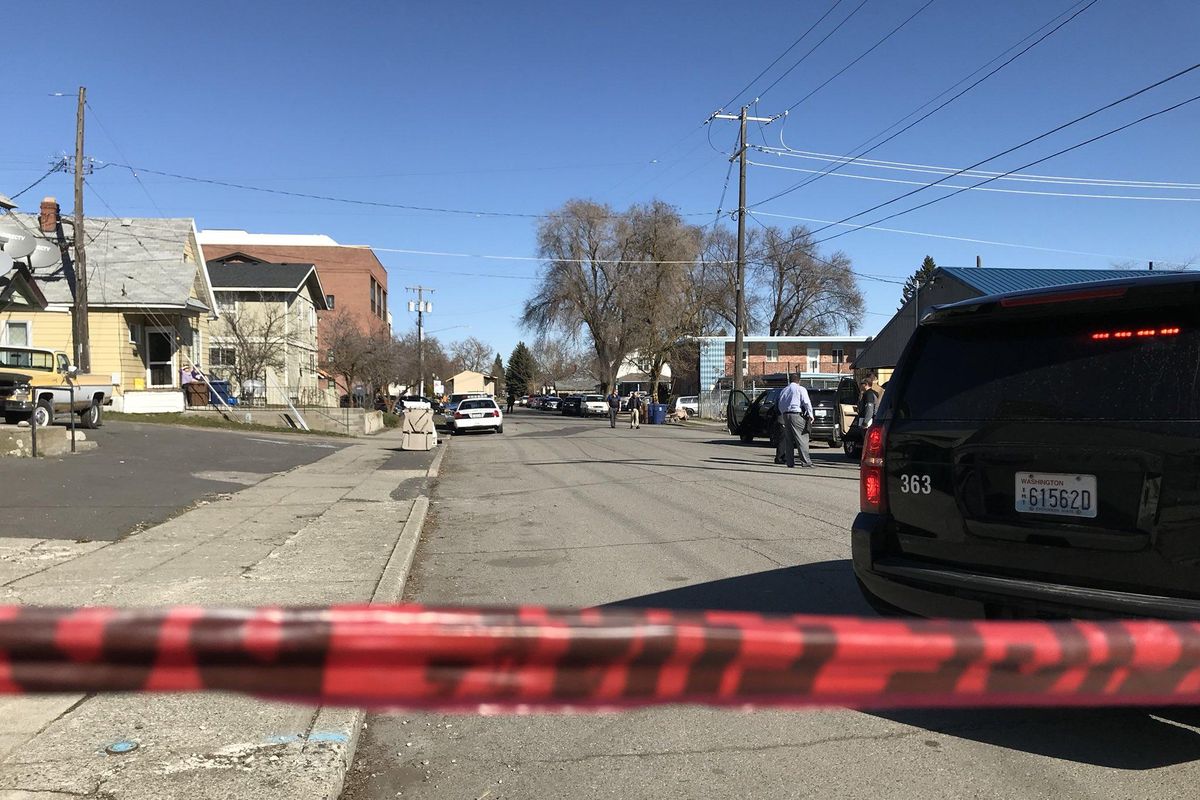 Crime scene tape marks off the area near the scene of an officer-involved shooting on March 12, 2018 in Spokane. (Jonathan Glover / The Spokesman-Review)
An attempt by a Spokane police officer and a sheriff's deputy to evict a man from a Hillyard apartment complex ended with one person shot and wounded Monday morning.
The shooting occurred in the Agnes Kehoe Place apartments at 5313 N. Regal Street. A deputy was conducting an eviction with the assistance of a Spokane police officer when at about 10:40 a.m., shots were fired, according to Spokane County Sheriff Ozzie Knezovich.
Knezovich said a man was sitting on a couch in an apartment and began reaching for a blanket, which may have been covering a rifle. The officers told the man to stop reaching for the blanket, but he continued to ignore them.
After repeatedly commanding him to stop, both the deputy and the officer opened fire. Spokane Police Chief Craig Meidl said body cameras were on during the shooting. Neither officer was injured.
Within two minutes of the shooting an ambulance arrived at the scene. Officers had already started life-saving measures on the man, who was taken to a local hospital for surgery.
Knezovich and Meidl couldn't confirm Monday morning whether the man was in possession of a rifle.
Justin Taylor, a resident of the apartment complex for about six years, said he was friends with the man who he and several other neighbors identified as 34-year-old Ronald Acre.
Taylor said Acre, who lived on the first floor near the building's entrance for about five years and was known by the nickname "Flip," had mental health issues and would often make threats to others. He also recently purchased a gun.
"He shouldn't have even had a rifle," Taylor said. "He was not right."
Taylor and other residents said they heard about "10 to 15 gunshots" coming from his room. Upon learning it was Acre's room where the gunfire was coming from, they said they weren't surprised.
"I totally expected it to go that way," Taylor said. "I knew he had a rifle."
Jerra Maker, who lives on the second floor with her small dog, said she never had a negative interaction with Acre, but was warned by other residents to be cautious around him.
The Washington State Patrol will be the lead agency for the shooting investigation.
This is the first Spokane area officer-involved shooting of 2018. Last year, Spokane police officers shot and killed six people, which was one of the highest on record. The last shooting involving Spokane area law enforcement was Dec. 26, when Joshua Spottedhorse was shot and killed after robbing a Safeway store at gunpoint.
In North Idaho, three law enforcement officers were recently wounded in the span of a week.
Coeur d'Alene police Officer Charles Hatley was shot in the abdomen during a traffic stop on Feb. 27 in Coeur d'Alene. Hatley and accompanying officers returned fire, killing 34-year-old suspect Curtis B. Ware.
On Monday, March 5, two Sandpoint police officers were wounded and a male suspect was killed in a shootout near an apartment complex in Sandpoint. Officers Michael Hutter and Eric Clark were treated and released from hospitals while 28-year-old Brandon Kuhlman was shot and killed.
Local journalism is essential.
Give directly to The Spokesman-Review's Northwest Passages community forums series -- which helps to offset the costs of several reporter and editor positions at the newspaper -- by using the easy options below. Gifts processed in this system are not tax deductible, but are predominately used to help meet the local financial requirements needed to receive national matching-grant funds.
Subscribe now to get breaking news alerts in your email inbox
Get breaking news delivered to your inbox as it happens.
---