A&E > Stage
Political satire group the Capitol Steps takes inspiration from both sides of the aisle
Tue., March 13, 2018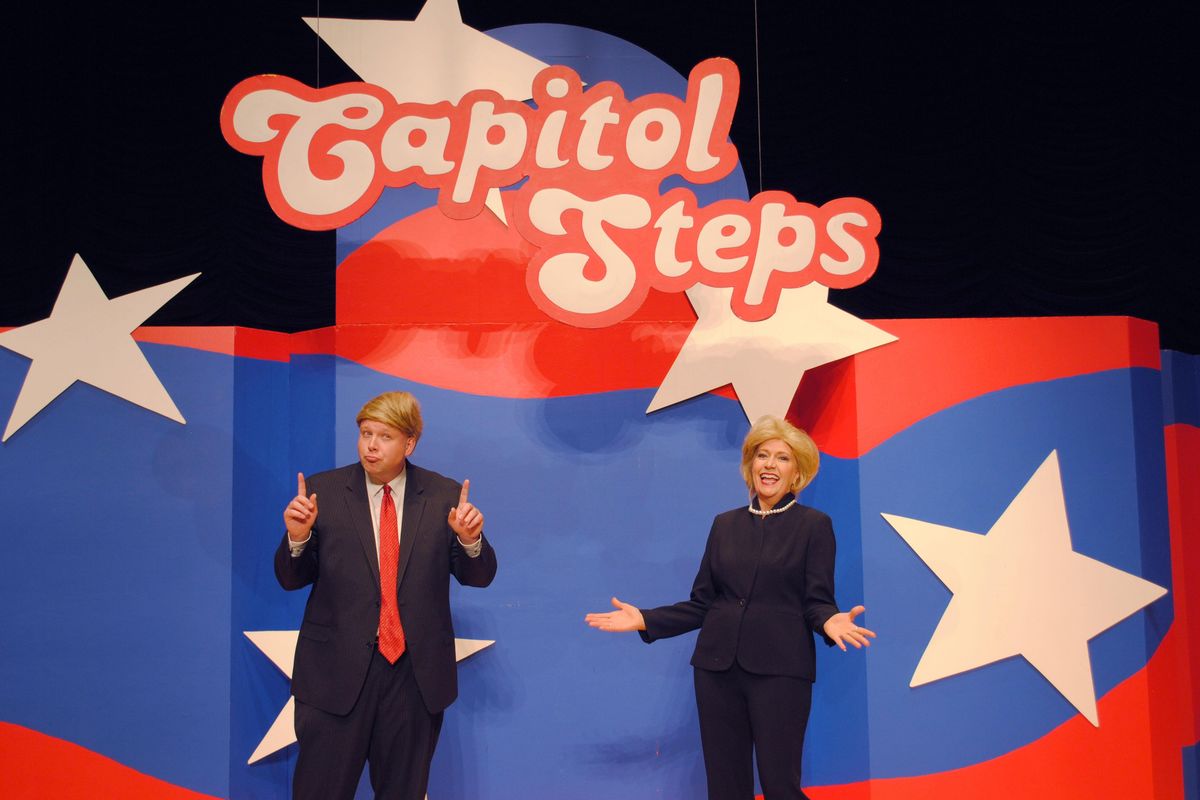 Capitol Steps performers portray Donald Trump and Hillary Clinton. (The Capitol Steps)
On the day she spoke to The Spokesman-Review, Elaina Newport noted that the government had closed because of a windstorm in Washington, D.C.
"Maybe it's the hot air from the federal government," she said with a laugh. "There's a joke somewhere."
For the last 36 years, Newport, a founding member of the political satire group the Capitol Steps, has looked to political leaders and both national and international events for sources of comedic inspiration.
Never-ending inspiration has led the group to release at least one album a year beginning in 1984, most recently 2017's "Orange is the New Barack," which brings the Capitol Steps to the Martin Woldson Theater at the Fox on Thursday.
The Capitol Steps began in 1981 when Newport and fellow congressional staffers Bill Strauss and Jim Aidala were putting together entertainment for the Senate office's Christmas Party.
The group skewered President Ronald Reagan, known for his short work days, with a song called "Workin' 9 to 10," sung to the tune of Dolly Parton's "9 to 5," and took a jab at Secretary of the Interior James G. Watt, a fan of strip mining, by singing "Mine Every Mountain," to the tune of "Climb Every Mountain" from "The Sound of Music."
The trio's original parodies were an instant success, and the group quickly grew in size and began performing year-round.
"We thought somebody would tell us to stop or fire us or both, but nobody did so we kept doing it …," Newport said. "Now 36 years later, we're still doing it. Basically because nobody told us to stop."
It was originally required that members of the Capitol Steps be Capitol Hill staffers, but the group now also consists of professional actors and singers.
A typical Capitol Steps show features songs and skits about politicians from both sides of the aisle, though Newport said the party in power is usually funnier.
Speaking about the group's current show, Newport mentioned cameos from Donald and Melania Trump, Elizabeth Warren, Bernie Sanders, Hillary Clinton, Nancy Pelosi, Chuck Schumer and Mitch McConnell.
International guests include Angela Merkel, Vladimir Putin, who dances shirtless at one point, and Kim Jong Un, who sings "How Do You Solve a Problem Like Korea?" to the tune of "Maria" from "The Sound of Music."
Parodying serious news like events in North Korea, war in the Middle East and natural disasters like Hurricane Katrina isn't easy, but Newport is proud of how the group has approached them.
After Hurricane Katrina, for example, the Capitol Steps chose to focus on the government's response, writing a song called "FEMA" to the tune of "Fever," made famous by Peggy Lee.
"Sometimes when the news is really serious, our job is harder but it's almost more important because people need to laugh …," Newport said. "Those are the moments I think 'OK, we've taken this very serious issue without denying that it's a serious issue.' But you can always get at the politician or the public figure that's messing up."
Now looking to the Trump administration for inspiration, Newport said it has presented a few challenges when it comes to writing material.
For one, the constantly changing staff has made it difficult to keep songs in the repertoire.
"We'll get up one day and write a song about General Flynn being indicted then the next week, it's Paul Manafort that's indicted so we rewrite the whole bit …," Newport said. "It is hard, although I can't complain because this administration has really given a lot of material. … He did promise to create jobs, right?"
And because Trump can seem like an exaggeration of himself at times, the group has had to take its parodies up a notch.
During the presidential campaign, for instance, Newport wrote a joke in which the actor portraying Trump said he wasn't going to kiss any babies because "babies are losers."
"The next thing I knew, there's a rally and the baby's crying and he's kicking the baby out of the rally," Newport said. "I'm thinking 'Oh my gosh, I can't even be ahead of this guy.' "
The group's next album, tentatively titled "Make America Grin Again," will be released later this year.
The gift that keeps on giving, misguided politicians and national and international snafus have almost guaranteed that the Capitol Steps will never run out of material.
"Just when you think you've written the last song you could ever think of, somebody tweets a picture in his underwear and you're off," Newport said.
Local journalism is essential.
Give directly to The Spokesman-Review's Northwest Passages community forums series -- which helps to offset the costs of several reporter and editor positions at the newspaper -- by using the easy options below. Gifts processed in this system are not tax deductible, but are predominately used to help meet the local financial requirements needed to receive national matching-grant funds.
Subscribe to the Spokane7 email newsletter
Get the day's top entertainment headlines delivered to your inbox every morning.
---